FOR IMMEDIATE RELEASE
3/10/2017
Contact: Ancient-Future.Com Records
1-415-459-1892
info@ancient-future.com
Ancient Future Guitar-Sitar Jugalbandi at SFIAF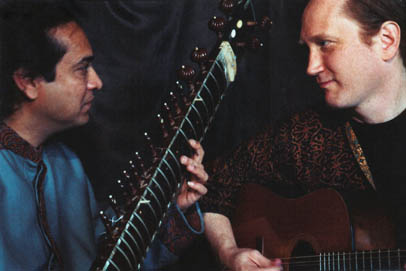 Jugalbandi Hi-Res Photo (3.75. x 5.64 600 dpi jpeg, 1.7 MB) by Julie Marten.
Shown: Pandit Habib Khan (sitar) and Matthew Montfort (scalloped fretboard guitar)
Featuring Pandit Habib Khan (Sitar), Matthew Montfort (Guitar), and Ferhan Qureshi (Tabla)
Jugalbandi is a classical North Indian musical duet (meaning literally "tied together"). The guitar is not often used in the music of India. However, Matthew Montfort has studied sitar and is a pioneer of the scalloped fretboard guitar, an instrument combining qualities of the South Indian vina and the steel string guitar. This jugalbandi works well because Matthew Montfort is a guitarist with knowledge of sitar, and Pandit Habib Khan has been described as the "Jimi Hendrix of the sitar" by L'Orient le Jour, Beirut's French language newspaper. They will be accompanied by tabla master Ferhan Qureshi.
Ancient Future is the first and longest running musical organization dedicated exclusively to the mission of creating world fusion music. The term was coined by bandleader Matthew Montfort in 1978 to describe Ancient Future's unusual blend of musical traditions from around the world. BILLBOARD calls the group "trendsetters" for their early contributions to the movement, which seeks to show how people from different cultures can grow by learning from each other.
Thursday, June 1, 2017, 8 PM
San Francisco International Arts Festival
Fort Mason Chapel
San Francisco, CA 94109
Adm.: $25 gen., $12.50 under 18. Students with ID and seniors, $4 off cover price.
Box office: 415-345-7575. Buy Tix. Festival Pass, 5 shows for $70 (also see Indo Latin Jazz 6/3, Global Guitar Summit 6/4, and 2 more!).
Venue website: www.sfiaf.org
Event page. Facebook artist page. Facebook event page.
Press release: Ancient-Future.Com Recording Artists at SFIAF.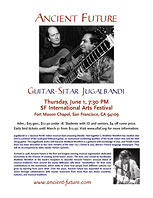 Poster (119 k .pdf)
Concert Review
"Their concert was billed as a guitar-sitar 'jugalbandi' concert – a blend of classical Eastern and Western music featuring Montfort on guitar and Pandit Habib Kahn on sitar, with guests on dulcimer and percussion – and was simply an outstanding presentation. What made the 'jugalbandi' concert so special was the fact that guitar is seldom featured in Indian classic music – yet Montfort is a pioneer of such and uses the scalloped fretboard guitar to bring out the best in Indian sounds. His background as a student of the notoriously-difficult sitar lends to translations which shine on guitar; and by having a blend of sitar and rare guitar interactions, the concert became an extraordinary presentation indeed, spiced by the intimacy of stage which felt nearly small and close enough to be a living room. Ancient Future's focus on world fusion music has always produced extraordinary artist interactions and results; but this concert was an exceptional meld of East and West and offered up unique fingerings, approaches and collaborative efforts. It also held the unique ability to reach out not only to audience members already versed in Indian classic music, but to newcomers to the genre. It's not to be missed." — WorldDiscoveries.net
Video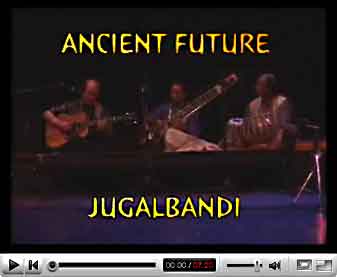 http://www.youtube.com/watch?v=GDJet-KlQLU
This Ancient Future Guitar-Sitar Jugalbandi video has been viewed more than 229,000 times on YouTube. It features a Guitar-Sitar Jugalbandi version of 'Dawn of Love' by Matthew Montfort.
Bios
Matthew Montfort (scalloped fretboard guitar)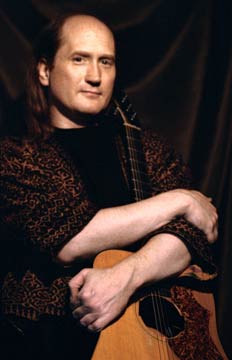 Hi-Res Photo of Matthew Montfort by Julie Marten (2 MB)

The leader of the world music group Ancient Future, Matthew Montfort, is recognized as one of the world's 100 Greatest Acoustic Guitarists by DigitalDreamDoor.com for his work expanding the boundaries of guitar playing through the study of the world's great music traditions. For example, in 1979 Montfort immersed himself in an intensive study with vina master K.S. Subramanian in order to fully apply the South Indian gamaka (note-bending) techniques to the scalloped fretboard guitar. In addition to his recordings as a bandleader, he has released two solo guitar recordings: Seven Serenades for Scalloped Fretboard Guitar and Sympathetic Serenade. The December 2009 Les Paul issue of Guitar Player Magazine includes a full page feature on Montfort with a corresponding GuitarPlayer.Com video and lesson entitled "The Music of Jimi Hendrix Applied to Indian Raga." He has performed worldwide, from the Festival Internacional de la Guitarra on the golden coast of Spain to the Festival of India in Mumbai, and live on national radio and TV shows such as the Echoes Living Room Concerts on Public Radio International and the Rachel Maddow Show on MSNBC. He has worked with many world music legends, including tabla phenomenon Zakir Hussain and Chinese zither master Zhao Hui. Montfort wrote the book Ancient Traditions – Future Possibilities: Rhythmic Training Through the Traditions of Africa, Bali, and India, which has been used by many musicians to improve their rhythm skills.
Matthew Montfort is a pioneer of the scalloped fretboard guitar, an instrument with a modified fretboard in which the wood between frets has been carved out in order to facilitate intricate note-bending ornaments. His new custom guitar is the result of a collaboration between Montfort, Dick Boak of the Artist Relations Department of C.F. Martin & Co., and San Francisco luthier Alan Perlman. Dick Boak has been involved in the conception of more than one hundred and forty signature guitar collaborations with the top musical talents of our time. Starting in 2014, he worked with Montfort to help design the instrument, which features a very large sound hole to add volume, an extra upper bout sound hole so that Montfort can hear the guitar better, a cutaway with extra frets protruding into the sound hole to accommodate his extended playing range, and a short scale yet wide neck to allow for greater string bending capability. Master luthier Alan Perlman scalloped the fretboard and added other finishing touches to complete this amazing instrument in 2016.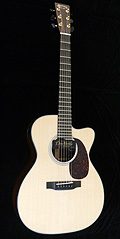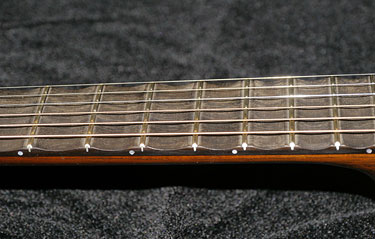 Hi-Res Photo of Martin guitar by Alan Perlman (3.6 MB)
Hi-Res Photo of scalloped fretboard by Alan Perlman (6.6 MB)
Pandit Habib Khan (sitar)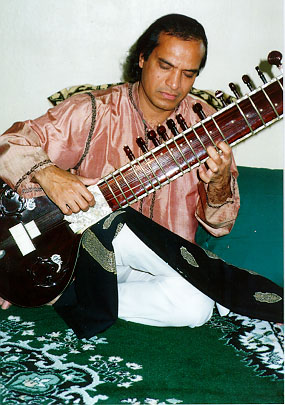 Pandit Habib Khan is regarded as one of the best sitar players in the country today. He was born into a family of musicians and can trace his lineage back several generations to when classical music enjoyed the patronage of the nobility and royalty of India. He began his training at the tender age of five under the strict eye of his accomplished father, Ustad Hameed Jaffer Khan. The Jaffer Khan family was from Indore and were well known for their unique style of playing the sitar, melding the effect of the human voice and the instrumental tone into a harmonious whole. Habib Khan has carved out a distinct style of his own which is a blend of his father's traditional techniques and his own imaginative inventions. He is as much at ease with light classical and religious music as he is with pure classical renderings of ragas.
Ferhan Qureshi (tabla)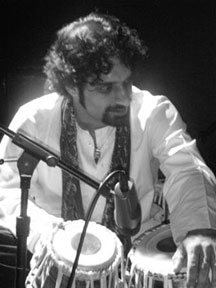 Ferhan Najeeb Qureshi is a senior disciple of the legendary tabla master Ustad Tari Khan. Prior to his ongoing training with Ustad Tari Khan, Ferhan took his initial lessons in Hindustani (North Indian classical) music theory and practice with Surinder Singh Mann. Ferhan studies the Punjab gharana (school) of classical tabla which both of his teachers represent. In addition to performing tabla lehara (tabla solo), Ferhan Qureshi has also accompanied numerous distinguished classical artists (vocalists, instrumentalists and dancers) both in the United States and in Pakistan.
Records Featuring Matthew Montfort and Pandit Habib Khan
The Archive of Future Ancient Recordings


Hi-Res Square Cover Art (1.2 MB)
The Archive of Future Ancient Recordings by Ancient Future (Ancient-Future.Com AF-2030).
The next Ancient Future record is fan funded. There is already over an hour of music in A.F.A.R available right now to supporters, with more tracks coming as money is raised for production. Two of the tracks feature both Pandit Habib Khan and Matthew Montfort.
Planet Passion

Hi-Res Square Cover Art
(1.1 MB)
Planet Passion by Ancient Future (Ancient-Future.Com AF 2010).
"If the members of the United Nations formed a world-fusion band, it might look and sound a little something like Ancient Future's re-issue of their seventh recording. At its best, Planet Passion strives to preserve the world's vast musical heritage via international collaboration: the idea that one protects the old by creating something new. This is at the heart of fusion music and the heart of Ancient Future's global aesthetics, too: a diverse, unified world without borders, a multicultural community, a new, reconstituted sonic reality." — LEO WEEKLY
Ecstasy

Ecstasy by Habib Khan and Band
Features musicians from the band Ancient Future plus other famous jazz and Indian musicians in live recordings of world jazz jams.
The Longing

The Longing by Habib Khan and Band
Live recordings of East West fusion music that shows its roots in the music of India with ten compositions by Habib Khan and one by Matthew Montfort.
Jewel of Heart

Jewel of Heart by Habib Khan and Band
The record features Pandit Habib Khan and Matthew Montfort such luminaries as Swapan Chaudhuri (tabla), and George Brooks (sax).
81 Word Radio Announcement
The trailblazing world music group Ancient Future will perform a Guitar-Sitar Jugalbandi featuring scalloped fretboard guitar pioneer Matthew Montfort and sitar master Pandit Habib Khan with tabla accompaniment by Ferhan Qureshi as part of the San Francisco International Arts Festival on Thursday, June 1, at 8 PM at Fort Mason Chapel in San Francisco, California. For more information, visit www.sfiaf.org. Admission is $25 general, and $12.50 for those under the age of 18. A Festival Pass for five shows is $70.

###