FOR IMMEDIATE RELEASE
3/10/2017
Contact: Ancient-Future.Com Records
1-415-459-1892
info@ancient-future.com
Global Guitar Summit at S.F. International Arts Festival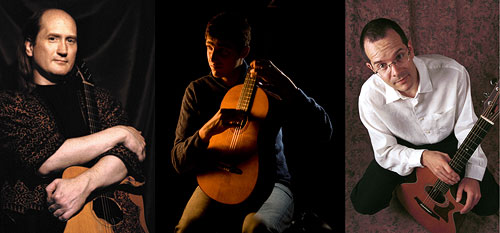 Hi-Res Photo of Matthew Montfort, Giacomo Fiore, Teja Gerken (7. x 3 300 dpi jpeg, 1.2 MB)

Featuring Matthew Montfort, Giacomo Fiore, and Teja Gerken
This Global Guitar Summit presents three international acoustic guitar virtuosos who will perform solo and ensemble pieces. The summit features American scalloped fretboard guitar and world fusion music pioneer Matthew Montfort, master Italian guitarist and musicologist Giacomo Fiore, and German fingerstyle guitarist extraordinaire Teja Gerken. The music performed will include new arrangements of classical works, Celtic music, Indian classical, contemporary compositions, popular songs, and much more.
Sunday, June 4, 2017, 3 PM
San Francisco International Arts Festival
Fort Mason Chapel
San Francisco, CA 94109
Adm.: $25 gen., $12.50 under 18. Students with ID and seniors, $4 off cover price.
Box office: 415-345-7575. Buy Tix. Festival Pass, 5 shows for $70 (also see Ancient Future 6/1, Indo Latin Jazz 6/3, and 2 more!).
Venue website: www.sfiaf.org
Event page. Facebook artist page. Facebook event page.
Press release: Ancient-Future.Com Recording Artists at SFIAF.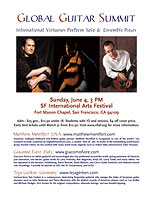 Poster (119 k .pdf)
Bios
Matthew Montfort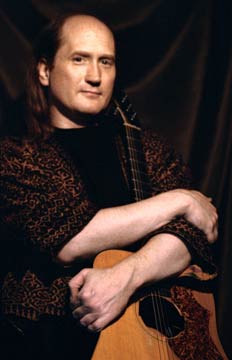 Hi-Res Photo of Matthew Montfort by Julie Marten (2 MB)
Matthew Montfort is the leader of the world fusion music ensemble Ancient Future. Matthew Montfort is a pioneer of the scalloped fretboard guitar, an instrument with a modified fretboard in which the wood between frets has been carved out in order to facilitate intricate note-bending ornaments. He has released two solo CDs: even Serenades for Scalloped Fretboard Guitar and Sympathetic Serenade, for which he is recognized as one of the world's 100 Greatest Acoustic Guitarists by DigitalDreamDoor.com, a curated "best of" site. He has performed concerts worldwide, including at the Festival Internacional de la Guitarra in Spain and the Mumbai Festival at the Gateway of India in Bombay. He has worked with many world music legends, including tabla phenomenon Zakir Hussain and Chinese zither master Zhao Hui. Montfort wrote the book Ancient Traditions – Future Possibilities: Rhythmic Training Through the Traditions of Africa, Bali, and India, which has been used by many musicians to improve their rhythm skills.
Matthew Montfort's New Custom Scalloped Fretboard Guitar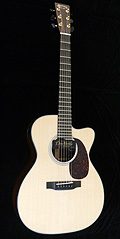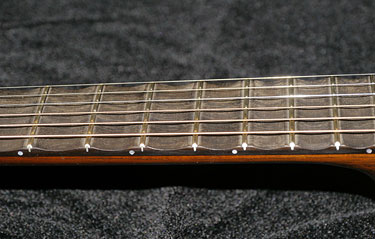 Hi-Res Photo of Martin Guitar by Alan Perlman (3.6 MB)
Hi-Res Photo of Scalloped Fretboard by Alan Perlman (6.6 MB)
Montfort's new custom guitar is the result of a collaboration between Montfort, Dick Boak of the Artist Relations Department of C.F. Martin & Co., and San Francisco luthier Alan Perlman. Dick Boak has been involved in the conception of more than one hundred and forty signature guitar collaborations with the top musical talents of our time. Starting in 2014, he worked with Montfort to help design the instrument, which features a very large sound hole to add volume, an extra upper bout sound hole so that Montfort can hear the guitar better, a cutaway with extra frets protruding into the sound hole to accommodate his extended playing range, and a short scale yet wide neck to allow for greater string bending capability. Master luthier Alan Perlman scalloped the fretboard and added other finishing touches to complete this amazing instrument in 2016.
Video
Matthew Montfort Performing 'Soul Serenade' at Ancient Future's 30th Anniversary Concert:
www.youtube.com/watch?v=TLfKTbpgO1Q
Press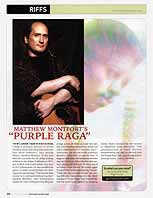 5 Page Guitar Player Magazine/GuitarPlayer.com Media Report (1.4 MB):
www.ancient-future.com/pdf/MatthewMontfortGuitarPlayerMag.pdf

"Because Montfort's guitar has a scalloped fretboard, his fingers touch only the strings, enabling him to produce ornaments more characteristic of the sitar. This album reveals a thorough knowledge of Hindustani microtonal ornaments, transferred in ways that create one of the most distinctive guitar sounds in contemporary music. However, it also reveals a lifetime of exploration in world music, which can be immediately summoned in a flash of inspiration. When this level of mastery is reached, there is no need to rewrite. The first improvisation has the depth of a reworked composition." – Teed Rockwell, INDIA CURRENTS, March 2009
Giacomo Fiore

Download Archive of Hi-Res Photos: www.giacomofiore.com/wordpress/wp-content/photos/promo/promopics.zip.
Giacomo Fiore is an Italian guitarist and musicologist who has performed across the United States, Brazil, Canada, and Europe, giving world and U.S. premieres of classical, just intonation, and electric guitar works by Larry Polansky, Ron Nagorcka, Kenji Oh, Garry Eister, Agustin Castilla-Avila, and many others. He has appeared at the Sarzana, Healdsburg, Sierra Nevada, Santa Barbara, and Cervo Guitar Festivals, released several solo recordings, and published articles in Classical Guitar and Ukulele magazines. Currently he teaches at USF, the SF Conservatory, and UCSC, and is a member of the new music ensemble Wild Rumpus.
Video
Giacomo Fiore Performing 'Sarabande pour Guitare' by Francis Poulenc:
www.youtube.com/watch?v=Fl-LyFprykI
Press
"Scenes from Nek Chand ... was given an inspired performance by Fiore, who brought appropriate character to each movement: sensitive introspection for 'Leaning Lady,' mercurial dancelike energy for 'Rock Garden,' and an admirable flexibility for 'Sinuous Arcade With Swings in the Arches.'" – SAN FRANCISCO CLASSICAL VOICE
Teja Gerken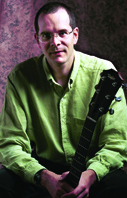 Hi-Res Photo of Teja Gerken (2.9 MB)
More Hi-Res Photos: www.tejagerken.com/photos/
German-born Teja Gerken is a contemporary steel-string fingerstyle guitarist whose playing merges the styles of European guitar pioneers such as John Renbourn and Pierre Bensusan with the distinct sounds of American players such as Leo Kottkeand Micheal Hedges. Known for his original compositions, many of which employ alternate tunings, two-handed tapping, percussive effects, and other extended guitar techniques, Teja will also bring Celtic, jazz, and classical styles to the Global Guitar Summit.
Video
Teja Gerken Performing '1948' Live:
www.youtube.com/watch?v=J7khy_8uhCA
Press
"Releasing his second CD, Postcards, is San Francisco area fingerstyle guitarist Teja Gerken, who delivers solo instrumental compositions with enough surprises and innovative twists to delight aficionados of the world music and folk genres. His tunes employ physical techniques such as two-handed tapping, alternate tunings, and percussive effects, but his developed sense of melody is what will keep his CD playing in your mind long after the 'stop' button is pressed. Another impressive feature is that Gerken's playing is captured without overdubs; the intricate arrangements delivered as you might hear the artist in concert. Gerken is one of a rare breed - a guitarist's guitarist with equal appeal for the non-musicians out there. His Postcards album is highly recommended." – GUITAR9.COM
82 Word Radio Announcement
This Global Guitar Summit presents three international acoustic guitar virtuosos performing solo and ensemble pieces. American scalloped fretboard guitar and world fusion music pioneer Matthew Montfort, master Italian guitarist and musicologist Giacomo Fiore, and German fingerstyle guitarist extraordinaire Teja Gerken will perform at the San Francisco International Arts Festival on Sunday, June 4, at 3 PM at Fort Mason Chapel in San Francisco, California. For more information, visit www.sfiaf.org. Admission is $25 general, and $12.50 for those under the age of 18.

###