Irina Mikhailova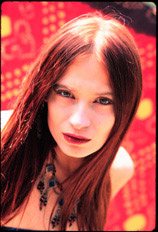 (vocals, piano, steel drum, Jew's harp, percussion)
Irina is a cross-pollinating vocalist, composer, and multi instrumentalist whose musical style reflects the rich traditions of Russia, the Middle East and Asia. Born into a family of professional musicians in the central Asian republic of Kazakhstan, Irina currently resides in Nevada City, California. Rich with the multi-ethnic sounds that surrounded her childhood, and the power and depth of her own soul, she lends her warm and other-worldly vocals to an eclectic range of music from classical to traditional, as well as electronic and other crossover genres. She has worked and recorded with an amazing cast of musicians, including Glen Velez, Hamza El Din, and Paul Mc Candless of Oregon. Her talents have brought her onto stage with a diversity of world performers, ranging from Ali Slimani and Cheb i Sabbah to Banco de Gaia and Juno Reactor as well as Mickey Hart (Grateful Dead), Spearhead and pop sensation Jewel. More information on Irina can be found at irinamikhailova.com.
Featured Sound Files
Ocean of Love (Montfort. 5:26) iTunes. >YTmusic. African, Indian (Rag Kafi), African, Vietnamese, and Slavic influences. Features Matthew Montfort (electric guitars), Irina Mikhailova (vocals), and C.K. Ladzekpo (Yoruba drummer). From Planet Passion. (Ancient-Future.Com AF-2010). CD, $17.98: Add 1 to Cart. Buy 1 Now.
Ne Po Pogrebu Bochonochek (traditional, arr. Montfort. 5:07) iTunes. >YTmusic. Russian folk song. Features Irina Mikhailova (vocals) and Matthew Montfort (guitars). From Planet Passion. (Ancient-Future.Com AF-2010). CD, $17.98: Add 1 to Cart. Buy 1 Now.
Featured Video
This live performance of the song "Ocean of Love" by Matthew Montfort from Ancient Future's Planet Passion CD features singer Irina Mikhailova, dancer Sapphira, violinist Patti Weiss, Arabic percussionist Salah Takesh, keyboardist Doug McKeehan, and Ancient Future bandleader and scalloped fretboard guitarist Matthew Montfort.
Partial Discography
With Ancient Future:
Solo:
Behind the Wall

(1991 former Czechoslovakia)

Spring

(1992 former Czechoslovakia)

Without Saxophone

(1992 Russia)

Water Shadows

(1994 Exploratorium Project)

Gothica

(1995 Investments in Nature)

Living the Dream

(1996 Soundtrack)

Russian Twilight

(1997 Well Tempered World WTP 5184)

Night FLower

(2008 Elefaria Records)

Living the Dream

(2010 Elefaria Records)