Jim Hurley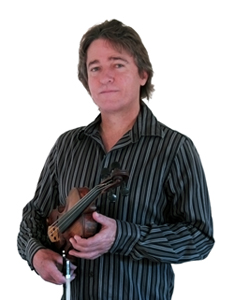 (acoustic violin, ZETA violin, guitar, composition)
Born in 1957, Jim Hurley has been playing violin since 1969. Influenced profoundly by South Indian violinist L. Shankar, he incorporates styles from bebop to zydeco, European classical to Zairean soukous. He studied violin with Dr. Madeline Schatz, protege of Jascha Heifetz and Josef Gingold, at Humboldt State University, where earned his B.A. in Music in violin performance, and attended master classes with Rostislav Dubinsky, Gabor and Peter Rejto, and Kathleen Winkler.
He has been musical director and composer for several theater productions, including an entire score in the Balinese gamelan style. His compositions for Ancient Future have received widespread acclaim, and have been selected to be included in everything from a United Nations documentary film, Closing the Curtains of Death (about drift net fishing) to CD Review Magazine's world music sampler, World Horizons II. Live radio credits include performances on A Prairie Home Companion, West Coast Weekend (with Ancient Future), and Hearts of Space. Jim's original music has received airplay on over 300 stations, including KKSF, KPFA, NPR news, and "The Wave". Live TV appearances include Saturday Night Live (1987, with Queen Ida) and CNN's Showbiz Tonight (1995, with Dan Hicks). Notable live performances include the New Orleans and Monterey jazz festivals, the Philadelphia, Winnipeg and Strawberry folk music festivals, a few stadiums, a dozen or so European castles, and audiences in 15 countries. He has opened for the Grateful Dead, B.B. King, Tracy Chapman, Ray Charles, John Lee Hooker, Carlos Santana, and the Neville Brothers.
In addition to his work with Ancient Future, he is also well known for his performances and recordings with Ritchie Blackmore and Black mores Night (rock legend turned Celtic and Renaissance musician), American roots music leaders such as Grammy winners Queen Ida and Al Rapone, swing legend Dan Hicks' Acoustic Warriors, all-China zheng virtuoso Zhao Hui, the Trans-Siberian Orchestra (with Jon Anderson from Yes), Kenneth Nash (Weather Report, Herbie Hancock, Dizzie Gillespie alumnus), Al Stewart, Josh Groban, Smokey Robinson, Stanley Jordan, the Waybacks, Tempest, and many other artists and ensembles. He has toured Europe and Japan and performed at numerous major music festivals, including the New Orleans Jazz and Heritage Festival, the Philadelphia Folk Festival, and the Monterey Jazz Festival.
Jim Hurley has released a second solo recording, Primary Colors. His debut solo recording, Finger Painting,was supported with concerts by Hurley's own string trio, also called Finger Painting, which opened shows for Kenny Rankin, Bob James and Marc Antoine.
Jim Hurley teaches violin and guitar at his music studio in Livermore, Open Strings Music.
"Hurley... could stand toe-to-bow with any jazz, bluegrass or rock violinist today." – Beau Brendler, The Anchorage Times
"Incendiary... Hurley's fiddle put the bow-shredding antics of cajun fiddler Doug Kershaw in their proper perspective." – Joe Diven, The Oregonian
"... a sensitive player... a unique voice." – Edward Tywoniak, BAM (Bay Area Music)
Featured Sound Files
Socha Socha (Khan/Montfort. 10:34). iTunes. >YTmusic. Indian raga with full instrumentation. From Planet Passion. (Ancient-Future.Com AF-2010). CD/Gift Card, $17.98: Add 1 to Cart. Buy 1 Now.
Lakshmi Rocks Me (Jim Hurley. 2:52). iTunes. >YTmusic. Energetic tribute to South Indian violinist L. Shankar featuring Zakir Hussain and Jim Hurley. From World Without Walls (Sona Gaia/MCA 163) CD- $24.98 (out of print: collectable signed reconditioned copy): Add 1 to Cart. Buy 1 Now.
Partial Discography
With Ancient Future:
Solo: