Mindia Devi Klein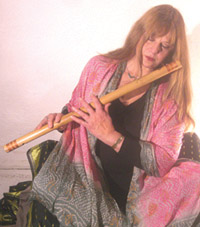 (silver flute, bansuri flute, Balinese gamelan)
Mindia Devi Klein is an award winning musician, composer and educator. She sings and performs on bansuri (classical bamboo flute of India), silver flute, Balinese gamelan (bamboo, bronze, and wood tuned percussion).
She is a disciple of Indian classical music legend Ustad Ali Akbar Khan. She began her training in Indian Classical Music at age 19 at the Ali Akbar College of music in San Rafael, California. While at the college she also studied under bansuri maestro Pandit G.S. Sachdev and world renown tabla master Ustad Zakir Hussein.
Mindia was awarded a Fulbright Scholarship in Balinese gamelan music and spent a year studying various forms of gamelan in Bali. Living in Pengosekan village she studied with the incredible and beloved gamelan leader and teacher I Made Gerindem of Teges Kaginan Village in Gianyar Province near Ubud in Bali.
In 1979 Mindia co-founded the world fusion music ensemble Ancient Future as a vehicle for the creation of innovative music based on the group's studies and explorations of Indian, Gamelan and Western forms of music. After recording two albums with Ancient Future (Visions of a Peaceful Planet and Natural Rhythms), Mindia left the group to live and study in India and Indonesia where she could pursue the traditional forms of music at their source. She has continued performing, composing and recording on her own and with various musicians and ensembles, including Ancient Future related concerts and recording projects.
In 1988 she released her first recording on the Bamboo Moon Musik label called Balinese Dream. This unique work, partially recorded live on the island of Bali features the natural sounds of the island and indigenous orchestral processional music including the Kechak and Angklung ensembles interwoven with original compositions for an ensemble of Indian, Balinese and Western instruments. It ends with a haunting bansuri flute solo recorded live in the Taj Mahal in India. Her most recent CD's are Ragini: Fluted Voice of the Goddess and Quiessence, which feature the bansuri, and Beyond the Reach of Time, an Indian/jazz/gamelan fusion project.
Featured Sound Files
Morning Song (Mindia Klein. 7:48). iTunes. >YTmusic. Bansuri flute, sitar, sarod, esraj, and tabla bring the morning in. From Visions of a Peaceful Planet (Ancient-Future.Com 2004) CD-R- $19.98 list: Add 1 to Cart. Buy 1 Now.
Semara (Montfort. 4:27) iTunes. >YTmusic. Balinese gamelan. Features instruments and rhythms of the Gamelan Semar Pegulingan and performances by the original 1978 lineup of Ancient Future. From Planet Passion. (Ancient-Future.Com AF-2010). CD, $17.98: Add 1 to Cart. Buy 1 Now.
Featured Video
Partial Discography
Solo:
Balinese Dream

(Bamboo Moon Musik, BD-0)

Ragini: Fluted Voice of the Goddess

(Bamboo Moon Musik, R-1)
Quiessence (Bamboo Moon Musik, Q-2)

Beyond the Reach of Time

(Bamboo Moon Musik, 2018)
With Ancient Future:
Sidewoman:
Sangria by Mariah Parker (Ancient-Future.Com AF 2017)
To reach Mindia Devi Klein, contact: mindiadevi@gmail.com