Mohammad Nejad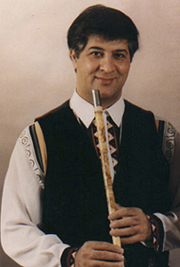 (ney, zurna, Western flute, santur, kanun, oud, setar, dotar, tar, kemanche, violin, daf, dumbek, zarb, accordion and keyboards)
Nejad is a Persian-born master multi-instrumentalist residing in the San Francisco Bay area.
Nejad plays a large number of instruments, including ney, zurna, Western flute, santur, kanun, oud, setar, dotar, tar, kemanche, violin, daf, dumbek, zarb, accordion and keyboards. He effectively uses Persian instruments to add a Persian influence to Western classical, jazz, blues, new age, and flamenco. He also performs traditional Persian classical music.
He performs regularly with the acclaimed Bay area Central Asian dance company Ballet Afsaneh, and is the musical director for Anthony Shay's Avaz International Dance Theatre. He collaborates with many other musicians and ensembles. He has performed throughout Asia, Europe, and the United States, including most campuses of the University of California, the Palace of Fine Arts and the Ethnic Dance Festival in San Francisco, and the San Jose Center for the Performing Arts. He teaches privately and through workshops. He wants to introduce Americans to the beauty of Persian music.