FOR IMMEDIATE RELEASE
9/20/2013
Contact: Ancient-Future.Com Records
415-459-1892
info@ancient-future.com
Ancient Future Concert to Stream on ConcertWindow.com
'World Without Walls' Reunion Concert Streams Live October 16 at 8 PM PDT
In a first for Ancient Future, their upcoming 'World Without Walls' reunion concert at the Freight & Salvage will be available for viewing anywhere in the world as a live stream. This is a very rare chance for Ancient Future fans worldwide to view a live concert of the exact lineup of the pioneering world music group that performed on Ancient Future's influential World Without Walls and Asian Fusion recordings. They will perform their fourth reunion concert after a 15 year hiatus on Wednesday, October 16, at 8 PM at the Freight and Salvage, located at 2020 Addison Street in Berkeley.
Online tickets are available now for $5 at concertwindow.com/shows/ancient-future. The webshow will not be archived – it's offered only in real time starting at 8 PM Pacific Daylight Time on October 16. It is recommended to purchase a ticket in advance to sign up for an email reminder to tune in for the show at the correct time. ConcertWindow.com includes a show time count-down clock, or a site such as timezoneconverter.com can be used to calculate the local time the concert will begin streaming. For example, for music fans in Mumbai, India, the concert stream will begin at 8:30 AM on October 17.
Wednesday, October 16, 2013, 8 PM PDT
Streaming Live at ConcertWindow.com
Freight and Salvage
2020 Addison Street, Berkeley, CA 94704
Tix: $18.50 in advance, $20.50 at the door, or $5 for live stream at concertwindow.com/shows/ancient-future.
Info: Call 510-644-2020 or email info@freightandsalvage.org
Facebook Event.
'World Without Walls' Reunion Video of 'Indra's Net' Released in Celebration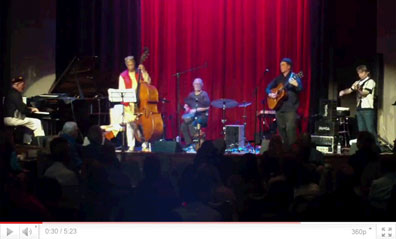 Live Medley of 'Alap' and 'Indra's Net' Recorded at Yoshi's, San Francisco, 6/7/11

To celebrate Ancient Future's first worldwide live streaming video concert, a live video recording of a medley of Matthew Montfort's 'Alap' and Jim Hurley's 'Indra's Net' composition is being released, available for viewing at http://youtu.be/fCVQZLBS43c. Inspired by Hindu mythology, 'Indra's Net' was used as a soundtrack for a United Nations documentary film, Closing the Curtains of Death, about drift net fishing. This version was recorded at Yoshi's San Francisco on June 7, 2011, the day of their first performance together in 15 years. The video features Doug McKeehan on piano, Kash Killion on bass, Ian Dogole on percussion, Matthew Montfort on scalloped fretboard guitar, Mariah Parker on santur, Jim Hurley on violin, and Patti Weiss on violin. 'Indra's Net' is the third video to be released from the reunion concert, joining '14 Steps' by Matthew Montfort (http://youtu.be/Ro0VAo7a9BY) and 'Turkish Taffy' by Doug McKeehan (http://youtu.be/e0YyuM7YTIo).
'World Without Walls' by Ancient Future on Capitol Records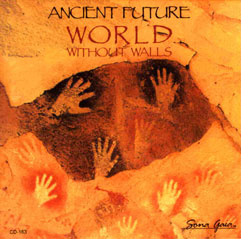 Hi-Res Square Cover Art (3 MB)
Featuring Tabla Master Zakir Hussain
(Sona Gaia/MCA 163): CD - $24.98 (collectable signed copy): Buy Link. >YTmusic.
Press Audio Downloads: Lakshmi Rocks Me (Jim Hurley) MP3 (excerpt, 976k). >YTmusic.
14 Steps (Matthew Montfort) MP3 (excerpt, 1 MB). >YTmusic.
As its name suggests, World Without Walls depicts a musical world without borders. Originally released in 1990, it features performances by such world music luminaries as Zakir Hussain, the master of the North Indian tabla. World Without Walls was reissued digitally by Capitol Records in 2011 to honor Ancient Future's reunion concerts. In 2012, broadcasters worldwide voted the reissue as one of the top 5 world music releases of the year, 22 years after its initial release. The inviting melodies and ingenious use of ethnic textures make this recording one of Ancient Future's most accessible and broadly appealing releases ever.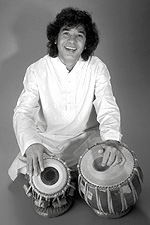 Tabla master Zakir Hussain
Ancient Future Band Biography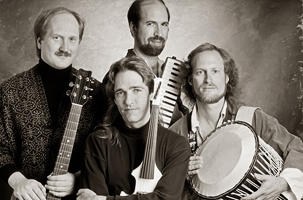 Sepia photo for print (14.7" x 9.7" sepia jpg, 7.2 MB). Ancient Future circa 1990. Photo by Irene Young. Pictured: Matthew Montfort (guitars), Jim Hurley (violin), Doug McKeehan (keys), Ian Dogole (percussion).
BILLBOARD calls the group "trendsetters" for contributing to the emerging movement known as world fusion music, a term Ancient Future leader Matthew Montfort coined at the band's inception for music that blends musical ideas from many different cultures. Formed in 1978, Ancient Future is the world's first and longest running ensemble dedicated exclusively to the mission of the creation of world fusion music. Their original music is an exhilarating fusion of exciting rhythms and sounds from around the globe that combines contemporary jazz and rock with the irresistible rhythms of African, Balinese, Indian, Middle Eastern and South American percussion, the rich harmonies of Europe, and the beautiful melodies of Asia.
In the years since the initial CD release of World Without Walls, Ancient Future has expanded from its core lineup through collaborations with noted masters of various world music traditions who are now an integral part of what is today more than just a band. Ancient Future has grown to become a large chamber ensemble of more than thirty performers from around the world with over a dozen smaller ensembles within it, enabling Ancient Future to realize its core mission of creating world fusion music.
Quotes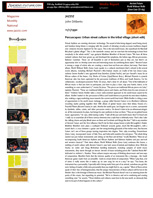 World Without Walls Media Report (13.9 MB)
Below are just a few of the rave reviews for the reissue of World Without Walls:
"Bloody hell, get me some Alzheimer's drugs, will you? Ancient Future was on Narada's Sona Gaia subsidiary with a world beat album that was ahead of it's time and they were hanging out with Zappa's world beat buddies and I don't remember any of it? Each track has a different taste and a different texture making this a world beat travelogue that gleefully genre bends whatever the crew felt like with a merger of hillbilly and Indian music, the sound of an African traffic jam and more stuff that tastes good without the over riding vibe of being good for you. And it's not empty calories either. No wonder the group labored so long and so hard to get Capitol to reissue this, it's time. More bloody hell, new copies of this are going for over $200 on Amazon! How did I miss this? This is the world beat/jazz/pop album for people that shy away from things called world beat and jazz. Fun stuff throughout that still sounds fresh and in the moment today." - Chris Spector, MIDWEST RECORD (July 2011)
"21 years after the release of the already classic 'World Without Walls,' the original lineup of 'Ancient Future' reunited in a series of shows at Yoshi's in SF. On this occasion Capitol/EMI Records launched the first digital version of this influential album that marked not just the career of the band and its members but represents a reference of the World Music phenomenon. The original album released in 1990 features 10 songs that mix Oriental, Celtic and African inspired rhythms with modern jazzy beats, and subdued lyricism with melodic creativity. As the title of the album suggests there's no walls between musical influences but we can say that there's no wall between these virtuoso performers, whose joyful interplay delights the listener with a fusion of exotic and western harmonies that sound like chamber music. The three composers of the album (Jim Hurley on violin, Matthew Montfort guitars, Doug McKeehan piano, synthesizers) looked for inspiration to ancient lands of musical tradition, bringing the African, Balinese, Chinese, Indian, Middle eastern sounds into a modern setting that preserves their original savor. It is a surprising and enchanting synthesis of classical, modern and exotic crafted with the art of a jeweler. Talking drum, bells, chimes, dumbek, udu, bass drums, sleigh bells and tabla (played by Zakir Hussain on 3 songs) keep the rhythm alive and fresh, while organically blending into the compositions. An album that is also inviting to listen more from what this legendary band has produced over the years." - Stephen Bocioaca, WORLD JAZZ NEWS (July 2011)
"Ancient Future is a well known group inside the interesting world of the World Fusion Music (or World Music with fusions of many other styles). It is a group with a perfect fit of traditional instruments (flutes, percussion of different parts of the world, violin, etc) with others more associated with rock (bass and electric guitar, synthesizers...) and is made up of musicians who are capable of playing them all, which opens up many possibilities. The band was originally formed in 1978, with what at present is one of the most long-lived formations that has been dedicated exclusively to World Music, a genre (or perhaps an assembly of genres) that is very common at present, but that was not the case at end of the 70's. Ever since their beginnings they have mixed diverse forms of music, originating from Africa, Bali, the India, the Near East, South America, Europe and Asia in general. 'World Without Walls' was originally released in 1990, but is now being re-issued, principally for Internet distribution. The 10 themes they composed gravitate between African and Asian ethnic rhythms and melodies adorned with a lot of Hindu sounds and wrapped, as is the usual custom in Ancient Future, with sounds of multiple instruments that move the disk towards rock or jazz in certain moments (such as guitars, piano and synthesizers). The Hindu influence is especially present due to the contribution of Indian percussionist Zakir Hussain. Hussain is a musician of great prestige inside the musical circle of the members of Ancient Future, so his percussive embellishments fit perfectly with World Without Walls. Zakir Hussain participates in the pieces entitled 'Lakshmi Rocks Me,' '14 Steps,' and 'Gopi Song.' 'World Without Walls' has a very appropriate title. Music is, without doubt, an authentic universal language and Ancient Future shows it, by mixing in such a stunning manner so many styles that appear antagonistic, that nevertheless, they insert perfectly upon filtration through the group's sieve ." - Jorge Sergio Iglesias, Articmist.org, (Aug 2011)
"Sona Gaia and Narada were two of the more interesting World/New Age labels to erupt as the arts scene began diversifying with a seriousness that arose following the collapse of the 60s/70s ethos. Narada was a sketchy proposition at times, tending to the New Agier side of the house, whereas Sona always held a more serious attitude, and one of their best releases—this one, Ancient Future's World Without Walls—was never quite critiqued or marketed as it should have been: as a set of works in the tradition of Mahavishnu Orchestra, Between, Shakti, and other adventurous bands with almost inhuman chops. After all, the entire World gig pretty much rooted in the inestimably superlative Oregon, an ensemble that was and still is eons ahead of its time, talented beyond compare. Thus, those who came after should have been of-a-kind and acclaimed as such, right? Ah, but then the micky-marketeers entered, and what should've been a quantum leap became, well, Private Music, Steven Halpern, and Georgia Kelley, alas… although, in Shadowfax and others, the path was never quite erased. Well, now that everyone has sobered up and finds him- and herself able to ponder backwards, a few gems are being rescued. This re-release very much demonstrates that we missed quite a bit, even though Matthew Montfort continued his musical evolution and the band itself realigned for a dazzling concert last June (go to http://www.youtube.com/ancientfuture and click on 14 Steps for a marvelous example). Along with Montfort came Ian Dogole, Doug McKeehan, and Jim Hurley, masters of their instruments, and the quartet played and still plays as though it were twice that size, complicated narrative and rhythms filling each track. 'World Without Walls' is drenched with the most enticing and hypnotic of essences, a record that, despite the passage of 21 years since its debut, cannot age, a document upholding a spirit of creativity ahead of its time hundreds of years ago and remaining so in the hands of masters such as these. Thank goodness some things never change." - Mark S. Tucker, FOLK & ACOUSTIC MUSIC EXCHANGE (Sept 2011)
"When one listens to the melodies and musical textures of the fifth release 'World Without Walls' by the group Ancient Future, words like exotic, elegant and sublime immediately come to mind. Check out the group on YouTube and see if you are not drawn into their hypnotic enchantment. Ancient Future offers a musical vision of a 'world without walls' which is both appealing and accessible to the average listener and is highly recommended for anyone wishing to explore the amazing genre of World music." - Jack Montgomery, Amplifier, BOWLING GREEN DAILY NEWS (Sept 2011)
"It's hard to remember — with the plethora of World Fusion albums currently available — a time when this sort of music was the new kid on the block. This classic album by Ancient Future was a breath of fresh air at the time of its release in 1990. With inspired skill and a great respect for the other cultures from which they took much of their inspiration, the band blended western music with that of pretty much every other continent, weaving magic with their melodies and rhythms. And you know what? 'World Without Walls' sounds as fresh and invigorating today as it did all those years ago upon its initial release. There's not a single bad moment on the album." - Charles de Lint, SleepingHedgehog.com (Nov 2011)
"Not insipid easy-listening 'World Music', 'World Without Walls' is a remastered re-release of their 1990 classic, and doesn't sound dated at all. 'World Without Walls' is a fusion of musical stylings, scales and rhythms from around the world. The main influences I hear are Middle Eastern, Indian and South American, though there's also Jamaican 'Island Music' sounds, Balinese and probably dozens of other influences too subtle for me to notice. The instruments run the gamut of acoustic instruments like violins, piano, tuned percussion instruments and tablas (by renowned master Zakir Hussain) and also electric guitar synths and synthesizers. Leader Matthew Montfort plays (along with other guitars) a unique scalloped-fretboard acoustic guitar which allows for subtle pitch-bending and timbre-modulation effects. A careful listen will reveal that this is way beyond the usual health-food store 'World Music' offerings and is instead a high-energy, very experimental fusion of styles from around the world. Highly recommended." - Fred Trafton, GILBRALTAR ENCYCLOPEDIA OF PROGRESSIVE ROCK (Nov 2011)
###