FOR IMMEDIATE RELEASE
5/23/2011
Contact: Ancient-Future.Com Records
1-888-823-8887
info@ancient-future.com
Capitol Records Schedules Digital Release of World Without Walls by Ancient Future for June 7, 2011

First Digital Release of Classic 1990 Recording by Ancient Future featuring Tabla Master Zakir Hussain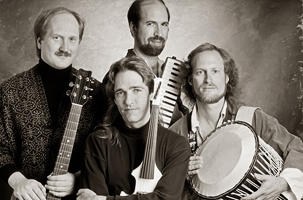 Sepia photo for print (14.7" x 9.7" sepia jpg, 7.2 MB). Ancient Future circa 1990. Photo by Irene Young. Pictured: Matthew Montfort (guitars), Jim Hurley (violin), Doug McKeehan (keys), Ian Dogole (percussion).
On June 7, 2011, the exact lineup of Ancient Future that performed on the band's influential World Without Walls and Asian Fusion recordings will reunite to perform for the first time in over 15 years at Yoshi's San Francisco and other venues. To celebrate the reunion concerts, Ancient Future's classic 1990 World Without Walls recording is scheduled to be released by Capitol/EMI Records for the first time ever at major digital retailers such as iTunes and Amazon.com MP3 Store on June 7, 2011.
As its name suggests, World Without Walls by Ancient Future depicts a musical world without borders. This classic 1990 recording features Ancient Future members Matthew Montfort (scalloped fretboard guitar, steel string guitars, electric guitars, classical guitar, guitar synthesizers, mandolin), Jim Hurley (acoustic violins, Zeta electric violin, steel string guitar), Doug McKeehan (piano, synthesizers), and Ian Dogole (dumbek, talking drum, congas, bongos, udu, shaker, bass drums, cymbal, sleigh bells, kendang, kajar, ceng-ceng, bells, chimes).
The record also features guest performances by world music legend and tabla master Zakir Hussain (tabla, kanjira), Gary Brown (fretless electric bass), Jeff Narell (steel drums), Vince Delgado (tambourine), Jack Dorsey (drum set), Bill Douglass (acoustic bass, Chinese flutes), and Bruce Kaphan (recording engineer, shaker).
The inviting melodies and ingenious use of ethnic textures make World Without Walls one of Ancient Future's most accessible and broadly appealing releases ever.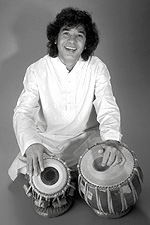 Tabla master Zakir Hussain
Ancient Future Biography
BILLBOARD calls the group "trendsetters" for contributing to the emerging movement known as world fusion music, a term Ancient Future leader Matthew Montfort coined at the band's inception for music that blends musical ideas from many different cultures. Formed in 1978, Ancient Future is the world's first and longest running ensemble dedicated exclusively to the mission of the creation of world fusion music. Their original music is an exhilarating fusion of exciting rhythms and sounds from around the globe that combines contemporary jazz and rock with the irresistible rhythms of African, Balinese, Indian, Middle Eastern and South American percussion, the rich harmonies of Europe, and the beautiful melodies of Asia.
In the years since the initial CD release of World Without Walls, Ancient Future has expanded from its core lineup through collaborations with noted masters of various world music traditions who are now an integral part of what is today more than just a band. Ancient Future has grown to become a large chamber ensemble of more than thirty performers from around the world with over a dozen smaller ensembles within it, enabling Ancient Future to realize its core mission of creating world fusion music.
Digital Release Specifications
Original Release Date: June 7, 2011
Label: Capitol
Copyright: © 2011 Narada Productions, Inc
Genres: International/World/Jazz/General
Total Length: 44:26
Track List: (>audio. Play all songs and excerpts.)
Lakshmi Rocks Me (Jim Hurley. 2:52). Sample MP3 (excerpt) (992K). >audio (1:01).
Dance of the Rain Forest (Matthew Montfort. 4:45).
April Air (Doug McKeehan. 3:57).
14 Steps (Matthew Montfort. 4:30). Sample MP3 (excerpt) (1MB). >audio (1:07).
End of the Beginning (Matthew Montfort. 5:15).
Turkish Taffy (Doug McKeehan. 4:55).
Alap (Matthew Montfort. 1:10).
Indra's Net (Jim Hurley. 4:53).
Nyo Nyo Gde (Matthew Montfort. 4:00).
Gopi Song (Doug McKeehan. 7:46).
Quotes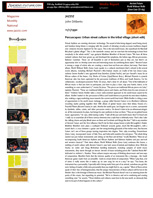 World Without Walls Media Report (6.4 MB)
"World Without Walls speaks to a cultural enrichment...a melding of world culture with Ancient Future's own lush sense of melody and rhythmic drive." – John Diliberto, Jazziz (Nov 91)
"Ancient Future masterfully blends cultural music with contemporary rock and the result is superb. For those who have a taste for exquisite instrumental, you will not be disappointed with this addition to your library. Ancient Future has a great following and for just cause. It is clear that Matthew Montfort's intense studies of cultural music shines and his artistic blend of old world instruments and modern technology shatters esoteric stereotypes. Ancient Future's music is as intense as history itself, yet none less than simple pleasure to play." – Donald A. Thomas, Jr., Revolutionary Concepts (December 90)
"The matrix of panpipes in 'Dance of the Rain Forest' is what would've happened if Steve Reich were Quechua, and the dumbek in 'Turkish Taffy' is fiery enough to induce spontaneous belly dancing. Extra credit to Zakir Hussain, whose tabla playing lends legitimacy to the Indian airs. Basically this is Shadowfax with teeth." – Michael Bloom, Boston Rocks (April 91)
"Long before the phrase 'world music' became ubiquitous, Matthew Montfort and his group Ancient Future were boldly melding Asian and western music. Over the years they've carved out a respectable niche for themselves in the netherworld of alternative music; 'World Without Walls' just might kick them into the mainstream. There are enough ear treats to please just about anyone. From the soaring 'Lakshmi Rocks Me' to the beautiful scalloped fretboard guitar work on 'Alap', and the exquisite 'Nyo Nyo Gde,' 'World Without Walls' is well worth hearing." – Mark Nelson, MIDI Guitar (Spring 91)
"Ancient Future makes ancient musical traditions of the world accessible to western ears. Ancient Future has found a winning mixture of sound to please the popular listener. World Without Walls envisions a civilization that values and respects all cultures. The wealth of World culture has yet to be uncovered. World without Walls is a great step in this direction. It makes me think of Ancient Persia, Middle Eastern cultures, Islamic Art, The Rubaiyat of Omar Khayyam." – Kathleen Lawson, New World (April 91)
"In this recent release Ancient Future has manifested in musical form the ideal expressed by the title of the album. Though it's is a mostly upbeat album, there are a few contemplative pieces that lend a nice balance. Gopi Song is a lush and beautifully tender ballad. A delightful album that can be listened to in many different contexts. It would be great for driving, dancing or to be carried away on an inner journey to places of joyful splendor." – Geoffrey Mays, Heartsong Review (Spring/Summer 91)
"Ancient Future, one of the first proponents of world music, is back. Each piece involves a complex mixture of musical traditions, including jazz, electronic, and exotic instruments. You will hear influences from many countries, all creating the texture of a musical world without walls. 'Music is meant to break down walls between people,' said the group's founder Matthew Montfort. 'The more people listen, the more tolerant they will be of each other.'" – Carol Wright, NAPRA Trade Journal (Spring 91)
"This recording breaks down many walls. It's a bridge from ancient musical traditions to modern music culture, from folk tradition to modern customs. The scalloped fret guitar, sitar, congas, dumbek, tabla, African talking drum, and other exotic instruments are combined with the synthesizer in a way that expands contemporary composition. The music flows in driving rhythms, fast, and fashioned after popular patterns. But it has the soul of Indian and Middle Eastern music. Lakshmi Rocks Me soars with acoustic violin backed by Zakir Hussain's renowned tabla playing. Dance of the Rainforest begins with a short gamelan prelude. Then it sways into a world fusion waltz. It's a playful metaphor celebrating the rainforest. Ancient Future takes great inspiration from Classical Indian music and transforms it somehow into the energy of world fusion. This music wakes you up. It's refreshingly new without a hint of nostalgia." – Kathleen Lawson, Well Being Journal (April/May 91)
"Worldbeatnik Alert: Ancient Future have a jazzy side that keeps things interesting, sorta like a more energetic version of Oregon. Their latest cross-cultural exploration, WORLD WITHOUT WALLS mixes Celtic, Arabic, and Asian modes to create a soundtrack for your next mind vacation, to plagiarize a phrase." – J. Poet, Ward Music Monthly (June 91)
"This is a wonderful collection of original tunes that reflect the influence of many cultures, most notably that of India, as well as the nuances of the Orient. The artists are a seasoned group of professional musicians who produce a seemingly effortless fusion of Eastern melodies and meters with Western instrumentation and a jazzy groove. The song Turkish Taffy is a great example; the melody line definitely inspires visions of old Istanbul, while the tune builds up a swinging groove that climaxes in a fiery electric guitar solo at the end that would please fans of rock guitarist Santana. Virtuoso violin playing by band member (and composer) Jim Hurley, Zakir Hussain on tabla and assorted Indian percussion instruments give the tunes an authenticity and driving force. A delightful album." – Heartsong Review, Spirit of Change (Winter 91-92)
"Ancient Future was one of the first groups to explore the idea of World Fusion music. Their most recent effort, the aptly-titled 'World Without Walls,' showcases Montfort's scalloped, steel-string & classical guitars with spirited support throughout the ten pieces. There is the lyrical piano/steel drum interplay of 'April Air,' the acoustic sensitivity of '14 Steps', the fluid electric violin and busy bass on 'Dance of the Rain Forest,' and the dazzling sound of Zakir Hussain's tabla playing which adds zest to the lively opener 'Lakshmi Rocks Me' and two other selections." – Lloyd Barde, Common Ground (Spring 1993)
"World Without Walls opens with 'Lakshmi Rocks Me.' Composer Jim Hurley's violin leads before a very fast, high tabla played by master drummer Zakir Hussain. Matthew Montfort plays a sweet, Southern electric guitar on 'Dance of the Rainforest.' The watery feeling winds out to an Allman Brothers-like easy landing. Montfort joins Hussain on '14 Steps' with pensive ruminations on his lovely scalloped fretboard guitar. With Hurley on acoustic violin, they play a dynamic, perfectly entrained tabla/guitar/violin raga-jam, linked note for note until the violin takes off wailing against the backdrop of Bill Douglass' soothing acoustic bass line. On 'Indra's Net' Doug McKeehan's gentle synthesizer and piano paint stars across the blackness of the acoustic bass, while composer Hurley's violin streaks the sky." – Diane Darling, Music to Make Love By, Green Egg (Spring, 94)
###