Vishal Nagar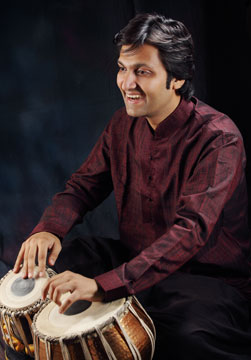 (tabla, percussion)
Vishal Nagar is considered one of the most gifted tabla players of his generation. Born into a family of musicians, Vishal has been surrounded by music in an extremely musically creative and artistic environment. Since childhood, he has been fascinated by tabla and began to play at an early age. Vishal had his initial training for a very brief period with the late Ustad Latif Ahmed Khan of the Delhi Gharana. After his Ustad's untimely demise, Vishal continued his training under the guidance of Ustad Shamim Ahmed Khan of the same Gharana (school). Along with the dense and rare tabla repertoire taleem which was he received from his Ustad, he also has had intense rhythmic (layakari) training from his mother, the renowned and highly respected Kathak dancer and vocalist, Urmila Nagar. Vishal has been praised in the Indian press for his unique combination of melodic tabla sound production with masterful command of rhythm.
Vishal has had the privilege of performing with many renowned artists: Ustad Shujaat Khan, Guru Urmila Nagar, Vidhwan Trichur Ramachandran, Pandit Ramesh Misra and Kala Ramnath, to name a few. Vishal has also had the honor of sharing the stage with some great world music masters such as African drum legend Babatunde Olatunji, Michel Shrieve, Evyind Kang, Carmona Flamenco, and Michael Wimberley, to name few. Vishal has also expanded his cultural boundaries and collaborated with musicians from around the world. Some of his memorable works have been with the Ghanaian Guitarist Koo Nimo with whom he also appeared in WOMAD USA (a leading world dance and music festival started by Peter Gabriel). Starting his performance career at the age of eight in Patna, Vishal has performed around the globe including performances in many cities in India, Sweden, Germany, Denmark, Thailand and the United States. Vishal has also been awarded with the Ministry of Culture Scholarship from the Department of Culture.
In his journey as a musician, Vishal feels that music and art are truly an ocean of knowledge and an expression of feelings and emotions. He aspires to serve the Indian music and arts through his medium of expression, the language of tabla, and hopes that he will be able to give due respect, dedication, and devotion to this great art form of his country, India.