FOR IMMEDIATE RELEASE
2/1/2010
Contact: Ancient-Future.Com Records
1-415-459-1892
info@ancient-future.com
World Fusion Mini-Fest Featuring
Matthew Montfort (Scalloped Fretboard Guitar and Glissentar Pioneer)
Four Shillings Short (Celtic/Folk/World Music Duo)
Walter Strauss & Mamadou Sidibe (Finger-Style Guitar and West African Hunter's Harp)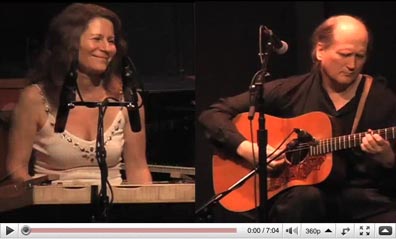 Sunday, February 28, 2 pm - 6 pm
Don Quixote's International Music Hall
6275 Highway 9
Felton, CA 95018
Tix: $10 adults. 16 and under free.
Info: 831-603-2294
email: tmm@cruzio.com
web: www.donquixotesmusic.com
facebook event: www.facebook.com/?sk=events#!/event.php?eid=306511012108
concert poster: www.ancient-future.com/pdf/2_28_10_don_quixotes.pdf
Don Quixote's International Music Hall presents a celebration of world fusion music with three stellar acts. Matthew Montfort, who coined the term "world fusion music" as leader of the pioneering world music group Ancient Future, brings the Eastern and Western worlds together with his masterful playing on scalloped fretboard guitar and Glissentar, accompanied by Mariah Parker on santur. Four Shillings Short bring together Celtic, East Indian and world folk music on over 30 instruments from around the world. Guitarist/songwriter Walter Strauss brings American folk, West African music, world beat and jazz to create a cohesive quilt of world music styles. Master hunter's harpist, Mamadou Sidibe, played a groundbreaking role in transforming the music of the Wassoulou region of Mali from its origins in hunters' sacred melodies to a music of philosophical observations, politics and daily life.
Matthew Montfort
The leader of the world music group Ancient Future, Matthew Montfort, has just released his first solo recording, Seven Serenades for Scalloped Fretboard Guitar. He is a pioneer among guitarists who have had their fretboards scalloped in order to play various forms of world music that require intricate note-bending ornaments while still being able to play chords. Montfort immersed himself in an intensive study with vina master K.S. Subramanian in order to fully apply the South Indian gamaka (note-bending) techniques to the guitar. The December 2009 Les Paul issue of Guitar Player Magazine includes a full page feature on Matthew Montfort with a corresponding GuitarPlayer.Com video and lesson entitled "The Music of Jimi Hendrix Applied to Indian Raga." He has performed concerts worldwide, from the Festival Internacional de la Guitarra on the golden coast of Spain to the Festival of India in Mumbai. He has worked with many world music legends, including tabla phenomenon Zakir Hussain and Chinese zither master Zhao Hui. Montfort wrote the book Ancient Traditions – Future Possibilities: Rhythmic Training Through the Traditions of Africa, Bali, and India, which has been used by many musicians to improve their rhythm skills. He is accompanied by Mariah Parker on santur, whose debut CD, Sangria, received rave reviews and airplay on more than 385 jazz and world music radio programs. Mariah Parker's Indo Latin Jazz Quintet will perform at Kuumbwa Jazz in Santa Cruz on April 15, and Yoshi's in Oakland on April 19.
"Because Montfort's guitar has a scalloped fretboard, his fingers touch only the strings, enabling him to produce ornaments more characteristic of the sitar. This album reveals a thorough knowledge of Hindustani microtonal ornaments, transferred in ways that create one of the most distinctive guitar sounds in contemporary music. However, it also reveals a lifetime of exploration in world music, which can be immediately summoned in a flash of inspiration. When this level of mastery is reached, there is no need to rewrite. The first improvisation has the depth of a reworked composition." – Teed Rockwell, INDIA CURRENTS, March 2009
"The mind-bending playing abilities of guitar virtuoso, Matthew Montfort, stems from the note-bending capabilities of the scalloped fretboard guitar. This produces a different sound than the more familiar guitar, because the fretboard is carved out, so the fingers only touch the strings. Musically, the songs verge on a flamenco-Indian-jazz continuum. This is partly due to Matthew's playing technique and the sitar-like sounds of his guitar." – Matthew Forss, INSIDE WORLD MUSIC
Matthew Montfort Media Files
Matthew Montfort Hi-Res Photo by Julie Marten (2 MB):
http://www.ancient-future.com/images/matthewmontfort600.jpg
Matthew Montfort Hi-Res Photo 2 by Julie Marten (1.6 MB):
http://www.ancient-future.com/images/mattserenade300dpi9x6.jpg
Youtube Video Duet:
www.youtube.com/watch?v=iGIliJuyfvs
Youtube Video Solo:
www.youtube.com/watch?v=TLfKTbpgO1Q
5 Page Guitar Player Magazine/GuitarPlayer.com Media Report (1.4 MB):
http://www.ancient-future.com/pdf/MatthewMontfortGuitarPlayerMag.pdf
Seven Serenades Digital 1 Sheet (552 k, streaming audio):
http://www.ancient-future.com/pdf/serenades_1sheet_dig.pdf
Seven Serenades Hi-Res CD Cover Art (912 k):
http://www.ancient-future.com/images/serenade300dpi.jpg
Four Shillings Short

www.fourshillingsshort.com

The Celtic/folk/world music duo, Four Shillings Short, perform on a fantastic array of instruments from around the world. This list of instruments includes North Indian sitar, hammered dulcimer, mandolins, banjo, whistles, recorders, medieval and renaissance woodwinds, charango, bowed psaltery, guitar, and even a krumhorn. The husband/wife duo of Aodh Og O'Tuama from Cork, Ireland and Christy Martin from California, tour in the US and Ireland, live as full time minstrels.
"They are not the Clancy Brothers or Jean Richie or Ravi Shankar but a combination of all three, laced with Irish humor." – San Gregorio General Store, CA
"Four Shillings Short are astounding. They both have wonderful singing voices and play an incredible variety of music from Indian Ragas to Celtic, Traditional folk and about anything else you can think of. They are very charismatic with great stage presence." – Columbus Folk Music Society, Columbus OH
Four Shillings Short Media Files
Hi-Res Photos:
www.art.net/~4ss/PressKit.shtml
Walter Strauss and Mamadou Sidibe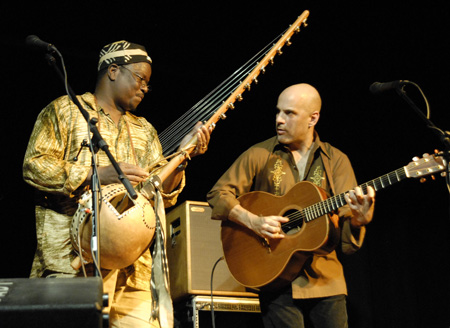 www.walterstrauss.com
When American guitarist Walter Strauss and Malian kamal'ngoni master Mamadou Sidibe engage in a musical interplay of finger-style guitar and West African hunter's harp, the result is a deep, soulful music that is simultaneously ancient and fresh. These two unique musicians from distant origins create an intoxicating blend of music in which they gracefully complement each other through intertwining melodic grooves, spirited improvisation, and songs in two languages. Walter Strauss is a "wizard of the fingerstyle guitar" (folk and roots) whose multi-layered style gives the impression several instruments are playing at once. He's performed widely with musicians ranging from Grammy nominated West African kora master Mamadou Diabate to eclectic songsters The Burns Sisters and fiddle legend Vassar Clements. Master kamal'ngoni player, Mamadou Sidibe is from the Wassoulou region of Mali, West Africa. Twenty-five years ago, Mamadou played a groundbreaking role in transforming the music of this region from its origins in hunters' sacred melodies – played on six string donso ngoni (hunter's harps) – to a music of philosophical observations, politics and daily life. Mamadou has toured with Malian greats Oumou Sangare, Coumba Sidibe, and Toumani Diabate in Africa, Europe and the US.
Walter Strauss and Mamadou Sidibe Media Files
Full Bio:
www.walterstrauss.com/media/wsbio.pdf
Media Kit:
www.walterstrauss.com/pages/presskit.html
71 Word Radio Announcement
Don Quixote's International Music Hall hosts a World Fusion Mini-Fest with scalloped fretboard guitarist Matthew Montfort, Celtic/Folk/World music duo Four Shillings Short, and guitarist/songwritter Walter Strauss with African hunter harpist Mamadou Sidibe on Sunday, February 28, from 2 pm to 6 pm. Don Quixote's is located at 6275 Highway 9, Felton, California. Tickets are $10 for adults, with free admission for those age 16 and under. For more information, call 831-603-2294.
Rough Pronunciation Guide
Mamadou Sidibe: maa•maa•doo•C•D•bay
Montfort: mawnt•fort
###