FOR IMMEDIATE RELEASE
4/27/2010
Contact: Ancient-Future.Com Records
1-415-459-1892
info@ancient-future.com
San Francisco Guitar Summit
featuring Matthew Montfort, Teja Gerken, and the San Francisco Guitar Quartet
Saturday, June 5, 2010, 8:15 pm
The Noe Valley Ministry
1021 Sanchez St.
San Francisco, CA 94114
Tickets: $16 advance/$18 door
Information & Reservations: 415-454-5238
Venue Website: www.noevalleymusicseries.com
Facebook Event: www.facebook.com/event.php?eid=116802495014923
In what is certain to be a concert highlight of the year for Bay Area guitar lovers, the Noe Valley Ministry is presenting a one-of-a-kind evening featuring three internationally acclaimed acts with deep roots in the local music scene. The San Francisco Guitar Summit seeks to present the varied range of music possible on the instrument – from acoustic fingerstyle through modern classical, to pioneering world fusion – in one of San Francisco's most intimate listening rooms. The summit features Matthew Montfort performing on scalloped fretboard and fretless guitars, fingerstyle guitarist Teja Gerken, and classical and modern music by the San Francisco Guitar Quartet.
Matthew Montfort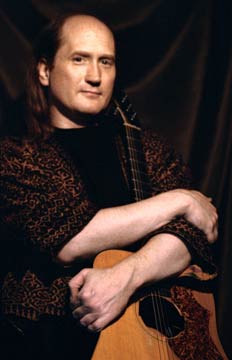 Matthew Montfort Hi-Res Photo by Julie Marten (2 MB):
http://www.ancient-future.com/images/matthewmontfort600.jpg
Matthew Montfort is the leader of the world music ensemble Ancient Future. Featured in the December 2009 commemorative Les Paul issue of Guitar Player Magazine, Montfort is a pioneer among guitarists who have had their fretboards scalloped in order to play various forms of world music that require intricate note-bending ornaments while still being able to play chords. Montfort immersed himself in an intensive study with vina master K.S. Subramanian in order to fully apply the South Indian gamaka (note-bending) techniques to the guitar. He is also known for his work on Glissentar (11 string fretless guitar), electric guitar, flamenco guitar, sitar, charango, mandolin, and gamelan. He has performed concerts worldwide, from the Festival Internacional de la Guitarra on the golden coast of Spain to the Festival of India in Mumbai. He has worked with many world music legends, including tabla phenomenon Zakir Hussain and Chinese zither master Zhao Hui. Montfort wrote the book Ancient Traditions – Future Possibilities: Rhythmic Training Through the Traditions of Africa, Bali, and India, which has been used by many musicians to improve their rhythm skills. For more info, please visit www.matthewmontfort.com.
Seven Serenades for Scalloped Fretboard Guitar

'Seven Serenades' Hi-Res CD Cover Art (912 k):
http://www.ancient-future.com/images/serenade300dpi.jpg

Seven Serenades for Scalloped Fretboard Guitar by Matthew Montfort. $17.98. Buy Link. (>YTmusic)
This debut recording by Ancient Future leader Matthew Montfort showcases his pioneering work on the scalloped fretboard guitar, a special modified instrument able to produce ornaments more characteristic of the sitar. While previously known more for his compositions for the trendsetting world music group Ancient Future, this first solo effort features his improvisational music.
Ancient Traditions – Future Possibilities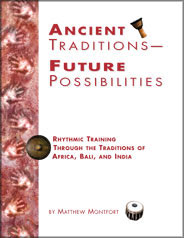 Ancient Traditions – Future Possibilities: Rhythmic Training Through the Traditions of Africa, Bali and India. By Matthew Montfort. Kentfield: Ancient Future Music, 1985. ISBN 0-937879-00-2. Comb Bound Book and Enhanced Audio CD Set with MIDI Soundfiles: $52.95 (SALE! Normally $69.95): Add 1 to Cart. Buy 1 Now.
Ancient Traditions – Future Possibilities is the "world beat bible" by the leader of the popular world fusion music ensemble, Ancient Future. The book takes the student on a musical voyage through these great ancient rhythmic traditions with a series of exercises that require no instruments to perform.
Video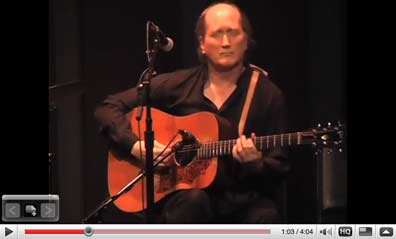 Matthew Montfort Performing 'Soul Serenade' at Ancient Future's 30th Anniversary Concert:
http://www.youtube.com/watch?v=TLfKTbpgO1Q
Recorded at Ancient Future's 30th anniversary concert, 'Soul Serenade' is also on Matthew Montfort's debut recording, Seven Serenades for Scalloped Fretboard Guitar. This live version is now available as an mp3 download exclusively to subscribers to the Archive of Future Ancient Recordings at http://www.ancient-future.com/afar.html.
Press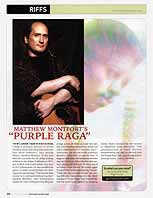 5 Page Guitar Player Magazine/GuitarPlayer.com Media Report (1.4 MB):
http://www.ancient-future.com/pdf/MatthewMontfortGuitarPlayerMag.pdf
Seven Serenades Media Report (3.9 MB):
http://www.ancient-future.com/pdf/MediaMatthewMontfort.pdf
"Because Montfort's guitar has a scalloped fretboard, his fingers touch only the strings, enabling him to produce ornaments more characteristic of the sitar. This album reveals a thorough knowledge of Hindustani microtonal ornaments, transferred in ways that create one of the most distinctive guitar sounds in contemporary music. However, it also reveals a lifetime of exploration in world music, which can be immediately summoned in a flash of inspiration. When this level of mastery is reached, there is no need to rewrite. The first improvisation has the depth of a reworked composition." – Teed Rockwell, INDIA CURRENTS, March 2009
"The mind-bending playing abilities of guitar virtuoso, Matthew Montfort, stems from the note-bending capabilities of the scalloped fretboard guitar. This produces a different sound than the more familiar guitar, because the fretboard is carved out, so the fingers only touch the strings. Musically, the songs verge on a flamenco-Indian-jazz continuum. This is partly due to Matthew's playing technique and the sitar-like sounds of his guitar. For everyone interested in the sounds of guitar, especially fans of Bob Brozman or Ben Bowen King, then this is definitely for you." – Matthew Forss, INSIDE WORLD MUSIC
"It isn't every day that acoustic guitarists make their instrument sound a lot like an Indian sitar, but that is exactly what Matthew Montfort accomplishes on the instrumental 'Seven Serenades for Scalloped Fretboard Guitar.' Through it all, Montfort demonstrates that even though he has considerable chops and technical prowess, he is much more interested in feeling and expression than technique. This 56-minute CD is an adventurous, consistently engaging demonstration of what Montfort can accomplish on the scalloped fretboard guitar." – Alex Henderson, ALL MUSIC GUIDE
Teja Gerken

Teja Gerken Hi-Res Photo (1 MB):
http://www.tejagerken.com/High_Res_Images/teja_color2.jpeg
Teja Gerken is no stranger to those familiar with the Bay Area acoustic guitar scene. Born in Germany, but calling San Francisco home, he is a seasoned performer, and has shared the stage with players such as Alex de Grassi, Henry Kaiser, and John Renbourn , as well as with his mentor, Peppino D'Agostino. Gerken's playing blends myriad influences into a musical style that hovers around the perimeters of folk, contemporary classical, and world music , often involving alternate tunings, right-hand tapping, and percussive effects. Gerken's latest CD Postcards is featured on KFOG's Acoustic Sunrise list of "Best New CD's of 2005." For more info, please visit www.tejagerken.com.
Video
Teja Gerken performs Dale Miller's composition "Noe Valley Sunday" at the Noe Valley Ministry in San Francisco, Dec. 5th, 2009:
http://www.youtube.com/watch?v=C3dN4JW0jAU
A recording of this tune is available on Teja Gerken's Postcards album. The guitar is a Taylor 355 with a D-TAR Timberline pickup, tuned B, F#, B, E, F#, B (DADGAD down 1 1/2-steps).
Press
"Releasing his second CD, Postcards, is San Francisco area fingerstyle guitarist Teja Gerken, who delivers solo instrumental compositions with enough surprises and innovative twists to delight aficionados of the world music and folk genres. His tunes employ physical techniques such as two-handed tapping, alternate tunings, and percussive effects, but his developed sense of melody is what will keep his CD playing in your mind long after the 'stop' button is pressed. Another impressive feature is that Gerken's playing is captured without overdubs; the intricate arrangements delivered as you might hear the artist in concert. Gerken is one of a rare breed - a guitarist's guitarist with equal appeal for the non-musicians out there. His Postcards album is highly recommended." – GUITAR9.COM
San Francisco Guitar Quartet

San Francisco Guitar Quartet Hi Res Photo (971 k):
http://sfgq.com/images/photos/large/bhp_0276.jpg
The San Francisco Guitar Quartet consists of David Dueñas, Jon Mendle, Patrick O'Connell, and Mark Simons – four Bay Area guitarists presenting an expansive and vibrant repertoire of newly composed works and time-tested classics. Exploring the many and varied possibilities of four guitars playing together, an SFGQ program is a veritable guitar lover's Wonderland, offering at once an abundant, engaging, and delightfully eclectic listening experience. From the infectious rhythms of Brazil to the whirling dances of the Balkans, from the passion of the tango to the hypnotic textures of minimalism, the SFGQ manifests a modern yet all-embracing approach to chamber music for classical guitar--with deference to the fact that theirs is an instrument ultimately defined by deep roots in both the folk and classical traditions. Through their national and international touring, ground-breaking recordings, and featured performances at major guitar festivals, the SFGQ has established itself as an enduring presence in the classical guitar world. The SFGQ is online at www.sfgq.com.
Press
"Without a doubt the SFGQ's performance was an outstanding highlight of our festival." – Reed Gilchrist, Director- LA GUITARRA CALIFORNIA FESTIVAL

"The SFGQ play with a fresh enthusiasm and life force which one rarely experiences in even the most seasoned performers. Their performance of Dusan Bogdanovic's 'Introduction and Dance' is like a gypsy caravan springing to life." – Scott Tennant

72 Word Radio Announcement
On Saturday, June 5, at 8:15 pm, The Noe Valley Ministry presents The San Francisco Guitar Summit featuring scalloped fretboard guitarist Matthew Montfort, fingerstyle guitarist Teja Gerken, and the San Francisco Guitar Quartet, which specializes in classical and modern music for guitar. The Noe Valley Ministry is located at 1021 Sanchez St. in San Francisco. For more information call 415-454-5238 or visit www.noevalleymusicseries.com. Tickets are $16 in advance and $18 at the door.
Press Contact Information
For further information, or to request interviews or promotional material, please contact Teja Gerken at (415) 531-7367 (teja@tejagerken.com), or contact Matthew Montfort at 415-459-1892 (info@ancient-future.com).
###