FOR IMMEDIATE RELEASE
6/28/2018
Contact: Ancient-Future.Com Records
1-415-459-1892
info@ancient-future.com
Ancient Future Performs at Throckmorton Theatre

Hi-Res Photo (300 dpi, 5.7 x 3.8, 1.2 MB) by Alan Tower.
Shown: Georges Lammam, Matthew Montfort, Antoine Lammam, and Doug McKeehan
Featuring Matthew Montfort (Scalloped Fretboard Guitar), Georges Lammam (Arabic Violin), Antoine Lammam (Arabic Percussion), and Doug McKeehan (Keyboards)
This program by the pioneering world music group Ancient Future blends the rhythms and melodies of the Arabian Peninsula with contemporary jazz and rock, producing an irresistible and exhilarating fusion that captures the essence of pilgrimage, cultural exchange, exploration and migration. These multifaceted artists create an innovative musical experience that guides listeners on a hypnotic voyage through time and place.
Ancient Future's performance features world guitar pioneer Matthew Montfort, Arabic violin virtuoso Georges Lammam, Arabic percussion master Antoine Lammam, and keyboardist extraordinaire Doug McKeehan.
The concert will include music from Ancient Future's broad repertoire including music from the band's major label releases such as World Without Walls (voted in the top 5 world music picks by broadcasters worldwide upon its 2012 reissue on Capitol Records) and current releases on Ancient-Future.Com Records such as Planet Passion and the Archive of Future Ancient Recordings.
Ancient Future is the first and longest running musical organization dedicated exclusively to the mission of creating world fusion music. The term was coined by bandleader Matthew Montfort in 1978 to describe Ancient Future's unusual blend of musical traditions from around the world. BILLBOARD calls the group "trendsetters" for their early contributions to the movement, which seeks to show how people from different cultures can grow by learning from each other.
Saturday, July 28, 8 PM
Throckmorton Theatre
142 Throckmorton Avenue
Mill Valley, CA 94941
Doors open at 7:30 PM
Adm: $20 adv, $25 at door, $35 reserved seating
Tix: tickets.throckmortontheatre.org
Tix Tiny URL: http://tinyurl.com/y9sr52ft
Event: throckmortontheatre.org/event/ancient-future/
Info: 415-383-9600
Facebook Event
Poster to Share or Print and Post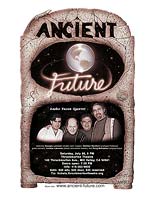 Concert Poster (259k pdf)
Ancient Future will also perform this program at the Lick Observatory on Mount Hamilton on August 4. That show sold out immediately with tickets that ranged in price from $45 to $199, so advanced tickets are highly recommended for the July 28 show at the Throckmorton Theatre.
Video
'El Zaffa' by Ancient Future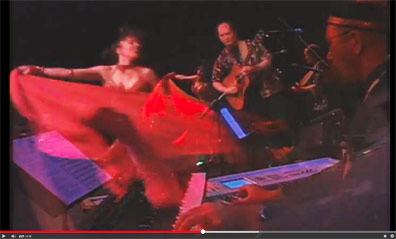 'El Zaffa' YouTube Video URL: https://youtu.be/mHle2ipjQsU
Ancient Future performs 'El Zaffa' from their Planet Passion recording. The composition is based on the Egyptian wedding march rhythm elzaffa and features Matthew Montfort (composer, scalloped fretboard guitar), Georges Lammam (Arabic violin), Salaheddin Takesh (Arabic percussion), Doug McKeehan (keyboards), and Sapphira (belly dance). It reached #1 Middle Eastern on Ethnocloud.com in July 2014. In memory of and thanks to Brilla and Gordy Hall at Gordyo Video.
Concert Review
"Woe, is for all of you who missed the Ancient Future event sponsored by Rhythm & Bliss. The group Ancient Future is made up of Musical Masters in their genres. The band consists of 24 musicians that come together in different configurations and create fused music. This configuration was an Arabic/Rock fusion. I have no words to describe what it is to hear live musical virtuosos. After hearing and dancing to this quality of music nothing else stirs my soul the same way. It was truly a grand evening. I was so very glad to have been there." – Mary Wheeler, The Harrakat, Eugene, Oregon
Biographies
Matthew Montfort (scalloped fretboard and fretless guitars)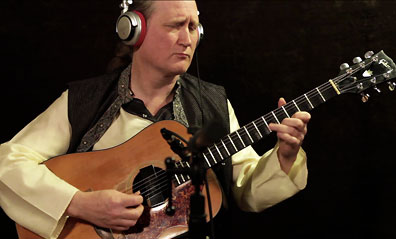 Hi-Res Photo (300 dpi, 5 x 3) by Michael Braden of Matthew Montfort Recording A.F.A.R.

The leader of the world music group Ancient Future, Matthew Montfort, released his first solo recording, Seven Serenades for Scalloped Fretboard Guitar, in 2009. He is a pioneer among guitarists who have had their fretboards scalloped in order to play various forms of world music that require intricate note-bending ornaments while still being able to play chords. Montfort immersed himself in an intensive study with vina master K.S. Subramanian in order to fully apply the South Indian gamaka (note-bending) techniques to the guitar. He is recognized as one of the world's 100 Greatest Acoustic Guitarists by DigitalDreamDoor.com, a curated "best of" site, along with such luminaries as Michael Hedges, Leo Kottke, Chet Atkins, John Fahey, Merle Travis, John Renbourn, Tommy Emmanuel, Doc Watson, Pierre Bensusan, Alex De Grassi, and Peppino D'Agostino. The December 2009 Les Paul issue of Guitar Player Magazine includes a full page feature on Matthew Montfort with a corresponding GuitarPlayer.Com video and lesson entitled "The Music of Jimi Hendrix Applied to Indian Raga." He has performed concerts worldwide, from the Festival Internacional de la Guitarra on the golden coast of Spain to the Festival of India in Mumbai. He has performed live on national radio and TV shows such as the Echoes Living Room Concerts on Public Radio International, and the Rachel Maddow Show on MSNBC. He has worked with many world music legends, including tabla phenomenon Zakir Hussain and Chinese zither master Zhao Hui. Montfort wrote the book Ancient Traditions – Future Possibilities: Rhythmic Training Through the Traditions of Africa, Bali, and India, which has been used by many musicians to improve their rhythm skills.
Georges Lammam (Arabic violin and vocals)
Georges Lammam, of Palestinian descent, was born in Beirut, Lebanon. He is a solo violinist exemplifying the Arab style of instrumental improvisation. Mr. Lammam toured in Bolivia with renowned artists Eddie and Gabriel Navia, and joined stellar performers hosted by JoinedHands (USA NP), organized by Marcus Lovett (Phantom of the Opera), to support refugee families and humanitarians in the refugee camp in Chalkida, Greece, hosting thousands of people from Syria, Iraq, and Afghanistan. His compositions and performance excerpts are included in scores for two award-winning documentaries:  Occupation 101 and Tea on the Axis of Evil, and he recorded a well-known folkloric dabke (an Arab folk dance) in a 2016 feature film, Wrestling Jerusalem by Aaron Davidman. His newest CD, Opus Omnia, was released in 2017.
Doug McKeehan (piano, synthesizers)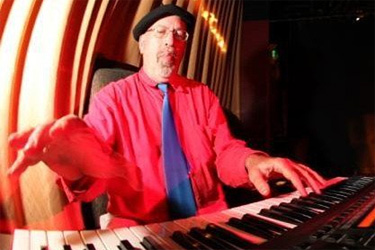 Doug McKeehan started his piano studies at age five, and began his first professional work at the age of twelve. He studied music at the Oberlin Conservatory, Kent State University, and the University of Otago (New Zealand). He has toured Europe twice and spent considerable time in India studying with notable Indian music teachers such as Pandit Ram Narayan, Ustad Kursheed Khan and Pandit A.G. Bhattacharya. He has composed original music for stage and T.V. productions in San Francisco and Los Angeles and has been musical director of two original musical comedy productions. He cofounded Air Craft with violinist Bruce Bowers, which released a highly acclaimed progressive jazz album, So Near, So Far (Crafted Air CA 30100). He is a first call jazz pianist in the San Francisco Bay Area.
Antoine Lammam (Arabic percussion)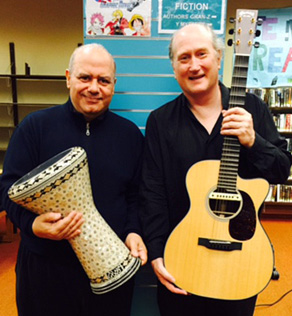 Photo of Antoine Lammam and Matthew Montfort at the Petaluma Library
Antoine Lammam was born in Beirut, Lebanon. His musical career started at the age of 8 after he was given his first drum, an Egyptian tabla. At the age of 14, his family moved to United Arab Emirates, running away from the war in Lebanon. He was encouraged to master his craft and studied under Khaliji conga master Jumah Ibrahim and Syrian bongo and tambourine player Marwaan Sheriff. The move to United Arab Emirates and joining a number one band consisting of 20 members gave the young Antoine a rich insight into the cultural origins of Middle Eastern music mixed with the flavors of Indian and African rhythms. In the mid of 1970's, Antoine became the main drummer for famous Khaliji singer Abdullah bel-Kheir. But as Antoine began looking for new dimensions of percussive sounds, he found himself turning full circle into his first interest and his sensual passion for the Arabic tambourine. It wasn't till late 1970's, when Antoine met and studied with famous tambourine player Michael Baklouk. After that, Antoine became the main tambourine player at Dubai's major radio station, where he enjoyed playing and recording with various famous artists of that time. Antoine has accompanied many famous singers in the USA, played at major night clubs all over America, and taught Arabic rhythms and percussion theories at UC Berkeley (World Music from the Middle-East) from 1991-2009. He is featured on many record releases, including Ancient Future's Planet Passion and his own poetry and music album, Echoes Of Silence, which features his brothers, the famous violinist Georges Lammam and master accordion player Elias Lammam.
Relevant Recordings on Ancient-Future.Com Records
The Archive of Future Ancient Recordings by Ancient Future


Hi-Res Cover Art (300 dpi, 5 x 5)
The Archive of Future Ancient Recordings by Ancient Future. (Ancient-Future.Com AF-2030). Recording Newsletter Package (128 kbps MP3): $15. Download Supporter Package (320 kbps MP3): $25. Limited to 300 packages. Limited Edition CD Sponsor Package (CD quality .wav): $50. Limited to 200 packages. Honorary A & R Representative Package (Hi-res 24 bit .wav): $75. Limited to 100 packages.
During Ancient Future's 30th anniversary year, work started on the next project of the band: The Archive of Future Ancient Recordings (A.F.A.R.). To finance the project, a subscription system model is being employed to fund the recording through fans of world fusion music. There are already eight tracks in the archive available right now to subscribers, with more coming as money is raised for production.
Planet Passion by Ancient Future


Hi-Res Cover Art (300 dpi, 5 x 5)

Planet Passion by Ancient Future (Ancient-Future.Com AF 2010) $17.98.

"If the members of the United Nations formed a world-fusion band, it might look and sound a little something like Ancient Future's re-issue of their seventh recording. Featuring instrumentation from Africa, Asia, South America and the Middle East, Planet Passion is a mythical story of love, flirtation, seduction, courtship, marriage and longing. Manose Singh's bansuri flute and Matthew Montfort's scalloped fretboard work stand out in this eclectic, visionary global village, where each track features its own unique set of players. At its best, Planet Passion strives to preserve the world's vast musical heritage via international collaboration: the idea that one protects the old by creating something new. This is at the heart of fusion music and the heart of Ancient Future's global aesthetics, too: a diverse, unified world without borders, a multicultural community, a new, reconstituted sonic reality." — Ryan Allen, LEO WEEKLY, Louisville, Kentucky
Seven Serenades for Scalloped Fretboard Guitar by Matthew Montfort

Hi-Res Cover Art (300 dpi, 5 x 5)

Seven Serenades for Scalloped Fretboard Guitar by Matthew Montfort. (Ancient-Future.Com AF 2008). $17.98.
"Because Montfort's guitar has a scalloped fretboard, his fingers touch only the strings, enabling him to produce ornaments more characteristic of the sitar. This album reveals a thorough knowledge of Hindustani microtonal ornaments, transferred in ways that create one of the most distinctive guitar sounds in contemporary music. However, it also reveals a lifetime of exploration in world music, which can be immediately summoned in a flash of inspiration. When this level of mastery is reached, there is no need to rewrite. The first improvisation has the depth of a reworked composition." — Teed Rockwell, INDIA CURRENTS, March 2009

81 Word Radio Announcement for Ancient Future at Throckmorton Theatre
The trailblazing world music group Ancient Future will perform as a quartet featuring world guitar pioneer Matthew Montfort, Arabic violin virtuoso Georges Lammam, Arabic percussion master Antoine Lammam, and keyboardist extraordinaire Doug McKeehan on Saturday, July 28, at 8 PM, at the Throckmorton Theatre, located at 142 Throckmorton Ave. in Mill Valley, California. For further information, call 415-383-9600 or visit throckmortontheatre.org. Admission is $20 in advance, $25 at the door, and $35 for reserved seating. Advance tickets are available at tickets.throckmortontheatre.org.
###