THE ANCIENT FUTURE
When Matt Met Mindy
By Mindia Devi Klein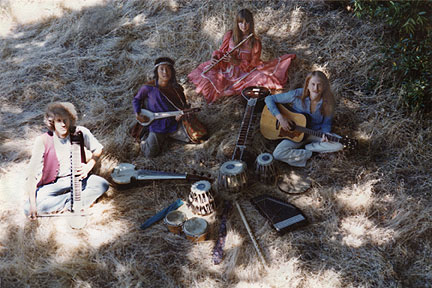 Ancient Future Circa 1979. Shown: Benjy Wertheimer, Phil Fong, Mindia Devi Klein, Matthew Montfort
When Matt, a serious guitarist, met Mindy, a jazz flutist, it was a very windy sunny day. Both had come to Muir Beach, a famous (back-in-the-day) Marin County nude beach, to meet up with a mutual friend (a friend whose father coincidentally happened to be Sam Keen, an icon of the very influential human potential movement of the times). Of course this was before the Ancient Future (and) before Mindy had become Mindia. Matt was from Boulder, Colorado, Mindy from New York City. Turns out they were both also serious students of Indian classical music.
Matt had gravitated to guitar when he was a little boy, then received a scholarship in music from the University of Colorado. Together with Benjy Wertheimer, his best friend from Boulder (a best friend, coincidentally, whose grandfather had been an icon in the early European psychology movement) they decided to move west to study traditional music of the East, the ancient music of India, at the Ali Akbar College of Music in Marin County, California. Matt studied sitar with Ali Akbar Khan. Benjy studied tabla with Zakir Hussain.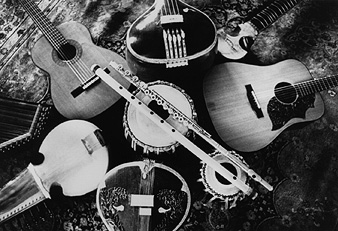 Ancient Future's Instruments at the Ali Akbar College Circa 1979.
Matt and Benjy joined a band called Green House Intergalactic featuring a heady brew of musicians all studying at the Ali Akbar College. Later Mindia (who 'coincidentally', along with members of her family, worked at Big Sur Recordings, a vital vehicle for disseminating the teachings of many of the innovative thinkers, teachers and actors holding forth at Esalen Institute, the pre-eminent experiential human potential hub of the times) would sit in with the band at The Sleeping Lady Café. The Sleeping Lady was a well-loved cooperative food and music venue in the happening little town of Fairfax near the Ali Akbar College. (It exists today in a different incarnation and location still in Fairfax). Fantastic musicians would show up at the Lady to perform or sit in with other musicians. Folks like Van Morrison, Ramblin Jack Elliot and the occasional member of the Grateful Dead, many icons of the evolutionary psychedelic-blues-indo-jazz fusion music making waves at the time. Among these were Zakir Hussain and G.S. Sachdev whose first recording in the United States (coincidentally) was produced and released by Big Sur Recordings. This was at a time when Westerners were just beginning to learn of the existence of the ancient and revered traditions of Indian music.
When Mindy met Matt, she had just recently graduated form UCSC with a degree in jazz and aesthetics studies and was on her way towards earning a Masters in World Music and Composition from Antioch University West. A jazz flutist with years of formal training in western classical music, dance and drama, a graduate of NYC's High School of Performing Arts, she was a precocious and creative young musician having formally begun music training as a 2 year old with African-American folk singer Charity Bailey in Brooklyn, New York. She had come west on her way to India when she met her music root guru Ali Akbar Khan and began studying with the great maestro at his college in San Rafael. There she also studied with other great Indian classical artists such as Ravi Shankar, Zakir Hussain and Chitresh Das. She was initiated into the art of the bansuri flute by the college's now former flute maestro G.S. Sachdev. Her path was forged and she never looked back.
So when Mindy met Matthew and Benjy and Phil Fong, a sarode student of Khansahib's at the college, the bright light of forever went on inside them, and the four musicians, all of whom were seriously seeking a way to bridge east and west for the sake of music and world peace, together invented, in that prescient and present moment, the innovative world music ensemble ANCIENT FUTURE. The rest has now become his and her-story, both in the annals of music and of personal human potential. This original ANCIENT FUTURE band went on to tour and recorded two albums, VISIONS OF A PEACEFUL PLANET and the award-winning NATURAL RHYTHMS, both now classics of the genre they helped forge, World Fusion Music, so called for lack of a better term and since humans seem to need to fit art into nameable and identifiable categories.
YouTube video of Ancient Future Circa 1978. Shown: Matthew Montfort, Yusef Ali, Mindia Devi Klein, Phil Fong, Benjy Wertheimer
Mindy became Mindia, (aka Mindonesia) after a four month stint living and studying Balinese gamelan music with Matt (aka Matthew Montfort) in Bali, Indonesia where they learned under the amazing and beloved gamelan leader I Made Gerindem. Gerindem 'coincidentally' had worked in the 1930's with Collin McPhee, the renowned composer-ethnomusicologist who brought the music of Bali to light in the western world through Music in Bali, the first in-depth academic study of Balinese Music published in 1966 by the Yale University Press. This tomb of knowledge, an illumination of the unique and highly dynamic music and music-making practices of Bali, Indonesia is a treasured and revered source and reference book for numerous contemporary composers and ethnomusicologists to this day.
When Matt and Mindia returned to the states, ANCIENT FUTURE toured the country finding audiences everywhere hungry for the innovations in music they had sourced merging ancient ideas and sounds of the east with both traditional and contemporary sounds of the west. Then, after returning to California, ANCIENT FUTURE regrouped. Montfort retained the name ANCIENT FUTURE carrying on the band's mission into the future, touring and releasing five more albums and one EP under the Ancient Future moniker, (with several more to come in the works). He continues as a bandleader forging new paths in guitar and world music both virtually and in the real world. Wertheimer moved to Oregon forging new musical ties and eventually forming the kirtan band Shantala. He carries on an illustrious career as a percussionist and esraj player (a fretted bowed instrument with 4 melodic strings and 12-15 sympathetic strings). Fong became a psychologist practicing in the S.F. Bay Area. Klein returned to Bali as a Fulbright Scholar of gamelan music, then went to India as an AIIS/Smithsonian Fellow of Indian classical music where she became a disciple of world renown bansuri maestro Hariprasad Chaurasia. She has since won many awards and grants supporting her unique voice and work in world and contemporary music. A performer, composer, recording artist and educator, her art lies in her unrelenting passion and devotion to music as perhaps the most sacred and human acts of creative expression, an evolutionary vehicle for beauty, transcendence, nurturance and return.
ANCIENT FUTURE's original three members Montfort, Wertheimer and Klein will play their first reunion concert Sunday, April 19 at 7:30 at the Throckmorton Theater in Mill Valley, only six miles from their first Ancient Future concert years back at the original Sleeping Lady Cafe in Fairfax. Please join them and their special guests to celebrate the musical, the personal and the universal in us all.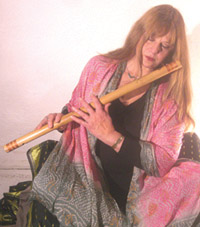 Mindia Devi Klein is a musician-composer-educator and writer who, like Matthew Montfort, often prefers to refer to herself in the third person when writing about the music she creates.
---