FOR IMMEDIATE RELEASE, 3/23/2015
Contact: Ancient-Future.Com Records
1-415-459-1892 • info@ancient-future.com
Original Ancient Future Reunion Concert
featuring Mindia Devi Klein (flutes), Benjy Wertheimer (tabla), and Matthew Montfort (guitars) plus Special Guests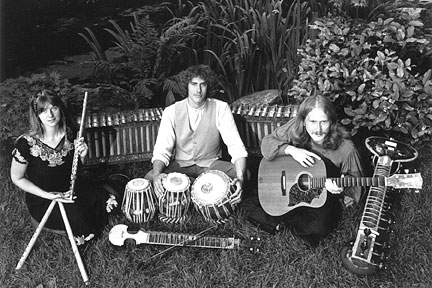 Hi-Res Photo of Ancient Future Circa 1981 (1.2 MB). Shown: Mindia Devi Klein, Benjy Wertheimer, Matthew Montfort
Sunday, April 19, 7:30 PM
Throckmorton Theatre
142 Throckmorton Avenue
Mill Valley, CA 94941
Doors open at 7 PM
Tix: $20 adv, $25 at door, $35 reserved seating. Advance tix at http://tinyurl.com/ou8aeez
Info: 415-383-9600
Facebook Event

Tour Poster (920k .pdf)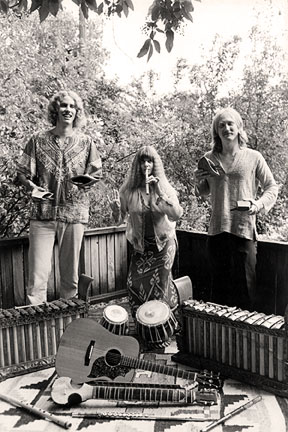 On Sunday, April 19, the original lineup of the pioneering world fusion music group Ancient Future will perform together for the first time this century. Ancient Future was formed in 1978 by students at the Ali Akbar College of Music in San Rafael, California, including Mindia Devi Klein (who went by Mindy in those days), Matthew Montfort, Benjy Wertheimer, and Phil Fong. Ancient Future's first concert took place to a packed house on February 11, 1979, at the original Sleeping Lady Cafe in Fairfax, California, then a vegetarian cafe and music club co-op that was the center of a vibrant local music scene.
This lineup of Ancient Future made two recordings that are now considered world fusion classics. In December, 1978, the band went into Tres Virgos Studio in Mill Valley to record Montfort's song Moonbath. The song became the springboard for the first Ancient Future record, Visions of a Peaceful Planet.
The concept for Natural Rhythms, the band's second record, grew out of a magical spontaneous recording session at a friend's recording studio near a frog pond. When Montfort and Klein noticed the sound of croaking frogs leaking into the studio, they were inspired to record them. Montfort went out to the pond with a zither and began to play, and found that certain rhythms produced musical responses. Several months later, Montfort and Klein went to Bali to study gamelan music. They were amazed to find paintings all over the island portraying Balinese rice paddy frogs playing gamelan instruments. They decided to extend their musical experiments to include the Balinese rice paddy frogs. Late at night, they gathered their musical Balinese friends, went out into the rice paddies, and jammed with the frogs. Again, some very magical moments of music were recorded, and became part of the Natural Rhythms release.
Hi-Res Photo of Ancient Future Circa 1981 by Sherry Freeman (1.1 MB). Shown: Benjy Wertheimer, Mindia Devi Klein, Matthew Montfort
Archaeological Discovery of First Ancient Future Video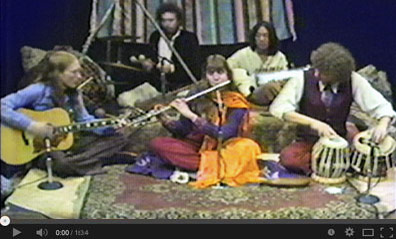 YouTube video of Ancient Future Circa 1978. Shown: Matthew Montfort, Yusef Ali, Mindia Devi Klein, Phil Fong, Benjy Wertheimer

This video is an amazing archaeological find: the very first video of Ancient Future, recorded in late 1978, months before Ancient Future's first concert! Thanks to Jonah and Mariposa at Marin Artists International who, after learning of this reunion concert, were able to rescue parts of Ancient Future's first video recording session from archival oblivion. This short teaser from 'Eternal Embrace' by Phil Fong from Visions of a Peaceful Planet is the first release from this archeological expedition. Performances of two complete pieces have been recovered, and will be released after some audio restoration work is completed.
Hi-Res Photo of Ancient Future Circa 1979 (1.3 MB). Shown: Benjy Wertheimer, Phil Fong, Mindia Devi Klein, Matthew Montfort
Matthew Montfort (scalloped fretboard and fretless guitars)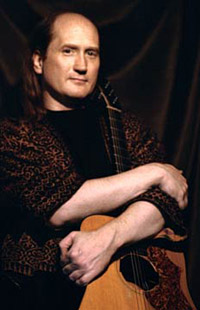 Hi-Res Photo of Matthew Montfort by Julie Marten (2 MB)
The leader of Ancient Future, Matthew Montfort, is a pioneer among guitarists who have had their fretboards scalloped in order to play various forms of world music that require intricate note-bending ornaments while still being able to play chords. Montfort immersed himself in an intensive study with vina master K.S. Subramanian in order to fully apply the South Indian gamaka (note-bending) techniques to the guitar. He is recognized as one of the world's 100 Greatest Acoustic Guitarists by DigitalDreamDoor.com, a curated "best of" site, along with such luminaries as Michael Hedges, Leo Kottke, Chet Atkins, John Fahey, Merle Travis, John Renbourn, Tommy Emmanuel, Doc Watson, Pierre Bensusan, Alex De Grassi, and Peppino D'Agostino. The December 2009 Les Paul issue of Guitar Player Magazine includes a full page feature on Matthew Montfort with a corresponding GuitarPlayer.Com video and lesson entitled "The Music of Jimi Hendrix Applied to Indian Raga." He has performed concerts worldwide, from the Festival Internacional de la Guitarra on the golden coast of Spain to the Festival of India in Mumbai. He has performed live on national radio and TV shows such as the Echoes Living Room Concerts on Public Radio International, and the Rachel Maddow Show on MSNBC. He has worked with many world music legends, including tabla phenomenon Zakir Hussain and Chinese zither master Zhao Hui. Montfort wrote the book Ancient Traditions – Future Possibilities: Rhythmic Training Through the Traditions of Africa, Bali, and India, which has been used by many musicians to improve their rhythm skills.
Mindia Devi Klein (Indian bansuri & silver flutes, Balinese gamelan)
Mindia Devi Klein is an award winning musician, composer and educator. Known primarily for her rare and haunting Indian bansuri flute music, she was actually born in Brooklyn, New York where she began her formal music training at the tender age of 2 with African American folk singer Charity Bailey. Early exposure to the jazz greats and the vast diversity of the world's music left her hungering for a doorway into the mystic heart and roots of music. She followed her muse to California and the Ali Akbar College of Music where she met and began training with her root guru, the late great Ustad Ali Akbar Khan who taught Indian music in the ancient guru-shishya style for over 40 years at Ali Akbar College of Music in San Rafael, California. She also trained under bansuri maestro G.S. Sachdev and then learned in India under guidance of world renown bansuri flutist Pandit Hariprasad Chaurasia. A recipient of the American Institute for Indian Studies Smithsonian Fellowship, the Fulbright Scholarship in Balinese gamelan and numerous community arts and composition awards, Mindia's training and insight into the world's ancient and ever evolving contemporary music of today has impressed itself deeply on her own. Her playing and compositions blend together the sounds and ideas of many worlds in a subtle and unique way. An international performing and recording artist, she can be heard on many albums of note including several as a founding member of Ancient Future.
Benjy Wertheimer (tabla, percussion, and esraj)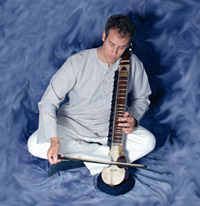 An award-winning musician, composer, vocalist and multi-instrumentalist equally accomplished on tabla, congas, percussion, esraj, guitar, and keyboards, Benjy Wertheimer has performed and recorded with such artists as Krishna Das, Deva Premal and Miten, Jai Uttal, Walter Becker of Steely Dan, virtuoso guitarist Michael Mandrell, tabla master Zakir Hussain, and renowned bamboo flute master G. S. Sachdev. He has also opened for such well-known artists as Carlos Santana, Paul Winter, and Narada Michael Walden. Benjy is a founding member of the internationally acclaimed world fusion ensemble Ancient Future. He began his musical studies at age five, starting with piano and later violin, flamenco guitar, and Afro-Cuban percussion. Benjy has been a student of Indian classical music for over 25 years, sitting with some of the greatest masters of that tradition, including Alla Rakha, Zakir Hussain, Ali Akbar Khan and Z. M. Dagar. Along with the Grateful Dead's Mickey Hart, he was a contributing composer and member of the Zakir Hussain Rhythm Experience. Trained in audio engineering at San Francisco State University, Benjy is also very much in demand as a producer, engineer and studio session musician. For over five years, Benjy scored music for the internationally syndicated NBC series Santa Barbara, and his CD Circle of Fire went to #1 on the international New Age radio charts in 2002. Making his home in Portland, Oregon, he now tours internationally with his wife Heather in the kirtan group Shantala.
67 Word Radio Announcement
On Sunday, April 19, at 7:30 PM, Matthew Montfort, Mindia Devi Klein, and Benjy Wertheimer, the original lineup of the pioneering world fusion music group Ancient Future, will perform together for the first time this century at Throckmorton Theatre, located at 142 Throckmorton Avenue in Mill Valley, California. For more information, call 415-383-9600 or visit www.142ThrockmortonTheatre.com. Tickets are $20 advance, $25 at door, and $35 reserved seating.

###