Ancient-Future.Com AF 2010. 30th Anniversary Remastered Edition.
Digipak CD/Booklet- $17.98 (SALE $10):
Add CD to Cart. Buy CD Now. (Best Quality)
iTunes. (Download Quality)
No Facebook Share Buttons?
If you don't see Facebook buttons, disable "Tracking Protection" for this website.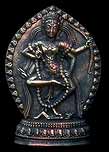 From the arrow of Kurukulla, send music from Planet Passion with a Tweet or a
Track List
Flirtation
1. Simsimay Panima (6:05) From high in the Himalayas comes the call and response of love's first meeting in this flirtatious Nepali folk song. ( Tweet via >YTmusic).
2. Forest Frolic (4:29) Bamboo flutes flirt with frolicing wood nymphs. ( Tweet via >YTmusic).
Courtship
3. I Mett Her in the Medowe, a (1:19) 4. I Mett Her in the Medowe, b (4:12) A rendezvous in the meadow to a Scottish lute melody played on scalloped fretboard guitar. ( Tweet via >YTmusic).
5. Ocean of Love (5:26) Afro-Slavic courtship between Yemayah (Orisa for the ocean and motherhood) and Yarila (Slavic god of physical love). ( Tweet via >YTmusic).
Sacred Eros
6. Ochun (3:32) Santeria priest Pedro de Jesus sings the story of procreation in this Afro-Cuban chant for the goddess of love, Ochun. Tweet via >YTmusic.
7. Semara (4:27) Semara, the Balinese god of love, integrates both the male and female into one. Tweet via >YTmusic.
The Wedding
8. Alap (1:48) Serenade before the wedding procession. Tweet via >YTmusic.
9. El Zaffa (4:26) Spanish romanza soars over a lively Egyptian wedding procession rhythm (elzaffa). Tweet via >YTmusic.
Seduction
10. Ne Po Pogrebu Bochonochek (5:07) Irina Mikhailova sings a traditional Russian honeymoon song. The bride removes an item of the shy groom's clothing each time she calls him by a more intimate name. Tweet via >YTmusic.
Longing for the Beloved
11. Socha Socha, a (2:00) 12. Socha Socha, b (8:34) Sing these words to the sitar melody: Socha socha, Mai ne tumko raat bhar, subh ho sham (Thinking, thinking, I miss you all night, dawn to dusk). Tweet via >YTmusic.