FOR IMMEDIATE RELEASE
2/3/2010
Contact: Ancient-Future.Com Records
1-415-459-1892
info@ancient-future.com
Mariah Parker's Indo Latin Jazz Quintet Returns to Yoshi's
Monday, April 19, 8 pm
Yoshi's Jazz Club
510 Embarcadero West
Oakland, CA 94607
Tix: $18
For more info, call 510-238-9200 or visit www.yoshis.com
Facebook Event: www.facebook.com/event.php?eid=348551128160
Ancient-Future.Com Records Artist
Mariah Parker and her Indo Latin Jazz Quintet
Featuring Mariah Parker (composer, piano, santur) and a stellar lineup of musicians including including Grammy award winning woodwind virtuoso Paul McCandless (known through his work with the seminal chamber jazz groups Paul Winter Consort and Oregon), trailblazing guitarist Matthew Montfort (Ancient Future), bassist and cellist Kash Killion (Sun Ra Arkestra, Cecil Taylor); and Indian tabla/jazz drum set pioneer Sameer Gupta (Marc Cary, VidyA, Chitresh Das, Anindo Chatterjee).
Back By Popular Demand at Yoshi's Jazz Club, Jack London Square, Monday, April 19, 8 pm
"Mariah Parker's Indo Latin Jazz Ensemble packed Yoshi's in Jack London Square, and the incredible live performance had the audience roaring and screaming for more of the Indo-Latin jazz rhythms filling the celebrated jazz club during the CD release event for Mariah Parker's debut recording, 'Sangria.' Blending the asymmetrical meters of East India with the driving syncopations of Latin jazz to create a fresh new sound, Parker draws musical inspiration from Cuba, Brazil, India and Spain. The concert goers were so spirited and enthusiastic as the performance progressed throughout the evening, the roar of their response to Mariah Parker's compositions brought the jazz club to a feverish pitch that rocked the building to its foundation." - Lynda Carson, BERKELEY DAILY PLANET
Mariah Parker (composition, piano, santur)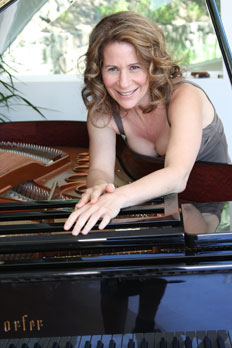 Mariah Parker with Piano Hi-Res Photo by Ross Pelton (1.7 MB):
http://www.ancient-future.com/images/mariahpianohiRes.jpg
Mariah Parker is a composer and multi-instrumentalist whose main instruments are santur and piano. Her first instrument was the piano which she began playing at age 5. Later in music school, she fell in love with the sound of the santur when she heard it drifting across campus. The transition was a natural one given that the santur, along with its Western offspring, the hammered dulcimer, is the ancestor of the piano. The strings of the santur are played directly by the delicate hammers, creating a beautiful shimmering sound. The sound of the piano is also created by hammered strings, but mechanically triggered by the fingers striking the keys.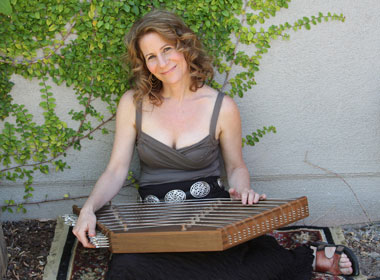 Mariah Parker with Santur Hi-Res Photo by Ross Pelton (1.6 MB):
http://www.ancient-future.com/images/mariah_santur_300dpi5x4.jpg
While completing her degree in music at UC Santa Cruz, she worked with ethnomusicologist Fred Lieberman and Mickey Hart on the Planet Drum project. She has performed in the US and Europe, and worked with many musicians of note including composer Pauline Oliveros, the late Dumisani Maraire (renowned composer from Zimbabwe) and others. She has studied with jazz great Art Lande and Latin jazz pianist extraordinaire Rebeca Mauléon, and performs regularly with the trend-setting world music group Ancient Future.
Videos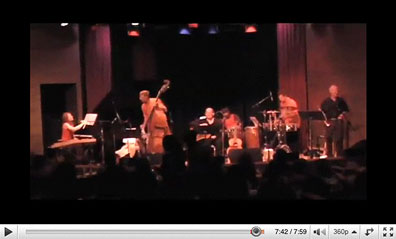 Mariah Parker's Indo Latin Jazz Ensemble performs 'Affinity Minus One' at Yoshi's:
http://www.youtube.com/watch?v=WARbr891OGQ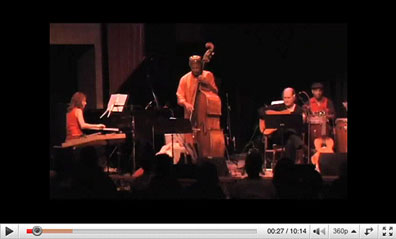 Mariah Parker's Indo Latin Jazz Ensemble performs 'Milo's Moment' at Yoshi's:
http://www.youtube.com/watch?v=_cMNlh182E0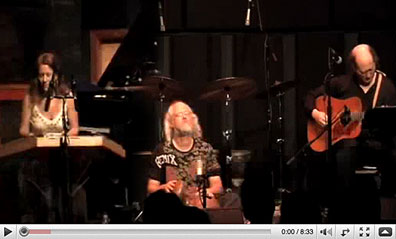 Ancient Future performs 'Sangria' by Mariah Parker at 30th Anniversary Concert at Freight & Salvage:
http://www.youtube.com/watch?v=zuaq_-hl0HE
Sangria by Mariah Parker
Sangria by Mariah Parker (Ancient-Future.Com AF 2017). $17.98: Buy 1 Now. (>YTmusic).
Hi-Res CD Cover Art of Sangria (3.2 MB):
http://www.ancient-future.com/images/sangria_cvr300dpi.jpg
One Sheet with Streaming Audio for Sangria:
http://www.ancient-future.com/pdf/sangria_1sheet_dig.pdf

Mariah Parker's debut recording on Ancient-Future.Com Records, Sangria, features her original compositions that draw musical inspiration from Brazil, Cuba, Spain, and India. Her Indo Latin Jazz Ensemble accompanies her and includes musicians from the bands Ancient Future, Oregon, Sun Ra, and Herbie Hancock's Headhunters.
Sangria received airplay on over 385 New World, Jazz, and Latin radio programs. The recording has earned 76 media and chart placements including two songs on the Smooth Jazz Now Top 100 Songs of 2009 Chart and rave reviews such as the following:
"Parker and friends blend the rhythmic syncopations of Latin jazz music with the entrancing, asymmetrical meters of East Indian rhythms resulting in first-class world music. Intriguing melodies that draw musical inspirations from the tempos of Brazil, Cuba, India, and Spain make for an uplifting serene yet passionate musical journey into an ideal world." — LATIN BEAT MAGAZINE
"Dazzling debut.... Parker's subtle and sensuous sounds reflect exotic flavors of India, the Middle East and Latin America." — PALO ALTO DAILY NEWS
"Although entirely instrumental, Sangria speaks. Maybe it's the technical virtuosity abounding in the multiplicity of sounds - in the santur or sarangi, or the tabla or timbales. Maybe it's in the emotive resonance of what's behind the sounds, like the longing of separation in "Between the Lines," where Parker's fingers dance across the keys in precise, measured movements, in graceful arching and sweeping strokes, or in the spectacle of wonder in "Debajo De La Lluvia" or the "Tenth Journey." Whatever it is, Parker's Sangria is a lively, adventurous exploration into a hybrid global identity." — LEO WEEKLY
"Parker brings a wide variety of influences to Sangria, ranging from Indian and Middle Eastern music to Afro-Cuban salsa and Brazilian samba. She obviously appreciates the Eastern-influenced spirituality and mysticism of John Coltrane, Yusef Lateef, Pharoah Sanders, and Lonnie Liston Smith, but her composing also contains elements of everyone from Pat Metheny to Chick Corea.... Parker, of course, didn't invent the idea of world jazz… but she keeps it moving forward... demonstrating that the fusion of jazz and world music still has plenty of possibilities after all these years -- and a global perspective serves Parker well throughout the rewarding Sangria." — ALL MUSIC GUIDE
"This collection of eight original instrumentals by Mariah Parker is just one of many examples of the infusion of East Indian music into Western music, but to my ears one of the most successful." — AUDIOPHILE AUDITION
73 Word Radio Announcement
On Monday, April 19, at 8 pm, Ancient-Future.Com Records artist Mariah Parker and her Indo Latin Jazz Quintet will perform at Yoshis, located at 510 Embarcadero West, Oakland, California. The concert features Mariah Parker on piano and santur, Paul McCandless on woodwinds and horns, Matthew Montfort on guitars, Kash Killion on bass and cello, and Sameer Gupta on drum set and tabla. Tickets are $18. Call 510-238-9200 or visit www.yoshis.com for more information.
###