South Indian Vina Music
Arranged for Scalloped Fretboard or Electric Guitar with Light Gauge Strings

Skype Lessons Make Excellent Gifts!
Pallavi
Ragam: Valaji (1,3,5,6,b7)
Talam: Adi (8 beats)
Arranged by Matthew Montfort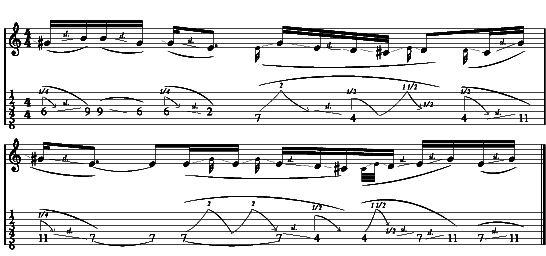 Those who wish to study South Indian gamaka (note-bending techniques) on guitar need not have a scalloped fretboard guitar in order to play this arrangement: an electric guitar with light gauge strings or an acoustic guitar tuned very low will work fine.
This example is in a simple pentatonic raga (a melodic recipe for a mood involving ascending and descending scale patterns), which uses the root, major third, perfect fifth, major sixth, and minor seventh. The tala (rhythmic cycle) is a common 8 beat cycle known as adi tal.
Pallavi MIDI Files
GM Standard MIDI files of this South Indian gamaka exercise are presented here, arranged for General MIDI guitar and conga and bongo:
Pallavi MIDI File (chromatic). >play. This arrangement of the above example is offered to play along with. The file has no note bends, so it functions well as an intonation guide.
Pallavi MIDI File (with gamaka). This file will not playback properly online, so download the file first and then load it into your MIDI sequencing program. This arrangement includes all of the note bends, but since many of the bends are more than a full step, this file requires that the pitch bend function on the playback module be set to +-12 half steps. The tempo should be set at about 30 beats per minute.
Further Resources
Indian Tala
To learn more about the rhythmic side of Indian music, check out these online exercises in Indian tala.