10,000 Thunderstorms:
the spirit of evolution by

by Alan Tower & Free Energy

An acoustic journey from the primordial beginning to the future:
evolutionary acoustic music with hybrid instruments.
The third alan tower & Free Energy record is a seven year collaborative project that produced fifteen compositions musically linked into a whole. It includes moving didjeridu bass lines, and unique time, rhythm and counterpoint reflecting the complexity of the universe as we know it. A sound signature of fired clay, alloy, wood and agave towards a whiff of the spirit of evolution. Free Energy is a collective of multi-instrumentalists,producers, arrangers and clay instrument builders including Alan Tower (composer and instrumentalist), Matthew Montfort (acoustic guitarist, leader of Ancient Future and co-producer of the project), Michael Smolens (master jazz musician and leader of Kriya and co-producer of the project), Barry Hall (vielle, udu, leader of Burnt Earth and inventor/builder of many of the instruments used), Jason Martineau (arrangements and scoring), Johnathan Harris (cornetto). Calvin Lai (didjeridus), Ian Dogole (conundrums, udus), Greg Hagel (engineering, mixing, udus and kim kims), Bob Markison (sopranino, alto and tenor sax), Robert Zuckerman (alto and tenor sax), special NEC string ensemble led by Richard Hoenich, and Albert Howell, graphic designer.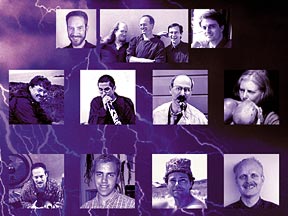 10,000 Thunderstorms: the spirit of evolution includes a 16 page four color booklet with text. Each musical piece investigates a concept or provocative human/nature idea articulated by a contemporary scientist, writer, activist, or naturalist.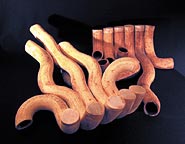 Reviews: Scientist
"If you sense that the destiny of the human is more than turning the Earth into commodities, 10,000 Thunderstorms was created for you. It's a gateway into a secret. The universe worked fourteen billion years to shape a human for one primary function: to become stupefied by beauty. To celebrate Being. To revel in it. 10,000 Thunderstorms is undeniable proof that, however violent and short-sighted we humans sometime become, we are nevertheless capable of profound amazement and the deepest gratitude for existence." – Brian Swimme, physicist, cosmologist and author of The Universe Story and The Heart of the Cosmos
Music Journalist
"Free Energy's union of instrumental conceptualism and creative audio technologies achieves a new zenith in this outstanding effort. A dynamic synergy of wind, wood, hardware, bronze, software, clay and skin that transcends its own perfect mix." – Randy Alberts, author of Tascam: 25 years of Recording Evolution and contributing editor for Mix, Digidesign, and AV Video Multimedia Producer
Magazine and Book Editors
"This record is a mystery. On the one hand it's through-composed world music using one-of-a-kind experimental acoustic instruments. On the other hand it's music with a mission – i.e bringing music to the center of social change efforts. A lot to chew on – I recommend planning a long dinner. Prepare for a banquet that takes you deep into evolution's spirit." – K. Lauren de Boer, Editor, Earth Light Magazine
"During one of his discourses, the Buddha said that in our time the ear would be the best sense door through which to achieve enlightenment. This record is devoted to our awakening – on it you will hear the sound of life echoing its own history, of consciousness reflecting upon itself, of humans expressing their deepest wisdom and feelings." –Wes (Scoop) Nisker, author of Buddha's Nature and editor of Inquiring Mind
"Octave Alliance's 10,000 Thunderstorms brings together a stunning array of unusual musical instruments, both traditional and new, in the service of an expansive musical, historical and social vision. The special qualities of each individual instrument come across beautifully and lucidly, even as each finds its place within the context of the compositional whole." – Bart Hopkin, Editor, Experimental Musical Instruments (EMI)
Activists
"I LOVED this. Really really musical. Very satisfying. Peaceful. Lovely stuff. I could hear the influence of Michael Hedges and Ancient Future and even Chuck Mangione and lots of people I like, but it was also wholly original." – Alan Atkisson, sustainability visionary, author of Believing Cassandra and former editor of In Context
Track List
Invocation (1:23)
Baraka (2:00)
Longing to Be (5:19)
10,000 Thunderstorms (6:27)
Lava Flows (3:47)
Seven Roads to Chaco (3:29)
The Spirit of Equity
•Justice or Just Us? (5:20)
•Intrauterine Cannibals (8:03)
Capacity for Intensity (6:10)
Restless Paradox (2:42)
Zest (8:39)
Our Conundrum: One Taste (3:46)
Transcend and Include (3:09)
Pain and Beauty (5:28)
Total running length: 65:42
Hidden track - Safe at the Edge (8:50)