2000 Beirut, Lebanon, Atlantis Scrapbook

Arriving at Atlantis
A Guitar-Sitar Jugalbandi concert by Ustad Habib Khan (sitar) and Matthew Montfort (scalloped fretboard guitar) with Ben Mawhorter (tabla) was booked at the Atlantis club in 2000 Beirut, Lebanon, from Tuesday, August 15 through Thursday, August 17, 2000.
Sound check for the first night at the Atlantis club is a surreal experience. Does this place really exist? In Beirut, Lebanon? And they want an Indian music concert in a club? Is this really happening?
Aquariums Everywhere!
Piranha Tank Raises from the Dance Floor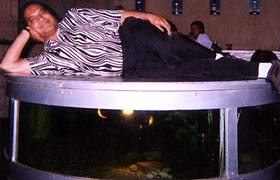 Ustad Habib Khan sits unafraid of the danger lurking below.
Men's Room Submarine

Guitarist Matthew Montfort contemplates
the meaning of being male at the portal to
the men's room
Aquariums in the Washroom
The Stage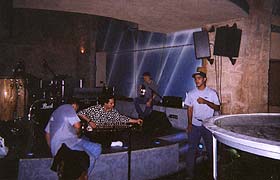 Guitarist Matthew Montfort offers some tuning notes for sitarist
Ustad Habib Khan while soundman Christmas sweats over how to
mic a sitar and the piranhas chow down.
Starbucks? Where's the Lebanese Coffee?

After the sound check, it's time for caffeine... when a Starbucks is
spotted there must be a GREAT Lebanese coffeehouse close by...
yes THERE it is!
After coffee, the concert is started with a Raag Yemen jugalbandi with Ustad Habib Khan and Matthew Montfort in tintal, and after the concert, the audience gave a standing ovation. Many said, "guitar and sitar go so well together in Indian classical music! We've never heard anything like this before."
Ustad Habib Khan and Matthew Montfort were interviewed by a reporter before the show, and Khan talked about his traditional training and his respected Indian music family. Montfort commented that, in addition to Indian classical music, the concert would feature Indian fusion music, mentioned Jimi Hendrix as an influence, and compared Khan's sitar playing to Hendrix.
The next day, the headline of a rave review in L'Orient le Jour, Beirut's French language newspaper, called Khan "the Jimi Hendrix of the sitar." Ustad Habib Khan was so happy he said, "Matthew Montfort is an American Ravi Shankar on guitar." The club was packed for the final dates of their run.
Be Part of a Future Scrapbook
In the Ancient Future, sometimes fans only find out about the concerts after they are over. To avoid temporal displacement, sign up for Ancient Future concert schedule updates: