Guitar-Sitar Jugalbandi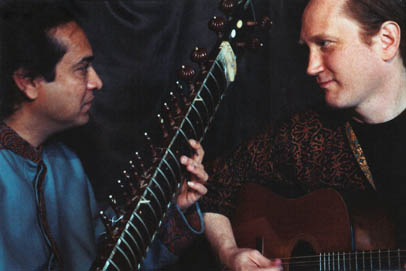 Jugalbandi Hi-Res Photo (3.75. x 5.64 600 dpi jpeg, 1.7 MB) by Julie Marten.
Shown: Pandit Habib Khan (sitar) and Matthew Montfort (scalloped fretboard guitar)
Ancient Future: Guitar and Sitar Jugalbandi
Classical Indian and East-West Fusion Music Featuring Maestro Matthew Montfort and Pandit Habib Khan
This internationally recognized musical team has enthralled audiences from California, to India, to Beirut, Lebanon. Jugalbandi is a classical North Indian musical duet (literally "tied together"), in this case with the unusual configuration of sitar and guitar accompanied by tabla or other percussion. While the sitar is known to the world as a leading instrument of Indian classical music, the guitar is not often used in the music of India. However, Matthew Montfort specializes in performing music from around the world on guitar, especially Indian classical music. He is a pioneer of the scalloped fretboard guitar (an instrument combining qualities of the South Indian vina and the steel string guitar). He has studied sitar, and has applied his knowledge of that instrument to his playing. This jugalbandi works so well because Matthew Montfort is a guitarist with knowledge of sitar and Pandit Habib Khan has been described as the "Jimi Hendrix of the sitar" by L'Orient le Jour, Beirut's French language newspaper.
Venues: Festivals, Concert Series, Concert Halls, Clubs, Universities
Traditions: Indian Fusion, Indian Classical, Hindustani Classical, World Music, World Fusion
Moods: Calm, Delicate, Devotional, Ethereal, Exotic, Intense, Intimate, Meditative, Mystical, Passionate, Playful, Poignant, Pure, Spiritual, Spontaneous
Hashtags: #IndianFusion, #IndianClassical, #HindustaniClassical, #WorldMusic, #DeepListening
Biographies
Pandit Habib Khan is regarded as one of the best sitar players in the country today. He was born into a family of musicians and can trace his lineage back several generations to when classical music enjoyed the patronage of the nobility and royalty of India. He began his training at the tender age of five under the strict eye of his accomplished father, Ustad Hameed Jaffer Khan. The Jaffer Khan family was from Indore and were well known for their unique style of playing the sitar, melding the effect of the human voice and the instrumental tone into a harmonious whole. Habib Khan has carved out a distinct style of his own which is a blend of his father's traditional techniques and his own imaginative inventions. He is as much at ease with light classical and religious music as he is with pure classical renderings of ragas.
Matthew Montfort is the leader of Ancient Future, and pioneer of the scalloped fretboard guitar (an instrument combining qualities of the South Indian vina and the steel string guitar). He has recorded with legendary world music figures including tabla maestros Swapan Chaudhuri and Zakir Hussain. He has performed concerts worldwide, including at the Festival Internacional de la Guitarra on the golden coast of Spain near Barcelona and the Mumbai Festival at the Gateway of India in Bombay.
Video
Concert Review
"Their March 31st concert was billed as a guitar-sitar 'jugalbandi' concert – a blend of classical Eastern and Western music featuring Montfort on guitar and Pandit Habib Kahn on sitar, with guests on dulcimer and percussion – and was simply an outstanding presentation."
"What made the 'jugalbandi' concert so special was the fact that guitar is seldom featured in Indian classic music – yet Montfort is a pioneer of such and uses the scalloped fretboard guitar to bring out the best in Indian sounds. His background as a student of the notoriously-difficult sitar lends to translations which shine on guitar; and by having a blend of sitar and rare guitar interactions, the concert became an extraordinary presentation indeed, spiced by the intimacy of stage which felt nearly small and close enough to be a living room."
"Ancient Future's focus on world fusion music has always produced extraordinary artist interactions and results; but this concert was an exceptional meld of East and West and offered up unique fingerings, approaches and collaborative efforts. It also held the unique ability to reach out not only to audience members already versed in Indian classic music, but to newcomers to the genre. It's not to be missed." –WorldDiscoveries.net
Featured Tracks
>YTmusic (repertoire). Studio recordings of the repertoire played by this band variation of Ancient Future.
Socha Socha (Khan/Montfort. 10:34) iTunes. >YTmusic. Indian raga with full instrumentation. From Planet Passion. (Ancient-Future.Com AF-2001). CD/Gift Card, $17.98: Add 1 to Cart. Buy 1 Now.
Related Programs
Himalayan Wind: Nepali flute master Manose is widely recognized as Nepal's premiere flautist. This program featuring him includes Nepali folk music, raga, and contemporary world music.
Indian Jazz: Pandit Habib Khan (sitar) and Ancient Future perform Indian music with jazz influences from Habib Khan and Ancient Future CDs which have been released on major jazz labels in India.
Indian Guitar and Tabla: Matthew Montfort (guitar) performs traditional Indian ragas and contemporary fusion on guitar with accompaniment by a renowned Indian tabla master.
Contact Info
Tel: 415-459-1892. info@ancient-future.com
Booking: Additional booking information, or use the contact information above.
Catalog: Listen to the CDs and use the secure online shopping cart system to purchase music.
Concerts: Current list of shows online.
Guest Book: Subscribe to the Ancient Future e-mail newsletter. Contests for prizes such as concert tickets each issue.