FOR IMMEDIATE RELEASE
8/16/2013
Contact: Ancient-Future.Com Records
1-415-459-1892
info@ancient-future.com
Ancient Future World Without Walls Reunion Concert Freight and Salvage, Berkeley, October 16, 2013
World Jazz featuring Matthew Montfort (scalloped fretboard guitar), Jim Hurley (violin), Doug McKeehan (keyboards, piano), Ian Dogole (percussion) and Kash Killion (bass)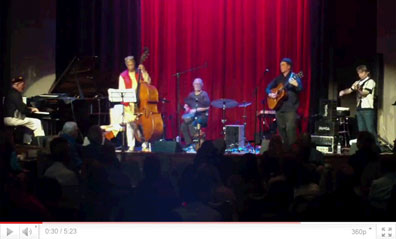 Ancient Future Performs '14 Steps' at "World Without Walls" Reunion

Wednesday, October 16, 8 pm
Freight and Salvage
2020 Addison Street
Berkeley, CA 94704
Tix: $18.50 in advance at the F&S or ticketfly.com, $20.50 at the door, or $5 for live stream at concertwindow.com/shows/ancient-future
Info: Call 510-644-2020 or email info@freightandsalvage.org
Poster (1.5 MB pdf). Facebook Event.
The exact lineup of Ancient Future that performed on the band's influential World Without Walls and Asian Fusion recordings will reunite to perform at the Freight and Salvage in Berkeley. The reunion show features the original lineup of Matthew Montfort on scalloped fretboard guitar, Jim Hurley on violin, Doug McKeehan on keyboards, and Ian Dogole on percussion, plus Kash Killion on bass.
This lineup of Ancient Future played over a hundred concerts together from 1988 to 1995. In 2011, they reunited for the first time in 15 years to perform concerts at Todos Santos Plaza in Concord and Yoshi's in San Francisco. In honor of the reunion concerts, World Without Walls was released digitally by Capitol Records for the first time ever at major digital retailers such as iTunes. Twenty two years after its initial release in 1990, broadcasters worldwide voted the record as one of the top 5 world music releases of 2012. More concerts were planned, but bandleader Matthew Montfort suffered wrist and shoulder injuries, so performances were suspended until September 2012, when the band performed at the Frick Museum in Pittsburgh, Pennsylvania. This show at the Freight and Salvage will be their fourth reunion concert, and will be the first time that Ancient Future performs at the stellar new location of the Freight and Salvage, now one of the Bay Area's very best concert venues.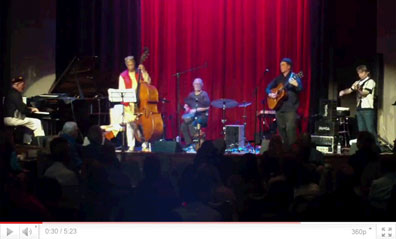 Ancient Future Performs 'Turkish Taffy' at "World Without Walls" Reunion

Band Bio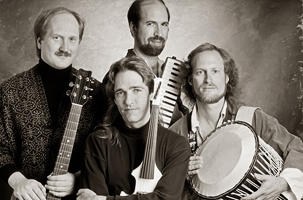 Ancient Future circa 1990. Hi-Res Photo by Irene Young (14.7" x 9.7" jpg, 7.2 MB)
"Ancient Future is a rare kind of band that might simultaneously aggravate purists, confound New Age dilettantes, seduce skeptics, and dazzle just about everybody else. Delicious compositions, intricate arrangements, crisp playing and impeccable production put these ambitious voyagers in a league of their own." - Derk Richardson, SAN FRANCISCO BAY GUARDIAN
Formed in 1978, Ancient Future is the first and longest running musical organization dedicated exclusively to the mission of creating world fusion music. The term was coined by bandleader Matthew Montfort to describe Ancient Future's unusual blend of musical traditions from around the world. BILLBOARD calls the group "trendsetters" for their early contributions to the movement, which seeks to show how people from different cultures can grow by learning from each other. Ancient Future's uptempo virtuoso world fusion music is an exhilarating mix of jazz improvisation with the exciting rhythms, exotic sounds, and enchanting melodies of world music.
Ancient Future has released seven full length studio CDs selling over 150,000 units: Visions of a Peaceful Planet, Natural Rhythms, Quiet Fire, Dreamchaser, World Without Walls, Asian Fusion, and Planet Passion. Over one million legal mp3 files from three of these releases on Ancient-Future.Com Records have been distributed commercially. Ancient Future is also featured on samplers selling millions of units on labels such as Putumayo and Narada.
Ancient Future has headlined such venues as San Francisco's Great American Music Hall and Eugene's Hult Center for the Performing Arts, appeared at numerous jazz festivals such as the Sacramento River Jazz Festival, Cotati Jazz Festival, Valhalla Jazz Festival, and Sand Harbor, and shared bills with other leading jazz and contemporary music artists including Fourth World with Flora Purim and Airto, Tower of Power, Craig Chaquico, Acoustic Alchemy, and Ottmar Liebert. Ancient Future was the subject of numerous features in publications such as JAZZIZ and MÚSICA GLOBAL. A selection of these articles has been uploaded to the archives of Ancient Future history, providing an interesting perspective on a period of growth in the world music movement.
Over the years, Ancient Future has expanded its musical vision through collaborations with master musicians from more than two dozen countries, cultures, and musical traditions who are now an integral part of what is today more than just a band. Ancient Future has grown to become a large multinational music ensemble with many smaller ensembles within it, enabling Ancient Future to realize its core mission of creating world fusion music. Through cross cultural exchange, Ancient Future has created a musical world without borders.
Matthew Montfort (band leader, scalloped fretboard guitar)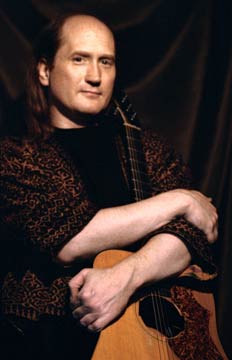 Matthew Montfort is the leader of the world fusion music ensemble Ancient Future. He is a pioneer of the scalloped fretboard guitar (an instrument combining qualities of the South Indian vina and the steel string guitar). Montfort spent three months in intensive study with vina master K.S. Subramanian in order to fully apply the South Indian gamaka (note-bending) techniques to the guitar. In 2009, he released his first solo guitar recording, Seven Serenades for Scalloped Fretboard Guitar, which reached #8 on Zone Music Reporter's World Radio Chart. He is recognized as one of the world's 100 Greatest Acoustic Guitarists by DigitalDreamDoor.com, a curated "best of" site, along with such luminaries as Michael Hedges, Leo Kottke, Chet Atkins, John Fahey, Merle Travis, John Renbourn, Tommy Emmanuel, Doc Watson, Pierre Bensusan, Alex De Grassi, and Peppino D'Agostino. The December 2009 Les Paul issue of Guitar Player Magazine includes a full page feature on Matthew Montfort with a corresponding GuitarPlayer.Com video and lesson entitled "The Music of Jimi Hendrix Applied to Indian Raga." He has performed concerts worldwide, including at the Festival Internacional de la Guitarra on the golden coast of Spain near Barcelona and the Mumbai Festival at the Gateway of India in Bombay. He has performed live on national radio and TV shows such as the Rachel Maddow Show on MSNBC. Montfort wrote the book Ancient Traditions - Future Possibilities: Rhythmic Training Through the Traditions of Africa, Bali, and India, which has been used by many musicians to improve their rhythm skills.
Jim Hurley (violin)
Jim Hurley, multi-instrumental performer, composer and educator, began playing violin in the Livermore public schools, and later explored rock guitar and bass, jazz and world music, improvisation and composition. Influenced profoundly by South Indian violinist L. Shankar, he incorporates styles from bebop to zydeco, European classical to Zairean soukous. He studied violin with Dr. Madeline Schatz, protege of Jascha Heifetz and Josef Gingold, at Humboldt State University, where he earned his B.A. in Music, and attended master classes with Rostislav Dubinsky, Gabor and Peter Rejto, and Kathleen Winkler. Jim's professional credits include performances and recordings with Queen Ida's Grammy-winning Bon Temps Zydeco Band, Deep Purple guitarist Ritchie Blackmore, all-China zheng virtuoso Zhao Hui, the Trans-Siberian Orchestra (with Jon Anderson from Yes), Kenneth Nash (Weather Report, Herbie Hancock, Dizzie Gillespie alumnus), Dan Hicks, Al Stewart, Josh Groban, Smokey Robinson, Stanley Jordan, the Waybacks, Tempest, and many other artists. TV credits include appearances on NBC's Saturday Night Live and CNN's Worldbeat and Showbiz Today. Radio credits include appearances on A Prairie Home Companion and West Coast Weekend, and airplay of Jim's original music on over 300 stations. Notable live performances include the New Orleans and Monterey jazz festivals, the Philadelphia, Winnipeg and Strawberry folk music festivals, a few stadiums, a dozen or so european castles, and audiences in 15 countries.
Doug McKeehan (keys)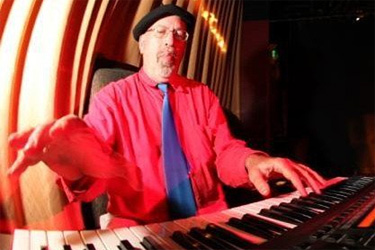 Doug McKeehan started his piano studies at age five, and began his first professional work at the age of twelve. He studied music at the Oberlin Conservatory, Kent State University, and the University of Otago (New Zealand). He has toured Europe twice and spent considerable time in India studying with notable Indian music teachers such as Pandit Ram Narayan, Ustad Kursheed Khan and Pandit A.G. Bhattacharya. He has composed original music for stage and T.V. productions in San Francisco and Los Angeles and has been musical director of two original musical comedy productions. In 2008 he was commissioned to compose and perform live music for the Diablo Ballet's production Jazz Fever. He cofounded Air Craft with violinist Bruce Bowers, which released a highly acclaimed new age/jazz album, So Near, So Far. He is a first call jazz pianist in the San Francisco Bay Area.
Ian Dogole (percussion)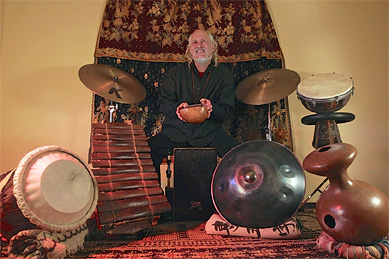 For over 30 years, Ian Dogole has articulated his vision of global fusion music as a multipercussionist, bandleader, educator, recording artist, composer and producer. He has released seven records and a DVD as a leader – Along the Route, Dangerous Ground, Ionospheres, Night Harvest, Convergence, Crossroads, Outside the Box – Jazz Journeys & Worlds Beyond and Ian Dogole & Hemispheres In Concert (DVD). Ian has recorded and performed with artists such as Hamza el Din, Tito La Rosa, Richie Cole, Paul McCandless and Alex de Grassi. He performs on a wide variety of percussion instruments, including udu, cajon, hang, African talking drum, kalimbas, cymbals and dumbek. Ian has received numerous grants, including a Jazz Performance Fellowship from the National Endowment for the Arts, two recent grants from the San Francisco Friends of Chamber Music (SFFCM) to present musical tribute concerts in honor of jazz legends Woody Shaw and Wayne Shorter, and multiple grants from the Marin Arts Council. Ian is very active as a music educator – having presented assemblies to more than 60,000 elementary school students in his four seasons with the San Francisco Symphony's Adventures in Music program and he has just completed his third season presenting a global world music appreciation series to students at Redwood High School in Larkspur, CA. Ian has also offered his music education programs through numerous nonprofit organizations, including Bread & Roses, Young Imaginations, Youth in Arts and Young Audiences of the Bay Area.
Kash Killion (bass)
Kash Killion has played extensively with such icons as Cecil Taylor, John Zorn, Sun Ra, Butch Morris and George Lewis. His interest in avant garde jazz was ignited by Sun Ra in 1978, and further heightened by meeting and playing with Pharoah Sanders. Playing cello, bass and assorted Middle Eastern stringed instruments such as, sarangi and esraj, Kash's concert history includes performances with Donald Byrd, George Cables, Billy Higgins, Reggie Workman as well as the Sun Ra Arkestra.
Recordings Featuring World Without Walls Lineup
World Without Walls by Ancient Future

(Sona Gaia/MCA 163): CD - $24.98 (collectable signed copy): Buy Link. >YTmusic.
Press Audio Downloads: Lakshmi Rocks Me (Jim Hurley) MP3 (excerpt, 976k). >YTmusic.
14 Steps (Matthew Montfort) MP3 (excerpt, 1 MB). >YTmusic.
As its name suggests, World Without Walls depicts a musical world without borders. Originally released in 1990, it features performances by such world music luminaries as Zakir Hussain, the master of the North Indian tabla. World Without Walls was reissued digitally by Capitol Records in 2011 to honor Ancient Future's reunion concerts. In 2012, broadcasters worldwide voted the reissue as one of the top 5 world music releases of the year. The inviting melodies and ingenious use of ethnic textures make this recording one of Ancient Future's most accessible and broadly appealing releases ever.
"World Without Walls speaks to a cultural enrichment, a melding of world culture with Ancient Future's own lush sense of melody and rhythmic drive." - John Diliberto, JAZZIZ
Asian Fusion by Ancient Future

(Narada Equinox ND-63023): CD - $24.98 (collectable signed copy): Buy Link. >YTmusic.
Press Audio Download: Mezgoof (Ian Dogole) MP3 (excerpt, 800k). >YTmusic
Asian Fusion, the second recording featuring this band lineup, is a musical travelogue spanning the vast geographic and cultural expanse of Asia showcasing some of the top performers in the Asian music field, including Zhao Hui, China's preeminent master of the gu zheng (Chinese zither) and Bui Huu Nhut, a leading performer of the Vietnamese dan bau (a one-string Vietnamese instrument with an indigenous version of a whammy bar). Asian Fusion received much critical acclaim. It made the Tower Pulse! Top 10 Best Contemporary Instrumental Releases of 1993 List (#4) and was Guitar Player magazine's "Pick" for April 1994.
"This compilation of 12 songs influenced by the Far East has all the sweeping impact of epic movies such as 'The Last Emperor.'" - CHICAGO TRIBUNE
Planet Passion by Ancient Future

(Ancient-Future.Com AF 2010): CD - $17.98: Buy Link. >YTmusic.
Press Audio Download: Socha Socha (Khan/Montfort) MP3 (short version, 3.6 MB). >YTmusic
The classic lineup of Ancient Future performing these special reunion concerts also was featured on one cut on the Planet Passion CD: the song Socha Socha on which they accompanied sitar master Pandit Habib Khan. Originally released in 2002, it was remastered and re-issued in 2009 to commemorate the 30th anniversary of the first Ancient Future concert.
"If the members of the United Nations formed a world-fusion band, it might look and sound a little something like Ancient Future's re-issue of their seventh recording. At its best, Planet Passion strives to preserve the world's vast musical heritage via international collaboration: the idea that one protects the old by creating something new. This is at the heart of fusion music and the heart of Ancient Future's global aesthetics, too: a diverse, unified world without borders, a multicultural community, a new, reconstituted sonic reality." - Ryan Allen, LEO WEEKLY, Louisville, Kentucky
115 Word Radio Announcement
The exact lineup of the pioneering world music group Ancient Future that performed on their influential World Without Walls and Asian Fusion recordings is reuniting to perform it's fourth reunion concert after a 15 year hiatus. They will appear on Wednesday, October 16, at 8 pm at the Freight and Salvage, located at 2020 Addison Street in Berkeley. The reunion show features the original lineup of Matthew Montfort on scalloped fretboard guitar, Jim Hurley on violin, Doug McKeehan on keyboards, and Ian Dogole on percussion plus Kash Killion on bass. Their uptempo virtuoso world fusion music is an exhilarating mix of jazz improvisation with the exciting rhythms, exotic sounds, and enchanting melodies of world music.
###