FOR IMMEDIATE RELEASE
2/28/2018
Contact: Ancient-Future.Com Records
1-415-459-1892
info@ancient-future.com
Ancient Future Duet at Watermelon Music in Davis


Hi-Res Photo (300 dpi, 8.75 x 3) of Matthew Montfort and Abbos Kosimov
Featuring World Guitar Pioneer Matthew Montfort with Uzbek Percussion Virtuoso Abbos Kosimov
One of the variations of the trailblazing world fusion music ensemble, Ancient Future, this duet features world guitar pioneer Matthew Montfort accompanied by Uzbek percussion virtuoso Abbos Kosimov. This improvisatory program focuses on the world music traditions of Central Asia, India, and Europe, renditions of music from Ancient Future's ground breaking world music recordings, and new unreleased works!
Saturday, April 28, 8 PM
Ancient Future Duet
Featuring Matthew Montfort (Scalloped Fretboard Guitar) and Abbos Kosimov (Uzbek Percussion)
Watermelon Music
1970 Lake Blvd, Suite #1
Davis CA 95616
Adm: $15. Tix at watermelonmusic.com. Info: Call 530-758-4010 or email info@watermelonmusic.com. Doors open at 7:30 PM.
Facebook Event.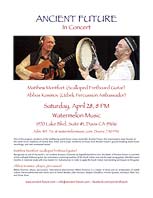 Matthew Montfort (scalloped fretboard and fretless guitars)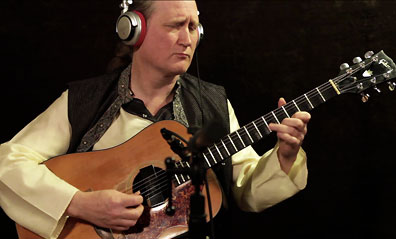 Hi-Res Photo (300 dpi, 5 x 3) by Michael Braden of Matthew Montfort Recording A.F.A.R.

The leader of the world music group Ancient Future, Matthew Montfort, released his first solo recording, Seven Serenades for Scalloped Fretboard Guitar, in 2009. He is a pioneer among guitarists who have had their fretboards scalloped in order to play various forms of world music that require intricate note-bending ornaments while still being able to play chords. Montfort immersed himself in an intensive study with vina master K.S. Subramanian in order to fully apply the South Indian gamaka (note-bending) techniques to the guitar. He is recognized as one of the world's 100 Greatest Acoustic Guitarists by DigitalDreamDoor.com, a curated "best of" site, along with such luminaries as Michael Hedges, Leo Kottke, Chet Atkins, John Fahey, Merle Travis, John Renbourn, Tommy Emmanuel, Doc Watson, Pierre Bensusan, Alex De Grassi, and Peppino D'Agostino. The December 2009 Les Paul issue of Guitar Player Magazine includes a full page feature on Matthew Montfort with a corresponding GuitarPlayer.Com video and lesson entitled "The Music of Jimi Hendrix Applied to Indian Raga." He has performed concerts worldwide, from the Festival Internacional de la Guitarra on the golden coast of Spain to the Festival of India in Mumbai. He has performed live on national radio and TV shows such as the Echoes Living Room Concerts on Public Radio International, and the Rachel Maddow Show on MSNBC. He has worked with many world music legends, including tabla phenomenon Zakir Hussain and Chinese zither master Zhao Hui. Montfort wrote the book Ancient Traditions – Future Possibilities: Rhythmic Training Through the Traditions of Africa, Bali, and India, which has been used by many musicians to improve their rhythm skills.
Abbos Kosimov (Uzbek percussion)

Hi-Res Photo (300 dpi, 6.2 x 10) of Abbos Kosimov
International phenomenon Abbos Kosimov is a master of the doyra (a frame drum with metal rings) and an ambassador of Uzbek culture. Abbos is known for taking the doyra to unprecedented new heights. He developed finger tapping techniques inspired by North Indian tabla masters, adding new dimensions to the instrument's sonic capabilities. Abbos also plays qayroqs, darbuka, dof, and riqq.
Abbos was born in Tashkent, Uzbekistan, to a highly musical family. His father played santoor (hammered dulcimer) and his brother played ney (flute). He began studying doyra at age ten, beginning with his brother Umar Kosimov and father Rakhmat Kosimov. His brother soon introduced him to the honored Uzbek doyra artist Tuychi Inogomov. He also attended the doyra school of the famous doyra musicians Brothers Islamovs. In 1988, Abbos graduated from the College of Culture and Music under dorya master Mamurjon Vahbov. Following graduation, Abbos completed his higher education at the Tashkent State Institute of Culture in 1994, and established his own Abbos school where he taught the most talented youth of his country to play doyra. In honor of the 10th anniversary of Uzbekistan's Independence, Abbos was awarded with a medal and given the illustrious title of Honored Artists of Uzbekistan by the president of Uzbekistan in 2001.
From 2001 to 2005, Abbos participated in numerous international festivals, concerts and university workshops in the United States, Canada, England, Jordan, Syria, Egypt, The United Emirates, Austria, Italy, Japan, Germany, France, Belgium, Luxemburg, Greece, Bangkok, Taiwan, Australia, India, Malaysia, Russia, Azerbaijan, Kazakhstan, Tajikistan and Kyrgyzstan. In 2005, Abbos moved to the United States, leading to performances with artists such as Randy Gloss, Austin Wrinkle, Houman Pourmehdi, Andrew Grueschow, Adam Rudolph, Zakir Hussain, Giovanni Hidalgo, Terry Bozzio, Swapan Chaudhuri, Alim Qasimov, Kronos Quartet, Homayun Sakhi Trio, Voices of Afghanistan, and Omar Sosa. He recorded with R&B singer Steve Wonder for his 2006 CD Time to Love. In 2008, Abbos was a guest performer on one of Ustad Zakir Hussain's Masters of Percussion tours in the US, later becoming a full member of the project.
Abbos released his solo album, Infinite Rhythm, in July 2012. That same year, Abbos met Ancient Future leader Matthew Montfort when they were both hired to perform with renowned Indian singer Pandit Binay Pathak. Abbos has since recorded tracks for Ancient Future's fan funded recording project, The Archive of Future Ancient Recordings.
Video
Yearning for the Wind from A.F.A.R.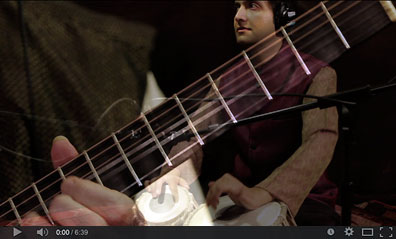 Yearning for the Wind YouTube Video URL: http://youtu.be/zurMLOP68K0
Recorded in December 2013, this evocative piece was produced for The Archive of Future Ancient Recordings, Ancient Future's ambitious ongoing recording project featuring the many master musicians from around the world who perform with the band. To finance A.F.A.R., Ancient-Future.Com Records provides financial supporters access to select files from Ancient Future's recording archives and new studio recordings as they are created. On February 11, 2014, the exact 35th anniversary of the first Ancient Future concert, Yearning for the Wind became the 10th track added to the archive. To promote The Archive of Future Ancient Recordings, Earth Day of Ancient Future's 35th year performing was chosen for the digital preview release of Yearning for the Wind through iTunes and other digital retailers. The enhanced CD version, an audio CD with a CD-ROM session for computers with liner notes and an HD video with 96/24 audio, will be released at fine stores such as Ancient-Future.Com and Amazon.com starting July 22, 2014.
Within a week of its digital preview release, Yearning for the Wind rose to the top of the Ethnocloud World Music Charts, earning #1 spots in both the video and audio track categories, and propelling Ancient Future to the #1 rated artist spot in June, 2014.
A.F.A.R. Behind the Scenes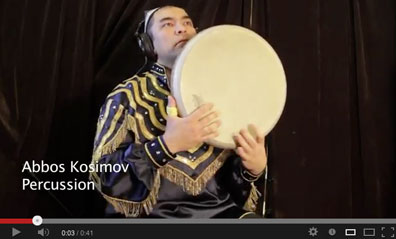 Recording A.F.A.R. YouTube Video URL: http://youtu.be/J5ZzrVzrXWI
Upon his return from a concert tour of India with Zakir Hussain, Uzbeki master percussionist Abbos Kosimov absolutely rocked this March 7, 2013, overdub session. The video above is a quick little snippet of the unprocessed camera audio recorded from the back of the overdub room during a sound test. Supporters of The Archive of Future Ancient Recordings get access to more exclusive behind the scenes content covering the making of A.F.A.R.!
Drums in the Air!
Drums in the Air YouTube Video URL: https://youtu.be/Yp3SUZgWhwQ
Everyone was brought to their feet for a standing ovation following this solo performance by Abbos Kosimov climaxing with his drums flying in the air.
Relevant Recordings on Ancient-Future.Com Records
The Archive of Future Ancient Recordings by Ancient Future


Hi-Res Cover Art (300 dpi, 5 x 5)
The Archive of Future Ancient Recordings by Ancient Future. (Ancient-Future.Com AF-2030). Recording Newsletter Package (128 kbps MP3): $15. Download Supporter Package (320 kbps MP3): $25. Limited to 300 packages. Limited Edition CD Sponsor Package (CD quality .wav): $50. Limited to 200 packages. Honorary A & R Representative Package (Hi-res 24 bit .wav): $75. Limited to 100 packages.
During Ancient Future's 30th anniversary year, work started on the next project of the band: The Archive of Future Ancient Recordings (A.F.A.R.). To finance the project, a subscription system model is being employed to fund the recording through fans of world fusion music. There are already eight tracks in the archive available right now to subscribers, with more coming as money is raised for production.
Yearning for the Wind by Ancient Future


Hi-Res Cover Art (300 dpi, 5 x 5)
Yearning for the Wind by Ancient Future. Signed Audio/Video E-CD-R. List $17.98.
"Matthew Montfort has been sending us wonderful music for many years now… this newest EP is (without question) the best music I've ever heard him play! The 9:37 'Yearning For The Wind' is 'the' piece… Matthew is joined by Vishal Nagar on tabla, and they clearly show (sonically) the joy than can be achieved by well-placed and strictly focused music. The tabla percussion makes it far more than 'just another raga'… I'm very strongly impressed and moved by this single piece of music…. you'll find yourself spinning it over and over again." — Dick Metcalf, ZZAJ PRODUCTIONS
Planet Passion by Ancient Future


Hi-Res Cover Art (300 dpi, 5 x 5)

Planet Passion by Ancient Future (Ancient-Future.Com AF 2010) $17.98.

"If the members of the United Nations formed a world-fusion band, it might look and sound a little something like Ancient Future's re-issue of their seventh recording. Featuring instrumentation from Africa, Asia, South America and the Middle East, Planet Passion is a mythical story of love, flirtation, seduction, courtship, marriage and longing. Manose Singh's bansuri flute and Matthew Montfort's scalloped fretboard work stand out in this eclectic, visionary global village, where each track features its own unique set of players. At its best, Planet Passion strives to preserve the world's vast musical heritage via international collaboration: the idea that one protects the old by creating something new. This is at the heart of fusion music and the heart of Ancient Future's global aesthetics, too: a diverse, unified world without borders, a multicultural community, a new, reconstituted sonic reality." — Ryan Allen, LEO WEEKLY, Louisville, Kentucky
Seven Serenades for Scalloped Fretboard Guitar by Matthew Montfort

Hi-Res Cover Art (300 dpi, 5 x 5)

Seven Serenades for Scalloped Fretboard Guitar by Matthew Montfort. (Ancient-Future.Com AF 2008). $17.98.
"Because Montfort's guitar has a scalloped fretboard, his fingers touch only the strings, enabling him to produce ornaments more characteristic of the sitar. This album reveals a thorough knowledge of Hindustani microtonal ornaments, transferred in ways that create one of the most distinctive guitar sounds in contemporary music. However, it also reveals a lifetime of exploration in world music, which can be immediately summoned in a flash of inspiration. When this level of mastery is reached, there is no need to rewrite. The first improvisation has the depth of a reworked composition." — Teed Rockwell, INDIA CURRENTS, March 2009

69 Word Radio Announcement forAncient Future at Watermelon Music in Davis
The trailblazing world music group Ancient Future will perform as a duet featuring scalloped fretboard guitar pioneer Matthew Montfort and Uzbek percussion master Abbos Kosimov on Saturday, April 28, at 8 PM, at Watermelon Music, located at 1970 Lake Blvd, Suite #1, in Davis, California. Doors open at 7:30 PM. Admission is $15. Tickets are available at Watermelon Music. For more information, visit watermelonmusic.com, call 530-758-4010, or email info@watermelonmusic.com.
###