Yearning for the Wind

by Ancient Future

Composed by scalloped fretboard guitar innovator Matthew Montfort, Yearning for the Wind is a poignant piece based on Indian raga. Set in a nine beat rhythmic cycle, it provides a sublime setting for this duet with Indian tabla virtuoso Vishal Nagar, who is considered one of the most gifted tabla players of his generation.
Recorded in December 2013, this evocative piece was produced for The Archive of Future Ancient Recordings, Ancient Future's ambitious ongoing recording project. To finance A.F.A.R., Ancient-Future.Com Records provides financial supporters access to select files from Ancient Future's archives of alternate takes, live concerts, radio performances and new studio recordings as they are created. On February 11, 2014, the exact 35th anniversary of the first Ancient Future concert, Yearning for the Wind became the 10th track added to the archive and was made available to A.F.A.R. supporters in mp3, CD quality, and 96-kHz/24-bit hi-res audio and HD video.
To promote The Archive of Future Ancient Recordings, fans can order Yearning for the Wind on iTunes as an mp3 bundled with an HD video (AF-20302), as an enhanced audio/video E-CD at online record stores, or sign up to support A.F.A.R. to get it in full 96-kHz/24-bit audio resolution as a thank-you gift!
Within a week of its digital preview release, Yearning for the Wind rose to the top of the Ethnocloud World Music Charts, earning #1 spots in both the video and audio track categories, and propelling Ancient Future to the #1 rated artist spot in June, 2014.
Raga and Tala
A raga is a melodic recipe for a mood. In Hindustani music, each raga has certain moods associated with it, and usually has a specific time of day it is meant to be played. Raga could be described as a "super scale" using a set of notes in ascending (arohi) and descending (avarohi) order, sometimes including prescribed alternate routes, a hierarchy of note importance, and a key phrase that shows the heart of the movement of the raga. This ancient system is both an art and a science of how musical notes create certain moods. The recipe for each raga holds the key to an unlimited number of potential melodies, each perpetuating the mood contained in the raga.
Yearning for the Wind is based on Rag Kalyan, an evening raga that employs the same scale as the Lydian mode. It also incorporates harmony and other guitaristic elements. It starts with an alap, an introductory melodic improvisation that shows how the raga moves.
Once the alap comes to a conclusion, the slow gat, or main theme, is introduced in the tala, or rhythmic cycle, in this case matta tal, a nine beat cycle (divided 4, 2, 3). Each tala has a theka, which is a standard groove represented by onomatopoeic drum syllables and played as an accompaniment:
+                                           o                     2 
dhin       terikita   dhin       na         tin        na         dhin  dhin na   dhin  dhin na
1          2          3          4          5          6          7          8          9
The last three beats are subdivided into two sets of one and a half beats. As a bridge between the slow and fast sections of the piece, Vishal Nagar performs an elegant tabla solo over the soft nine beat groove that slowly builds up to a vibrant rela (a fast tabla composition characterized by rapid drum rolls).
Track List
>YTmusic. >soundcloud. >ethnocloud.
Yearning for the Wind (Matthew Montfort) 9:37. Matthew Montfort (scalloped fretboard guitars) and Vishal Nagar (tabla).
Digital Liner Notes
Educational Digital Liner Notes- $1.98 (SALE $1.50): Add Liner Notes to Cart. Buy Liner Notes Now. This download is a seven page .pdf of liner notes for Yearning for the Wind by Ancient Future. These entertaining and educational liner notes feature cover art, musicians biographies, and detailed explanations of the musical concepts of raga and tala behind the music. The liner notes are included on the E-CD version of Yearning for the Wind, and may also be bundled with the video version at a few select digital download retailers.
Biographies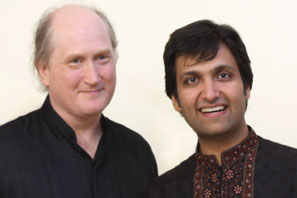 Ancient Future has expanded its musical vision through collaborations with traditional musicians from all over the world who are now an integral part of what is today more than just a band. To enable its core mission of creating world fusion music, Ancient Future has grown to become a large chamber ensemble of world music masters with many smaller ensembles within it, including this improvisatory duet featuring world guitar pioneer Matthew Montfort accompanied by renowned Indian tabla virtuoso Vishal Nagar. They present an innovative and accessible take on Hindustani classical music and contemporary fusion, with expressive and energetic renderings of raga and tala.
Matthew Montfort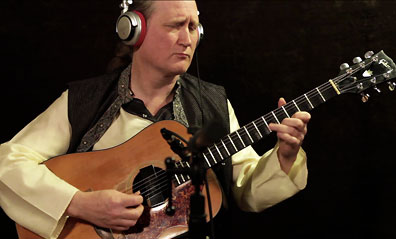 "Matthew Montfort conjures lovely Asian zither-like inflections with a scalloped fretboard guitar." – Guitar Player Magazine
Honored as one of the world's 100 Greatest Acoustic Guitarists, Matthew Montfort has devoted himself to the scalloped fretboard guitar since 1978. He spent years of study with some of the world's best musicians, such as gamelan director K.R.T. Wasitodipuro and North Indian sarod master Ali Akbar Khan. He has performed concerts worldwide, from the Festival Internacional de la Guitarra on the golden coast of Spain to the Festival of India in Mumbai. He has worked with many world music legends, including tabla phenomenon Zakir Hussain and Chinese zither master Zhao Hui. Montfort wrote the book Ancient Traditions – Future Possibilities: Rhythmic Training Through the Traditions of Africa, Bali, and India,which has been used by many musicians to improve their rhythm skills.
Vishal Nagar
Considered one of the most gifted tabla players of his generation, Vishal Nagar was born into a family of musicians and had his initial training for a very brief period with the late Ustad Latif Ahmed Khan of the Delhi Gharana. Along with the dense and rare tabla repertoire which he received from his Ustad, he also has had intense rhythmic training from his mother, the renowned and highly respected Kathak dancer and vocalist, Urmila Nagar. Vishal has been praised in the Indian press for his unique combination of melodic tabla sound production with masterful command of rhythm. Vishal has had the privilege of performing with many renowned artists: Ustad Shujaat Khan, Guru Urmila Nagar, Vidhwan Trichur Ramachandran, Pandit Ramesh Misra and Kala Ramnath, to name a few. Vishal has shared the stage with some great world music masters such as African drum legend Babatunde Olatunji, Michel Shrieve, Evyind Kang, Carmona Flamenco, and Michael Wimberley. Vishal has also expanded his cultural boundaries and collaborated with musicians from around the world. Some of his memorable works have been with the Ghanaian Guitarist Koo Nimo with whom he also appeared in WOMAD USA (a leading world dance and music festival started by Peter Gabriel).
Quotes
"Our long-time acoustic guitar-playing friend Matthew Montfort has been sending us wonderful music for many years now… this newest EP is (without question) the best music I've ever heard him play! The 9:37 "Yearning For The Wind" is "the" piece… Matthew is joined by Vishal Nagar on tabla, and they clearly show (sonically) the joy than can be achieved by well-placed and strictly focused music. The tabla percussion makes it far more than "just another raga"… I'm very strongly impressed and moved by this single piece of music…. you'll find yourself spinning it over and over again. In fact, I would love to hear a full-CD album by these gents (just as soon as they can produce it and put it out there). For listeners who have no fear of exploring beauty, and need variety in their listening experience, this gets a MOST HIGHLY RECOMMENDED from me, with an "EQ" (energy quotient) rating of 4.98." — Dick Metcalf, Rotcod Zzaj, Zzaj Productions
"This is the first audio/video release for Ancient Future. You might have to experience the enhanced CD single multiple times before fully appreciating the visual, because the music itself will make you close your eyes, sigh and travel cosmically. Based on an Indian raga, the wistful composition wends its way along a peaceful path. Matthew Montfort subtly coaxes remarkably flowing lines from his scalloped fretboard guitar. And Indian tabla virtuoso Vishal Nagar intuitively places incredibly intricate rhythmic patterns into the piece. Ancient Future has been making wonderful world fusion music for three decades. The possibilities remain infinite." — Paul Freeman, Palo Alto Daily News
"Ancient Future: Yearning for the Wind - this is the only single I'll put on a Best Of ever; Matt Montfort & Co. have always been cream of the crop." — Mark S. Tucker, FAME Top 30, Folk & Acoustic Music Exchange
"For me it's always the music that comes first, and in Matthew Montfort and Ancient Future we have creativity that breaks many boundaries. As such, it richly deserves non-ordinary attention. Don't think me an altruist, however. I absolutely have to have AF's sort of intellecto-emoto-spiritual nourishment lest I grow even more cynical than I already am (ask about politics sometime if you think my largely upbeat music critiquing is typical of my frequently trouble making mindset). Ancient Future's a multi-member group but this latest issuance, a 10:39 single, involves just Matt and Vishal Nagar, tabla virtuoso, in a balladic duet of the most refined sensibilities, the sort of horizon Peter Green was heading for in his magnificently extended Oh Well (Then Play On), with its underlying motives—before, that is, misfortune claimed him. Not, I add, that Yearning for the Wind contains any of the baroquely magisterial elements Green incorporated, indeed almost stentoriously at moments, but instead the wont to eternally forward thinking. In such, one could also cite Jimmy Page / Led Zeppelin's Black Mountain Side with Viram Jasani, a venture the unfortunately drug-ridden supergroup would never again repeat. Yearning for the Wind marks a new high-water mark in recording, and it isn't a concert video but an HD studio vid of a long cut not based in click tracking; that is, the basic tracks were taken live through seven audio sources and three cameras plus a chordal overdub. It's released in E-CD (enhanced CD), one session dedicated for CD players, the other for computers. The consumer gets both, and the latter includes extensive digital liner notes explaining the musical traditions of Indian raga and tala as well as HD video in 96/24 hi-res audio. This devours all the space on the disc leaving no possible room for another track…and thus you see why I regard it as a unique event well outside normal releases. Montfort intended the "disc" to hit all levels: musicians' top-end aesthetics, audiophile expectations and delectations, and then great response in a standard CD player." — Mark S. Tucker, Folk & Acoustic Music Exchange
"World fusion ensemble Ancient Future, led by guitarist Matthew Montfort, has been a going concern since the late 70s. Since their previous release Planet Passion in 2001, they have chosen to make new material available to supporters by subscription only, via A.F.A.R. (The Archive of Future Ancient Recordings), an archive of alternate takes, live concerts, radio performances and new studio recordings as they are created. Yearning for the Wind, a single extended track based on North Indian raga and set in a nine beat rhythmic cycle, is the group's first commercially available release in over a dozen years, an enhanced CD with audio and video. Featured are Montfort on scalloped fretboard guitar, and master tabla player Vishal Nagar. The piece starts slowly with an acoustic guitar solo that emphasizes the pitch-bending qualities of the scalloped fretboard, later joined by the tabla a couple minutes in, and slowly evolving through numerous sections where the tabla and guitar alternate lead roles. Adding the visual aspect of the video brings in a whole new dimension to the proceedings, and highlights the intense rhythmic complexity that Nagar brings to the table. The exhaustive liner notes in the booklet explain the details of the piece, section by section. For fans of world fusion music, it doesn't get much better than this." — Peter Thelen, Exposé
"Since 1978, Ancient Future has blazed new territory in combining various global music styles to create an original sound all their own. Now, over three decades later they continue on their mission of composing world fusion music that is a beautiful example of how diverse cultural influences can blend together in harmony. On their latest composition, "Yearning For The Wind," Ancient Future founder, guitarist Matthew Montfort and tabla master Vishal Nagar bring East and West together in a stunning display of musical virtuosity. But beyond the technical proficiency of the players is a level of passion and spirit that takes the listener on a journey that is both serene and moving." — Michael Diamond, Amazon.com
"Opening with a careful acoustic guitar motif, of the kind where the resonances from the plucked notes form the melody just as much as the notes themselves, the composition slowly unfolds as the tablas are brought in, the guitar then retreats as the tablas are given a dominant role for a run, and then the pace intensifies as the guitar shifts from resonating notes to a firmer and more energetic mode of delivery, combining with the tablas to reach an intense crescendo, followed by a brief, tranquil guitars only end sequence. The kind of mood that may be that of a warm summer day with sweltering heat ebbing into a brief silence before the wind picks up and a storm comes running in, ending with the silence following in the aftermath. An intriguing creation, proving yet again that a sparse arrangement of acoustic guitar and tabla alone can be used to craft delightful music in the right hands. The enhanced bit of this production covers a high quality video footage from the recording of this song, where the main focus appears to be on showcasing the technique used by guitarist Matthew Montfort and percussionist Vishal Nagar. A video that should be a treat to watch by those with an interest in playing the acoustic guitar and tabla respectively." — Olav M Bjornsen, ProgressoR: Uzbekistan Progressive Rock