Organica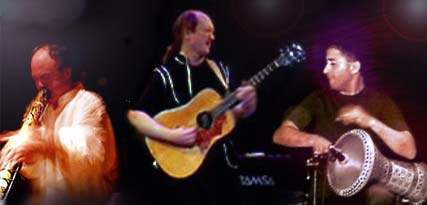 Organica
Matthew Montfort plays a new raga he discovered based on the melodic elements of the guitar solo from Jimi Hendrix's Purple Haze. Salaheddin Takesh lays down irresistible Arabic grooves for dancing. Alan Tower holds down the true trance bottom with moving multiple didjeridu bass lines. All this and more happens at a dance show featuring Ancient Future's Organica program.
Dance to 100% Organic Loop-Free Trance Grooves
"Your show at the Groove Garden was truly amazing. I was blown away with the unusual worldly guitar playing, the earthy grooves, and the full sound of the band with didj bass. It is so much more fun dancing to the music that you made just for us in the moment than it is dancing to canned techno grooves." – Groove Garden dance fan, 12/6/2003.
Featured Tracks
>YTmusic (repertoire). Studio recordings of sample repertoire that is played by this band variation of Ancient Future.
Contact Info
Ancient Future, POB 264, Kentfield, CA 94914. Tel: 415-459-1892. info@ancient-future.com
Booking: Additional booking information, or use the contact information above.
Catalog: Listen to the CDs and use the secure online shopping cart system to purchase music.
Concerts: Current list of shows online.
Guest Book: Subscribe to the Ancient Future e-mail newsletter. Contests for prizes such as concert tickets each issue.