FOR IMMEDIATE RELEASE, 1/25/2012
Contact: Ancient-Future.Com Records
1-415-459-1892 • info@ancient-future.com
Sympathetic Strings & Resonant Reeds: A Benefit Concert for Matthew Montfort
Financially Supporting his Recovery from a Wrist Injury

Featuring Acoustic Guitar Icon Alex de Grassi, Reed Virtuoso Paul McCandless, Classical Guitar Virtuoso Jon Mendle, Mariah Parker's Indo Latin Jazz Ensemble, and an Acoustic Guitar Round-Robin with Teja Gerken and Ronnie Ray Padilla
Wednesday, February 29, 7:30 PM
142 Throckmorton Theatre
142 Throckmorton Avenue
Mill Valley, CA 94941
Tix: $20 general, $30 reserved seating.
Info: 415-383-9600
Venue Website: http://www.142ThrockmortonTheatre.com
Facebook Event: https://www.facebook.com/events/215454935212972/
Press Release: http://www.ancient-future.com/pr_2_29_12.html
Poster (401k pdf): http://www.ancient-future.com/pdf/2_29_12benefit.pdf
Wrist Recovery Donations: http://www.ancient-future.com/donation.html#injury.
Sympathetic Strings & Resonant Reeds Benefit Concert Program
'Sympathetic Strings & Resonant Reeds' is a multi-artist bill featuring sets by acoustic guitar icon Alex de Grassi; Mariah Parker's Indo Latin Jazz Ensemble featuring Grammy-winning reed player Paul McCandless, Ancient Future percussionist Ian Dogole, and bassist Fred Randolph; classical guitarist Jon Mendle, who has performed with Yo-Yo Ma and the Silk Road Ensemble; and an acoustic guitar round-robin with Teja Gerken and Ronnie Ray Padilla. There will be some collaborations between the performers as well. For example, Paul McCandless will be adding his resonant reeds in concert with the sympathetic strings of some of the other artists, such as Alex de Grassi, with whom he has a history of performing.
Matthew Montfort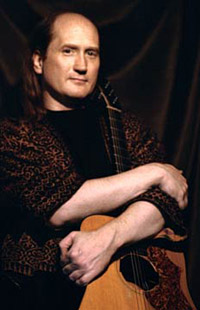 Hi-Res Photo by Julie Marten. 5" x 3" 600 dpi jpeg (2 MB)
The concert is a benefit for guitarist Matthew Montfort of the world fusion music band Ancient Future. Funds go to support his recovery from a wrist injury that resulted in the cancellation of several months of performances. Wrist injury recovery donations are also accepted online at ancient-future.com.
Montfort is a pioneer of the scalloped fretboard guitar (an instrument combining qualities of the South Indian vina and the steel string guitar). In 2009, he released his first solo guitar recording, 'Seven Serenades for Scalloped Fretboard Guitar,' which debuted at #8 on the ZMR World Radio Chart. He has performed concerts worldwide, including at the Festival Internacional de la Guitarra on the golden coast of Spain near Barcelona and the Mumbai Festival at the Gateway of India in Bombay. Montfort wrote the book 'Ancient Traditions – Future Possibilities: Rhythmic Training Through the Traditions of Africa, Bali, and India,' which has been used by many musicians to improve their rhythm skills. He teaches music privately at his studio in San Rafael, California, and online via Skype.
Performers
Alex de Grassi (Acoustic Guitar Icon)

Hi-Res Photo. 5" x 8" 300 dpi jpg (2.4 MB)
Though born in Yokosuka, Japan, Alex de Grassi grew up in San Francisco, California, where his grandfather played violin for the San Francisco Symphony and his father was a classical pianist. At age thirteen he learned to play the trumpet but soon taught himself the guitar, the instrument for which he is now famous. He has performed at such notable venues as the Montreux Jazz Festival, Carnegie Hall, Belfast International Festival, Telluride, and Wolftrap. Alex is the subject of a PBS concert/interview television show, Alex de Grassi: The Artist's Profile, and is both a Grammy Award and Indie award nominee. He performed as a guest artist on Ancient Future's 1986 release, 'Quiet Fire,' on Montfort's composition, 'Caged Lion (Escapes).'
Paul McCandless (Reed Virtuoso)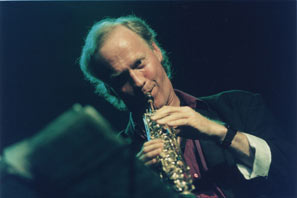 Hi-Res Photo. 6" x 4" 300 dpi jpg (1.7 MB)

During a distinguished career spanning three decades, Paul McCandless has brought a soaring lyricism to his playing and composing that has been integral to the ensemble sound of two seminal world music bands, the original Paul Winter Consort and the relentlessly innovative quartet, Oregon. A gifted multi-instrumentalist and composer, McCandless has specialized in an unusually broad palette of both single and double reed instruments that reflect his grounding in both classical and jazz disciplines.
Performing with Mariah Parker's Indo Latin Jazz Ensemble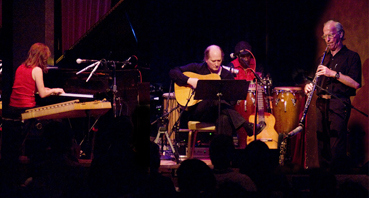 Hi Res Photo. 4" x 2" 300 dpi jpg (1 MB)
"Parker and friends blend the rhythmic syncopations of Latin jazz music with the entrancing, asymmetrical meters of East Indian rhythms resulting in first-class world music." — LATIN BEAT MAGAZINE
Mariah Parker (Composer, Pianist, Santurist)
While completing her degree in music at UC Santa Cruz, Mariah Parker worked with ethnomusicologist Fred Lieberman and Mickey Hart on the 'Planet Drum' project. She has performed in festivals in the US and Europe, and worked with many musicians of note including composer Pauline Oliveros, the late Dumisani Maraire (renowned composer from Zimbabwe). She has studied with jazz great Art Lande and Latin jazz pianist extraordinaire Rebeca Mauléon, and performs regularly with the innovative world music group Ancient Future. She released her first solo recording of her compositions, 'Sangria' (Ancient-Future.Com AF 2017), in February of 2009. Her CD release party and debut of her Indo Latin Jazz Ensemble drew a full house at the famous Yoshi's Jazz Club in Oakland.
Ian Dogole (Global Percussion)
For nearly 30 years, Ian Dogole has articulated his vision of Global Fusion Music as a multipercussionist, bandleader, educator, recording artist, composer and producer. He is a member of Ancient Future, and has recorded and performed with artists such as Hamza el Din, Tito La Rosa, and Alex DeGrassi on a wide variety of percussion instruments, including udu, cajon, hang, African talking drum, kalimbas, cymbals and dumbek. Ian has received numerous grants, including a Jazz Performance Fellowship from the National Endowment for the Arts, and grants from the San Francisco Friends of Chamber Music (SFFCM).
Fred Randolph (Bass)
While working on his Masters Degree in Composition at CSU Hayward, Fred Randolph fell under the spell of the bass, captivated by its endless possibilities. An accomplished performer, composer, arranger, and educator, Fred is a first-call bassist for many of the Bay Areas finest jazz ensembles, including the Contemporary Jazz Orchestra and Sandy Cressmans Homenagem Brasileira, Marcos Silva, and Frank Martin.
Jon Mendle (Classical Guitar Virtuoso)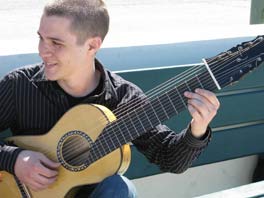 Hi Res Photo. 10" x 7" 300 dpi jpg (1.1 MB)

Since making his Carnegie Hall debut at age 19, classical guitarist Jon Mendle is rapidly building a career as a performer, teacher, arranger, and composer. He has since gone on tour with Yo-Yo Ma and the Silk Road Ensemble. Jon began studying the guitar at the age of 12, and recently finished his graduate studies at the San Francisco Conservatory under the tutelage of renowned guitarist Sergio Assad, earning a Master of Music degree in Classical Guitar Performance. In 2009, he won the San Francisco Conservatory of Music's biennial Guitar Concerto Competition, playing Heitor Villa-Lobos' Concerto for Guitar and Small Orchestra. He performed this work with the San Francisco Conservatory Orchestra in May 2010.
Acoustic Guitar Round-Robin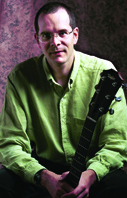 Hi Res Photo. 4" x 6" 300 dpi jpg (2.7 MB)
This format is well-known to Bay Area acoustic guitar fans. Teja Gerken, an editor of Acoustic Guitar Magazine, has hosted round-robins at venues such as San Francisco's Bazaar Cafe, the Sleeping Lady Cafe, and Freight and Salvage for over a decade now, performing over 100 shows with over 100 players!
Teja Gerken (Fingerstyle Guitar)

Born in Germany in 1970, Teja Gerken began his journey on the guitar at the age of six and became a serious student of the instrument after his family moved to California in the mid '80s. Weaving together influences of folk, jazz, classical, and world music, Teja's playing reflects his diverse musical interests. Teja has shared the stage with guitar visionaries such as John Renbourn, Alex de Grassi, Peter Finger, and Henry Kaiser, as well as with his mentors, Duck Baker and Peppino D'Agostino. He has been a featured guest at the International Guitar Night, and in 2004, he participated in a ten-city tour of Hungary.
Ronnie Ray Padilla (Guitar, Vocals)

A San Francisco Bay Area musician, Ronnie Ray Padilla is a multi-instrumentalist, composer, and vocalist whose style spans pop, funk, jazz, afro and several global styles. He has recorded with Billy Young (formerly of Earth, Wind and Fire), Kenneth Nash (formerly with Herbie Hancock, Weather Report and many more), Lion of Juda (Jamaican reggae band), Rocker-T (dance-hall recording artist), and many other artists.
105 Word Radio Announcement
On Wednesday, February 29, at 7:30 PM the 'Sympathetic Strings and Resonant Reeds' concert to benefit pioneering scalloped fretboard guitarist Matthew Montfort, who is recovering from a wrist injury, will be held at 142 Throckmorton Theatre in Mill Valley, California. The show features sets by acoustic guitar icon Alex de Grassi, Mariah Parker's Indo Latin Jazz Ensemble featuring Grammy-winning reed player Paul McCandless and Ancient Future percussionist Ian Dogole, classical guitarist Jon Mendle who has performed with Yo-Yo Ma and the Silk Road Ensemble, and an acoustic guitar round-robin with Teja Gerken and Ronnie Ray Padilla. For more information, call 415-383-9600 or visit www.142ThrockmortonTheatre.com.

###