Celtic Raga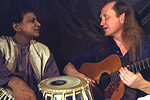 Celtic Raga Duet Hi-Res Photo
(10.2" x 6.8" 300 dpi jpeg) by Julie Marten.
Shown: Arshad Syed and Matthew Montfort
Celtic Raga
Celtic (kel'tik), adj. of the Celts, their Indo-European languages, culture, etc.
raga (räg'a), n. [Hind.] a melodic recipe for a mood including ascending and descending note patterns and a hierarchy of note importance
Strains of ancient Celtic music and Indian raga emanate from this high energy improvisatory duet, one of the variations of the virtuoso world fusion music ensemble, Ancient Future. The Ancient Future Duet has performed in a variety of settings, from the huge audience (police estimate of 35,000 people) at the Summer of Love 30th Anniversary Celebration in San Francisco, to a standing room only three hour bar gig in Southern Oregon, to the Festival Internacional de la Guitarra on the golden coast of Spain near Barcelona.
"It was heart-warming to see teenage girls in swirling dresses swaying and twirling to the Indian themes (almost like morning ragas) of Ancient Future, one of the morning performing groups." – Philip Elwood, San Francisco Examiner (review of Summer of Love performance, that according to the San Francisco Chronicle, was famed concert promoter Chet Helm's "crowning achievement")
Biographies
Matthew Montfort (scalloped fretboard guitar). An award-winning guitarist (Louis Armstrong Jazz Award, Colorado Outstanding Young Guitarist Award), Matthew Montfort is a pioneer of the scalloped fretboard guitar (an instrument combining qualities of the South Indian vina and the steel string guitar). Montfort spent months in intensive study with vina master K.S. Subramanian in order to fully apply the South Indian gamaka (note-bending) techniques to the guitar. He is also known for his work on electric guitar, flamenco guitar, sitar, charango, mandolin, gamelan, and as leader of Ancient Future. He has studied with the master musicians of many world music traditions, including sarod master Ali Akbar Khan and gamelan director K.R.T. Wasitodipuro. He has recorded with legendary world music figures ranging from Bolivian panpipe master Gonzalo Vargas to tabla maestros Swapan Chaudhuri and Zakir Hussain.
The Celtic Raga program is available with a variety of tabla accompanists, including:
Debopriyo Sarkar (tabla). Debopriyo Sarkar is a sensational tabla player from Kolkata. He is a senior disciple of tabla maestro Pandit Anindo Chatterjee. Born in Jalpuiguri, North Bengal in 1971, Debopriyo has displayed an enchanting love of music since his early infant days.
Arshad Syed (tabla, santoor). An original member of the Diga Rhythm Band, which included tabla master Zakir Hussain and Grateful Dead percussionist Mickey Hart, Arshad Syed also performs with the Zakir Hussain Rhythm Experience, and as an accompanist with top classical Indian music artists such as Ustad Sultan Khan and Pandit Habib Khan.
Emam (tabla, percussion). Originally from Iran, Emam is a percussionist and composer specializing in Middle Eastern and Indian music. Emam was awarded a scholarship for Indian classical music study/research by the American Institute of Indian Studies. His teachers have included the world renowned masters of the tabla Ustad Alla Rakha and Ustad Zakir Hussain.
Ferhan Najeeb Qureshi (tabla). Ferhan is a senior disciple of the legendary tabla master Ustad Tari Khan. Prior to his ongoing training with Ustad Tari Khan, Ferhan took his initial lessons in Hindustani (North Indian classical) music theory and practice with Surinder Singh Mann. Ferhan studies the Punjab gharana (school) of classical tabla which both of his teachers represent. In addition to performing tabla lehara (tabla solo), Ferhan Qureshi has also accompanied numerous distinguished classical artists (vocalists, instrumentalists and dancers) both in the United States and in
Pakistan.
Featured Songs
>audio (repertoire). Courtesy of WorldFusionMusicRadio.Com. Studio and live recordings of the repertoire that is played by this ensemble variation in concert.
I Mett Her in the Medowe, a and b (traditional, arr. Montfort. 5:31) iTunes. >audio Scottish lute melody from 1615. From Planet Passion by Ancient Future. (Ancient-Future.Com AF-2001). CD/Gift Card, $17.98: Add 1 to Cart. Buy 1 Now.
Michelle's Star (Montfort. 5:50) iTunes. >audio. Matthew Montfort (scalloped fretboard guitars). From Seven Serenades for Scalloped Fretboard Guitar by Matthew Montfort. (Ancient-Future.Com AF-2008.) Digipak CD- $17.98: Add 1 to Cart. Buy 1 Now.
Contact Info
Ancient Future, POB 264, Kentfield, CA 94914. Tel: 415-459-1892. Toll free in USA and Canada: 1-888-823-8887. info@ancient-future.com
Booking: Additional booking information, or use the contact information above.
Catalog: Listen to the CDs and use the secure online shopping cart system to purchase music.
Concerts: Current list of shows online.
Guest Book: Subscribe to the Ancient Future e-mail newsletter. Contests for prizes such as concert tickets each issue.