Arabic Beats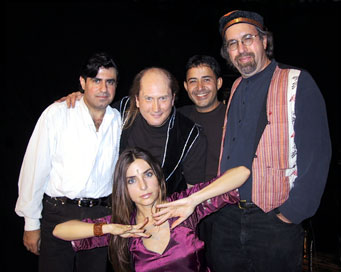 Arabic Dance Grooves
American and Arabic musicians make exciting music that shows how cultures can dance together in this ensemble variation of the trendsetting world fusion music group Ancient Future. In concert, this ensemble inspires audiences with its uptempo mix of American and Arabic music and dance grooves.
Venues: Festivals, Concert Series, Concert Halls, Clubs
Traditions: World, World fusion, Middle Eastern, Arabic, Belly Dance
Moods: Energetic, Exciting, Erotic, Exotic, Festive, Fiery, Mysterious, Ornate, Passionate, Poignant, Powerful, Romantic, Spicy, Thrilling, Uplifting
Hashtags: #Bellydance, #Uptempo, #Festival, #WorldFusion
Biographies
On Ancient Future's Planet Passion CD, Arabic violin virtuoso Georges Lammam adds an element of romantic fire. Born in Beirut, Lebanon, he is well-known in the Middle East as well as the US, having performed with the most well-known singers of the Middle East. He is on the faculty of the Near East Music and Dance Camp in Mendocino.
His brother, percussionist Antoine Lammam, adds his poetry of rhythm to Planet Passion. He began his musical career at the age of 8 after he was given his first drum, an Egyptian tabla. He has accompanied many famous singers in the USA and the Middle East. He taught Arabic rhythms and percussion theory at UC Berkeley (World Music from the Middle-East) from 1991-2009.
Fretless and scalloped fretboard guitar pioneer Matthew Montfort is the leader of Ancient Future. He has performed concerts worldwide, including at the Festival Internacional de la Guitarra on the golden coast of Spain near Barcelona. He is the author of the book Ancient Traditions – Future Possibilities on the rhythmic traditions of Africa, Bali, and India.
Doug McKeehan started his piano studies at age five, and began his first professional work at the age of twelve. He studied music at the Oberlin Conservatory, Kent State University, and the University of Otago (New Zealand). He has toured Europe twice and spent considerable time in India studying with notable Indian music teachers such as Pandit Ram Narayan, Ustad Kursheed Khan and Pandit A.G. Bhattacharya.
Salaheddin Takesh was born in Azerbaijan, Iran. One of the world's finest Arabic percussionists, in his long career in music, he has worked with the top Arabic musicians and dancers in Europe and the Middle East. He is also on the faculty of the Near East Music and Dance Camp.
Featured Videos
Featured Tracks
>YTmusic (repertoire). Studio recordings of the repertoire played by this band variation of Ancient Future.
El Zaffa (Montfort. 4:26) iTunes. >YTmusic. Original composition based on the Egyptian wedding procession rhythm (elzaffa). From Planet Passion. (Ancient-Future.Com AF-2001) CD/Gift Card, $17.98: Add 1 to Cart. Buy 1 Now.
Turkish Taffy (Doug McKeehan. 4:55). Sweet and chewy combination of jazz and Middle Eastern influences. >YTmusic. From World Without Walls (Sona Gaia/MCA 163) CD- $24.98 (out of print: collectable signed reconditioned copy): Add 1 to Cart. Buy 1 Now.
Live Concert Photos
Concert Reviews and Tour Scrapbooks
World Fusion Pioneers: Ancient Future Brings 'Organic Dance Music' to Eugene. Article in Eugene Weekly by Vanessa Salvia.
Spring 2005 Tour Scrapbook. Photos and reviews from the 2005 Pacficic Northwest Tour.
Additional Support Files
Tech rider. Stage plot and technical requirements for this ensemble.
Related Programs
Arab Diaspora: Showcases concepts such as taqsim (Arabic melodic improvisation), and compás (rhythmic structure of flamenco).
Contact Info
Tel: 415-459-1892. info@ancient-future.com
Booking: Additional booking information, or use the contact information above.
Catalog: Listen to the CDs and use the secure online shopping cart system to purchase music.
Concerts: Current list of shows online.
Guest Book: Subscribe to the Ancient Future e-mail newsletter. Contests for prizes such as concert tickets each issue.