Print Promo Kit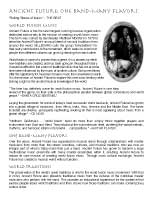 One Band-Many Flavors (3 page .pdf)
Print Promo Kit for Concert Presenters
The following .pdf files are provided for internal organizational use, such as to share with concert committee members or for use by the promotional department in creating press materials:
One Band-Many Flavors (3 page .pdf)
Biographies (3 page .pdf)
Additional press materials for each specific ensemble are available, such as downloadable high resolution photos (600 dpi). Once a concert has been booked, contact Ancient Future to receive the corresponding press releases, photos, promo CDs, and video materials that are available.
Tech Riders
The following sample technical riders are included to give a general idea of the technical requirements of the various ensembles:
Letters of Recommendation
The following letters of recommendation are included to give a general idea of a the satisfaction level of presenters. More letters from our archives are available on request:
Press Materials
Extensive press materials are available for each artist on the Ancient-Future.Com Record label as well as for specific live concert program offerings from the band Ancient Future, including high resolution photos, digital one sheets with streaming audio, digital liner notes, banners, link codes, and concert posters:
Press. This press page focuses on all types of supporting files for Ancient-Future.Com releases. Everything needed for reviews and stories on Ancient-Future.Com Records artists.
Press Photos. This photo page focuses on band and artist photos, and is an excellent source for concert posters and publicity.
Promotional Assets
Ancient Future also has the following promotional assets available:
Fan list with more than 4,200 valid opt-in e-mail addresses.
Fan mailing list with more than 4,000 postal addresses.
More than 6,200 organic Facebook fans.
World music media list with more than 3,000 media contacts.
World music distribution outlet list with more than 3,000 retail outlets. Many of the record stores, drum shops, yoga studios, and other businesses on the list are willing to post flyers for shows in their areas.
Contact Info
Tel: 415-459-1892. info@ancient-future.com
Booking: Additional booking information, or use the contact information above.
Catalog: Listen to the CDs and use the secure online shopping cart system to purchase music.
Concerts: Current list of shows online.
Guest Book: Subscribe to the Ancient Future e-mail newsletter. Contests for prizes such as concert tickets each issue.