Matthew Montfort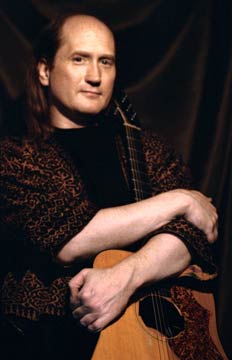 (310K JPEG of Matthew Montfort)
(band leader, composer, scalloped fretboard guitar, Glissentar 11 string fretless guitar, electric guitar, flamenco guitar, mandolin, charango, sitar, gamelan)
Matthew Montfort is the leader of the world fusion music ensemble Ancient Future. An award-winning guitarist (Louis Armstrong Jazz Award, Colorado Outstanding Young Guitarist Award), he is a pioneer of the scalloped fretboard guitar (an instrument combining qualities of the South Indian vina and the steel string guitar). Montfort spent three months in intensive study with vina master K.S. Subramanian in order to fully apply the South Indian gamaka (note-bending) techniques to the guitar. He has released two solo CDs: Seven Serenades for Scalloped Fretboard Guitar and Sympathetic Serenade, for which he is recognized as one of the world's 100 Greatest Acoustic Guitarists by DigitalDreamDoor.com , a curated "best of" site, along with such luminaries as Michael Hedges, Leo Kottke, Chet Atkins, John Fahey, Adrian Legg, Merle Travis, John Renbourn, Tommy Emmanuel, Doc Watson, Pierre Bensusan, Toni Rice, Alex De Grassi, Stefan Grossman, Artie Traum, Joni Mitchell, and Peppino D'Agostino. He is also known for his work on electric guitar, flamenco guitar, sitar, ukulele, charango, mandolin, and gamelan, and as Ancient Future's main composer.
Matthew Montfort holds a B.A. in World Music and Composition and an M.A. in Arts and Media Technology from Antioch University. He has studied with the master musicians of many world music traditions, including sarangi master Ram Narayan, sarod master Ali Akbar Khan, mridangam master Guruvayoor Dorai, and gamelan director K.R.T. Wasitodipuro. He has recorded with legendary world music figures ranging from Bolivian panpipe master Gonzalo Vargas to tabla maestros Swapan Chaudhuri and Zakir Hussain. He has performed concerts worldwide, including at the Festival Internacional de la Guitarra on the golden coast of Spain near Barcelona and the Mumbai Festival at the Gateway of India in Bombay. He has performed live on national radio and TV shows such as the Echoes Living Room Concerts on Public Radio International, and the Rachel Maddow Show on MSNBC.
Montfort wrote the book Ancient Traditions – Future Possibilities: Rhythmic Training Through the Traditions of Africa, Bali, and India, which has been used by many musicians to improve their rhythm skills. He teaches all styles of guitar, ukulele, bass, charango, sitar, and mandolin as well as music theory for all instruments and rhythm classes based on his book at his studio in Cloverdale, California, and online via Skype. Matthew Montfort has forty years of teaching experience. He has taught masterclasses at many universities and music camps, and was on the faculty of Blue Bear School of Music in San Francisco for over two decades. Some of his students have gone on to promising music careers.
His official website is MatthewMontfort.Com.
Featured Press
Quotes
"Montfort is a pioneer player of the scalloped fretboard guitar." – San Francisco Chronicle
"This album reveals a thorough knowledge of Hindustani microtonal ornaments, transferred in ways that create one of the most distinctive guitar sounds in contemporary music. However, it also reveals a lifetime of exploration in world music, which can be immediately summoned in a flash of inspiration. When this level of mastery is reached, there is no need to rewrite. The first improvisation has the depth of a reworked composition." – Teed Rockwell, India Currents, March 2009
Featured Sound Files
>YTmusic. (Play all tracks)
Amber (Montfort. 2:09) iTunes. >YTmusic. From Guitar Works. (Narada Lotus ND-61032) CD- $16.98: Add 1 to Cart. Buy 1 Now.
Soul Serenade (Montfort. 6:28) iTunes. >YTmusic.From Seven Serenades for Scalloped Fretboard Guitar. (Ancient-Future.Com AF 2008). Digipak CD 17:98: Add 1 to Cart. Buy 1 Now.
I Mett Her in the Medowe, a and b (traditional, arr. Montfort. 5:31) iTunes. >YTmusic. Scottish lute melody from 1615. From Planet Passion. (Ancient-Future.Com AF-2001). CD/Gift Card, $17.98: Add 1 to Cart. Buy 1 Now.
Featured Videos
Yearning for the Wind
Guitar-Sitar Jugalbandi
Music for Thingamajigs on Rachel Maddow Show
Shown performing on the Rachel Maddow Show: Matthew Montfort on Godin Glissentar (11 string fretless guitar), and Bui Huu Nhut on dan bau. This clip can also be viewed on nbcnews.com.
Scalloped Fretboard Guitar Solo
Teaching

Matthew Montfort teaches privately at his studio in the Gerstle Park area of San Rafael, California (zip code 94901), at student's homes in Marin County, and worldwide via Skype. For more information about private lessons, send an email to info@ancient-future.com or call 415-459-1892.
Partial Discography
With Ancient Future:
Solo:
Producer and Sideman:
Sideman:
Books
Social Networking
Facebook:
Matthew Montfort Fan Page
Myspace:
myspace.com/matthewmontfort