Global Guitar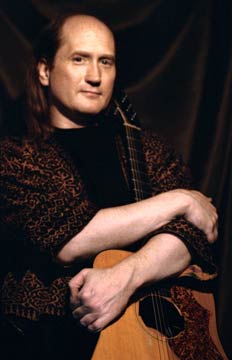 Matthew Montfort: Global Guitar
Melting Pot Americana on Acoustic Guitar
This solo program by Matthew Montfort, the leader of the world fusion music ensemble Ancient Future, focuses on Montfort's ability to bring unusual tonalities from world music traditions to the guitar. It is a great option for solo guitar showcases, music festivals (easy staging), acoustic music round robins, house concerts, fine arts programs, educational programs, and yoga studios.
Recognized as one of the world's 100 Greatest Acoustic Guitarists (DigitalDreamDoor.com), Matthew Montfort is a pioneer of the scalloped fretboard guitar (an instrument combining qualities of the South Indian vina and the steel string guitar). Montfort spent three months in intensive study with vina master K.S. Subramanian in order to fully apply the South Indian gamaka (note-bending) techniques to the guitar. He is also known for his work on Glissentar (an 11 string fretless guitar), flamenco guitar, electric guitar, sitar, charango, mandolin, and gamelan, and as Ancient Future's main composer.
Matthew Montfort holds a B.A. in World Music and Composition and an M.A. in Arts and Media Technology from Antioch University. He has studied with the master musicians of many world music traditions, including sarangi master Ram Narayan, sarod master Ali Akbar Khan, mridangam master Guruvayoor Dorai, and gamelan director K.R.T. Wasitodipuro. He has recorded with legendary world music figures ranging from Bolivian panpipe master Gonzalo Vargas to tabla maestros Swapan Chaudhuri and Zakir Hussain. He has performed concerts worldwide, including at the Festival Internacional de la Guitarra on the golden coast of Spain near Barcelona and the Mumbai Festival at the Gateway of India in Bombay. He has performed live on national radio and TV shows such as the Echoes Living Room Concerts on Public Radio International, and the Rachel Maddow Show on MSNBC. Montfort wrote the book Ancient Traditions – Future Possibilities, drawing from his years of study of many world music traditions to create a training method based on the rhythms of Africa, Bali, and India.
Workshops and masterclasses are also available for many genres and specialties, including world music traditions, rock, jazz, folk, classical, flamenco, bass, ukulele, mandolin, charango, and music theory for guitar.
Venues: Festivals, Concert Series, Concert Halls, Folk Clubs, Round Robins
Traditions: Folk, Americana, Western Classical, Celtic, Spanish, Flamenco, Indian, European, Latin, World, World Fusion
Moods: Airy, Bright, Delicate, Festive, Graceful, Happy, Intimate, Joyous, Lively, Lyrical, Magical, Mysterious, Mystical, Poignant, Soothing, Uplifting
Hashtags: #FolkFusion, #Folk, #WorldFusion, #Celtic, #IndianFusion, #DeepListening, #MeltingPotAmericana
Global Guitar Summit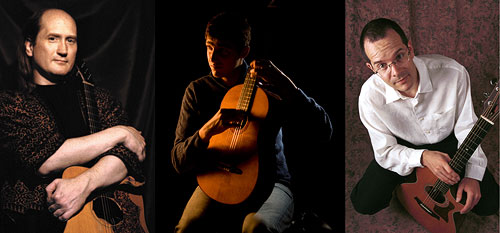 Hi-Res Photo (7. x 3 300 dpi jpeg, 1.2 MB). Shown: Matthew Montfort, Giacomo Fiore, Teja Gerken
Montfort is also available as part of a Global Guitar Summit featuring international acoustic guitar virtuosos performing solo and ensemble pieces. In addition to Matthew Montfort, the summit has included artists such as Italian guitarist and musicologist Giacomo Fiore, German fingerstyle guitarist Teja Gerken, Indian jazz guitarist Konarak Reddy, and American fingerstyle guitarist Tim Sparks. The music performed includes new arrangements of classical works, Celtic music, Indian classical, contemporary compositions, popular songs, and much more.

Featured Videos
Matthew Montfort on Guitar Player.Com
Guitar Player Magazine Presents: Mattthew Montfort performing 'Purple Raga' on Glissentar 11 string fretless guitar. Originally recorded on Seven Serenades for Scalloped Fretboard Guitar.


Matthew Montfort Performs Scalloped Fretboard Guitar Solo
Mattthew Montfort performs 'Soul Serenade' from Seven Serenades for Scalloped Fretboard Guitar.
Matthew Montfort Performs on the
Rachel Maddow Show

on

MSNBC

The Rachel Maddow Show on MSNBC Presents Matthew Montfort on Godin Glissentar (11 string fretless guitar), and Bui Huu Nhut on dan bau (Vietnamese single string instrument) at the Festival of Music for People and Thingamajigs. This clip can also be viewed on nbcnews.com.
Featured Tracks
>YTmusic. (Play all tracks)
Amber (Montfort. 2:09) iTunes. >YTmusic. FREE MP3 (excerpt). 459K. From Guitar Works by various guitarists. (Narada Lotus ND-61032) CD- $16.98: Add 1 to Cart. Buy 1 Now.
Soul Serenade (Montfort. 6:28) iTunes. >YTmusic. From Seven Serenades for Scalloped Fretboard Guitar by Matthew Montfort. (Ancient-Future.Com AF 2008). Pre-Release Signed CD- $24.98: Add 1 to Cart. Buy 1 Now.
I Mett Her in the Medowe, a and b (traditional, arr. Montfort. 5:31) iTunes. >YTmusic. Scottish lute melody from 1615. From Planet Passion by Ancient Future. (Ancient-Future.Com AF-2001). CD/Gift Card, $17.98: Add 1 to Cart. Buy 1 Now.
Quotes
"Matthew Montfort conjures lovely Asian zither-like inflections with a scalloped fretboard guitar." – Guitar Player
"This longtime world music/fusion guitarist offers a solo and lightly-backed recording for acoustic 'scalloped fretboard' guitar, and however that may di!er from a regular guitar (OK, there are actually no [flat surfaces between the] frets and he touches only the strings), he plays it just beautifully, at times hypnotically, and makes it sound like some sort of sitar hybrid on a 'modern raga,' a 'Celtic raga,' and even a 'purple' one based on Jimi Hendrix's music. With even the dreaded didj blending in tastefully, this is a very fine set, meditative and rhythmic all at once." – Steve Heilig, The Beat
"Matthew Montfort has been the leader of the seminal world fusion group Ancient Future for over 30 years. In that time, he and his group have often led the way in crafting exquisite, timeless melodies reflecting musical influences from the Middle East, India, Asia and beyond. Now Matthew has released his first solo CD, Seven Serenades for Scalloped Fretboard Guitar. You may well be asking, as I did, what exactly is a scalloped fretboard guitar? It turns out that it's not a new idea for stringed instruments. Many lutes, for example have scalloped fretboards, where some of the wood between the frets on the guitar neck is removed to facilitate 'bending' notes. Matthew has been experimenting with this idea on an acoustic guitar for many years, and has developed a unique sound that may remind you of a sitar. The delightful result forms the core sound of Seven Serenades for Scalloped Fretboard Guitar, a series of improvisational masterpieces that somehow manage to sound both traditional and contemporary at the same time. Matthew's playing is always impeccable, filled with subtle emotion and even wanderlust. I don't know of anyone who plays quite like Matthew. His mastery of the scalloped fretboard guitar seems unequaled. For a richly rewarding journey into the magic of acoustic world fusion music, look no farther than Seven Serenades for Scalloped Fretboard Guitar" – Steve Ryals, Fresh Tracks, DrunkWithWonder.com
"Leader of the world-music band Ancient Future since 1978, Matthew Montfort has adapted many string instrument styles – from sitar to zither – to his guitar. His special scalloped fretboard allows him to tweak the strings in unique ways, but his virtuosity is a lot more than technical." – David Rubien, Datebook Pink Section: This Week: Friday Chronicle Pick, San Francisco Chronicle
"It isn't every day that acoustic guitarists make their instrument sound a lot like an Indian sitar, but that is exactly what Matthew Montfort accomplishes on the instrumental Seven Serenades for Scalloped Fretboard Guitar. What exactly is a scalloped fretboard guitar? According to Ancient-Future.com, guitar maker Ervin Somogyi took an acoustic guitar back in 1978 and 'carved out the wood between the frets so that the pads of Montfort's fingers touch only the strings, reducing friction while he bends them to produce ornaments more characteristic of the sitar.' And while that might sound technical to those who aren't professional musicians, there is no question that the scalloped fretboard guitar that Montfort plays on this early-2009 release is very sitar-sounding. Traditional Indian music is a strong influence on instrumentals like 'Purple Raga,' 'Gauri the Golden,' and 'Lilalit,' which is not to say that this is a traditional Indian album in the Ravi Shankar vein. Instead, Seven Serenades for Scalloped Fretboard Guitar is best described as world fusion; Indian music is an influence, but it isn't the disc's only influence – and Montfort also draws on everything from Spanish flamenco to blues to folk-rock. Celtic music is an influence on 'Celtic Raga,' which successfully combines Irish-Celtic and Indian elements. Through it all, Montfort demonstrates that even though he has considerable chops and technical prowess, he is much more interested in feeling and expression than technique. This 56- minute CD is an adventurous, consistently engaging demonstration of what Montfort can accomplish on the scalloped fretboard guitar." – Alex Henderson, All Media Guide
"Though he plays guitar, Montfort's music isn't merely guitar music; it's a sonic environment that features a guitar. Strong Indian and Balinese influences permeate these seven exotic soundscapes. Beautifully recorded, this sumptuous music creates a unique wall of sound that you won't soon forget." – Steven Stone, Vintage Guitar Magazine
"Matthew Montfort's Seven Serenades for Scalloped Fretboard Guitar is an impressive collection of meditative sonic excursions. Matthew Montfort is a true pioneer and master of the scalloped fretboard acoustic and this recording is highly recommended for all fans world music." – James Scott, Minor7th.com
"Montfort's newest album, Seven Serenades, is remarkably similar to a classical Hindustani improvised performance. There are brief guest spots featuring supportive background performances of didjeridu, santoor, and violin, but most tracks are single note melodies on guitar, accompanied by nothing but an unobtrusive drone. The basic form of most of the tracks is the Hindustani alap/jhor/jhala, that slowly explores every part of the selected scale, first with no rhythm at all, then with a slowly increasing rhythmic pulse that builds to a heavily strummed crescendo.
"But although some of the scales on this album are based on traditional ragas, they do not come from a single guru, but from every corner of Montfort's diverse musical history. 'Celtic Raga' is based on the Hindustani scale khamaj, known as mixolydian in the west, which is the basis for many Irish fiddle tunes. Montfort's interpretation starts by evoking a slow Celtic air, then gradually falls into the structure of a dancing Irish reel as it picks up tempo. 'Lilalit' is built on the challenging scale of raga lalit. Montfort's interpretation combines the broad stark intervals of that raga to reveal jazzy chords that sound dissonant at first, but are actually following a special kind of consonance. 'Purple Raga' unpacks the melodic rules contained within the guitar riff of the famous Jimi Hendrix song 'Purple Haze' and reveals some powerful connections between Afro-American and Hindustani musical roots.
"Because Montfort's guitar has a scalloped fretboard, his fingers touch only the strings, enabling him to produce ornaments more characteristic of the sitar. This album reveals a thorough knowledge of Hindustani microtonal ornaments, transferred in ways that create one of the most distinctive guitar sounds in contemporary music. However, it also reveals a lifetime of exploration in world music, which can be immediately summoned in a flash of inspiration. When this level of mastery is reached, there is no need to rewrite. The first improvisation has the depth of a reworked composition." – Teed Rockwell, India Currents
"Matthew Montfort is a true guitar master. His instrument conveys the smallest nuances of the artist's emotions. Also, Matthew Montfort's manner of playing scalloped fretboard guitar is very diverse. He masterfully combines a perfect performance with Eastern meditative approach. As a result his music sounds very unique. And it is filled with the delicate flavor of the East.
"The artist is not afraid to improvise and to blend various genres in his guitar music. His 'Purple Raga' is adorned with the captivating drones of an Australian didgeridoo. I could name this composition as world raga rock. In general Matthew Montfort's music goes beyond any boundaries. He is truly one of the world's best guitarists.
"The first solo effort of Matthew Montfort is a real handbook for guitarists and a great pleasure for the ears of all guitar music lovers!" – Serge Kozlovsky, SergeKozlovsky.com
"The mind-bending playing abilities of guitar virtuoso, Matthew Montfort, stems from the note-bending capabilities of the scalloped fretboard guitar. This produces a different sound than the more familiar guitar, because the fretboard is carved out, so the fingers only touch the strings. Musically, the songs verge on a flamenco-Indian-jazz continuum. This is partly due to Matthew's playing technique and the sitar-like sounds of his guitar. The crystal-clear picking on guitar and accompaniment on didjeridoo (with Alan Tower), violin (with Patti Weiss) and santoor (with Mariah Parker) provides a rich musical texture. Vocals are absent on this recording. For everyone interested in the sounds of guitar, especially fans of Bob Brozman or Ben Bowen King, then this is definitely for you." – Matthew Forss, InsideWorldMusic.com
"I first realized Matthew Montfort was a true guitar wizard when he called me on the phone and played me one flawless Hendrix riff after another. We were in the seventh grade. By the time we escaped high school, Matt had gone acoustic, turning coffee house basements into his own planet with fierce improvisations touching on an occasional Spanish or Celtic launching pad."
"Now a pioneering master of world fusion, Matt continues to travel, study, absorb and immerse himself in musics and traditions all over the globe. His knowledge and depth are staggering, yet he doesn't let it get in the way of the joy and spirit and soul that we like about music in the first place."
"The sparkling presence and sustain you hear is not an amplified acoustic with a lot of reverb, but a scalloped fretboard guitar. Matt's the only person I know who can play one. Most rock musicians I've mentioned it to seem shocked that it even exists."
"The Mid-Eastern ventures are my favorite." – Jello Biafra, (seminal punk rock singer, Dead Kennedy front man turned spoken word activist, politician, mail recycler), Alternative Tentatcles Records
Contact Info
Tel: 415-459-1892. info@ancient-future.com
Booking: Additional booking information, or use the contact information above.
Catalog: Listen to the CDs and use the secure online shopping cart system to purchase music.
Concerts: Current list of shows online.
Guest Book: Subscribe to the Ancient Future e-mail newsletter. Contests for prizes such as concert tickets each issue.