Seven Serenades
for Scalloped Fretboard Guitar

by Matthew Montfort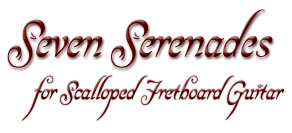 This debut recording by Ancient Future leader Matthew Montfort showcases his pioneering work on the scalloped fretboard guitar, a special modified instrument able to produce ornaments more characteristic of the sitar. While previously known more for his compositions for the trendsetting world music group Ancient Future, this first solo effort features his improvisational music. The recording debuted at #8 on Zone Music Reporter's Top 100 February 2009 World Radio Chart, and held the #34 spot on the Top 100 2009.
Biography

"Matthew Montfort conjures lovely Asian zither-like inflections with a scalloped fretboard guitar." – Guitar Player Magazine
Matthew Montfort has devoted himself to the scalloped fretboard guitar since 1978. He spent years of study with some of the world's best musicians, such as gamelan director K.R.T. Wasitodipuro and North Indian sarod master Ali Akbar Khan. He has performed concerts worldwide, from the Festival Internacional de la Guitarra on the golden coast of Spain to the Festival of India in Mumbai. He has worked with many world music legends, including tabla phenomenon Zakir Hussain and Chinese zither master Zhao Hui. Montfort wrote the book Ancient Traditions – Future Possibilities: Rhythmic Training Through the Traditions of Africa, Bali, and India,which has been used by many musicians to improve their rhythm skills.
The Scalloped Fretboard Guitar


In late 1978, luthier Ervin Somogyi carved out the wood between the frets so that the pads of Montfort's fingers touch only the strings, reducing friction while he bends them to produce ornaments more characteristic of the sitar. While visually subtle, the
difference in sound is striking.
Montfort is a pioneer among guitarists who have had their fretboards scalloped in order to play various forms of world music that require intricate note-bending ornaments. Montfort immersed himself in an intensive study with vina master K.S. Subramanian in order to fully apply the South Indian gamaka (note-bending) techniques to the guitar. Montfort's transcription of South Indian vina music is available for those who wish to study these note-bending techniques.
Seven Serenades Concept

The idea for this recording grew out of an emergency drive-by serenade. I'll spare you the personal details of the events leading up to my sudden inspiration to perform an impromptu serenade. The important point is that I found the music improvised in that romantic moment had a special quality to it that would be wonderful to capture.
For many years, people have been asking me to make a recording focusing on my scalloped fretboard guitar playing. The focus of my recording work with Ancient Future has always been to make each composition the best representation of the piece possible, using whatever instruments or techniques I find necessary. Yet in concert, my focus is making the best music in that moment with the musicians who are performing for that particular audience. The two are very different perspectives. So for this recording, I decided not to compose any music in advance, but rather to improvise the pieces in my home studio whenever the muse arose.
I'm now happy to share with you these improvisations recorded in moments of inspiration.
Yours in serenade,



Matthew Montfort
Video
Quotes
"The most beautiful, soulful guitar I have ever heard!!"– Chandi Devi, Editor-in-Chief, Karmacaffe.com
"MATTHEW MONTFORT/Seven Serenades: Label head and and leader Montfort continues with his free thinking guitar man ways on this outing of improvs that don't fit into any of his other guises but need to be heard nonetheless. At it now for 30 years, he's a throwback to the kind of great underground 70's guitarists currently being unearthed by labels like Tompkins Square and Numero Group except this is no reissue, he's carrying the torch here and now. Working with a like minded crew that's as open minded as he is, this is music for people that remember what music was like and how much fun it was to find something rather than have it force communicated upon you. Tasty throughout." – Chris Spector, MIDWEST RECORD
"Master of the scalloped fretboard guitar." – J. Poet, East Bay Express
"Matthew Montfort is an American Ravi Shankar on guitar." – Pandit Habib Khan, sitarist
"Matthew Montfort's synthesis of styles and sounds isn't superficial – he plucks the essential musicality of several traditions without discounting them. Beautiful world fusion music." – Roger Carlberg, Electronic Musician
"A giant, a leader, a bound-and-determined self described fanatic for world music." – New Colorado
"Guitarrista multipremiado, Montfort es un pionero de la scalloped fretboard guitar." – Putumayo Records
"Matthew Montfort plays a special, scalloped fretboard acoustic instrument that lets him get the bends of an Indian sitar. He uses it to weave seductive melodies." – John Diliberto (host of Echoes, syndicated on PRI stations)
"Guitar is seldom featured in Indian classical music – yet Montfort is a pioneer of such and uses the scalloped fretboard guitar to bring out the best in Indian sounds. His background as a student of the notoriously-difficult sitar lends to translations which shine on guitar" – WorldDiscoveries.net
"Montfort's newest album, Seven Serenades, is remarkably similar to a classical Hindustani improvised performance. There are brief guest spots featuring supportive background performances of didjeridu, santur, and violin, but most tracks are single note melodies on guitar, accompanied by nothing but an unobtrusive drone. The basic form of most of the tracks is the Hindustani alap/jhor/jhala, that slowly explores every part of the selected scale, first with no rhythm at all, then with a slowly increasing rhythmic pulse that builds to a heavily strummed crescendo. But although some of the scales on this album are based on traditional ragas, they do not come from a single guru, but from every corner of Montfort's diverse musical history. 'Celtic Raga' is based on the Hindustani scale Khammaj, known as mixolydian in the west, which is the basis for many Irish fiddle tunes. Montfort's interpretation starts by evoking a slow Celtic air, then gradually falls into the structure of a dancing Irish reel as it picks up tempo. 'Lilalit' is built on the challenging scale of Raga Lalit. Montfort's interpretation combines the broad stark intervals of that raga to reveal jazzy chords that sound dissonant at first, but are actually following a special kind of consonance. 'Purple Raga' unpacks the melodic rules contained within the guitar riff of the famous Jimi Hendrix song 'Purple Haze' and reveals some powerful connections between Afro-American and Hindustani roots.

Because Montfort's guitar has a scalloped fretboard, his fingers touch only the strings, enabling him to produce ornaments more characteristic of the sitar. This album reveals a thorough knowledge of Hindustani microtonal ornaments, transferred in ways that create one of the most distinctive guitar sounds in contemporary music. However, it also reveals a lifetime of exploration in world music, which can be immediately summoned in a flash of inspiration. When this level of mastery is reached, there is no need to rewrite. The first improvisation has the depth of a reworked composition." – Teed Rockwell, India Currents, March 2009
"I first realized Matthew Montfort was a true guitar wizard when he called me on the phone and played me one flawless Hendrix riff after another. We were in the seventh grade. By the time we escaped high school, Matt had gone acoustic, turning coffee house basements into his own planet with fierce improvisations touching on an occasional Spanish or Celtic launching pad.
Now a pioneering master of world fusion, Matt continues to travel, study, absorb and immerse himself in musics and traditions all over the globe. His knowledge and depth are staggering, yet he doesn't let it get in the way of the joy and spirit and soul that we like about music in the first place.
The sparkling presence and sustain you hear is not an amplified acoustic with a lot of reverb, but a scalloped fretboard guitar. Matt's the only person I know who can play one. Most rock musicians I've mentioned it to seem shocked that it even exists.
The Mid-Eastern ventures are my favorite."– Jello Biafra, (seminal punk rock singer, Dead Kennedy front man turned spoken word activist, politician, mail recycler) Alternative Tentacles, Sept. 06, 2008
Digital Liner Notes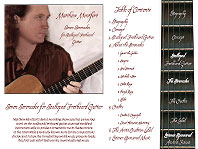 Educational Digital Liner Notes- $2.98 (SALE $2.00): Add Liner Notes to Cart. Buy Liner Notes Now. This exclusive download is a 17 page .pdf of liner notes for Seven Serenades for Scalloped Fretboard Guitar by Matthew Montfort that is not available at any other music download site. These educational liner notes explain the inspirations and musical concepts behind each of the serenades. Sheet music is included for those who want to delve deeper!