Sympathetic Serenade
for Scalloped Fretboard Guitar

by Matthew Montfort

Ancient-Future.Com AF EP 2012. 64 Bit Tuned Harmonic Mastering.
Signed Mini EP CD-R-$12.98 (SALE $10):
Add CD to Cart. Buy CD Now. (Best Quality)
iTunes. (Download Quality)
When Matthew Montfort was working on his debut solo recording for scalloped fretboard guitar (a special guitar modified to enable ornaments characteristic of the sitar), he recorded a number of spontaneously improvised serenades. Were it not for some serendipitous sequencing coupled with the allure of alliteration, it's likely that this recording would have been released as the eighth improvisation on what became Seven Serenades for Scalloped Fretboard Guitar. Instead, this evocative Spanish serenade/raga hybrid receives a mini EP treatment on Matthew Montfort's Sympathetic Serenade for Scalloped Fretboard Guitar.
Biography
"Matthew Montfort conjures lovely Asian zither-like inflections with a scalloped fretboard guitar." – Guitar Player Magazine
Honored as one of the world's 100 Greatest Acoustic Guitarists, Matthew Montfort has devoted himself to the scalloped fretboard guitar since 1978. He spent years of study with some of the world's best musicians, such as gamelan director K.R.T. Wasitodipuro and North Indian sarod master Ali Akbar Khan. He has performed concerts worldwide, from the Festival Internacional de la Guitarra on the golden coast of Spain to the Festival of India in Mumbai. He has worked with many world music legends, including tabla phenomenon Zakir Hussain and Chinese zither master Zhao Hui. Montfort wrote the book Ancient Traditions – Future Possibilities: Rhythmic Training Through the Traditions of Africa, Bali, and India,which has been used by many musicians to improve their rhythm skills.
The Scalloped Fretboard Guitar
In late 1978, luthier Ervin Somogyi carved out the wood between the frets so that the pads of Montfort's fingers touch only the strings, reducing friction while he bends them to produce ornaments more characteristic of the sitar. While visually subtle, the
difference in sound is striking.
Montfort is a pioneer among guitarists who have had their fretboards scalloped in order to play various forms of world music that require intricate note-bending ornaments. Montfort immersed himself in an intensive study with vina master K.S. Subramanian in order to fully apply the South Indian gamaka (note-bending) techniques to the guitar. Montfort's transcription of South Indian vina music is available for those who wish to study these note-bending techniques.
Concept
When I was working on my debut solo recording, Seven Serenades for Scalloped Fretboard Guitar, I recorded a number of spontaneously improvised serenades. When it came time to mix the recording, I selected a number of my favorite improvisations to work on. But during the mastering process, I found that the tracks worked especially well together in an order that included only seven of the serenades. This gave rise to the name of the record, but it meant that one of my very favorite improvisations would not be on the release. I'm remedying that situation here with the release of "Sympathetic Serenade."
What I do in my role as bandleader of the world music group Ancient Future is to collaborate with musicians from many different traditions, so my music fuses ideas from the great musical traditions of the world. I often compose elaborate scores where a large percentage of the music is through composed. Other times I compose just a theme that can serve as material to spark group improvisations. But when I perform solo, I enjoy creating music that is improvised in the moment. Later I often look at what I have created and see the various influences.
In the case of Sympathetic Serenade, what I have done is to improvise in the phrygian mode, which corresponds to the Indian rag Bhairavi. I've followed some of the rules for that rag. In a few places, some influences from the music of Spain have come to the forefront. In one section, I've employed a pentatonic subset of the phrygian mode that is close to a scale used in Indonesian music that is known as 'pelog.' So in looking back, I can see that this improvisation was influenced by Indian raga, Spanish guitar music, and Indonesian gamelan.
Yours in serenade,


Matthew Montfort
Track List
Sympathetic Serenade (Montfort) 10:58 >YTmusic. Matthew Montfort (scalloped fretboard guitar). This improvisation in E phrygian shows the influences of Indian raga, Spanish guitar music, and Indonesian gamelan.
Quotes
"Both Matt Montfort and his band Ancient Future have been reviewed in FAME before, and the work is always superlative, but this one, a CD 11-minute single, is an expression of solo virtuosity on a variant axe which isn't employed by very many, Ed Powell being one other. As such, Sympathetic Serenade for Scalloped Fretboard Guitar bridges classical atmospheres in three realms: Far Eastern, European, and Western. Primarily a Spanish composition, there's nonetheless always a generous infusion of raga structures and riffs in Montfort's work as well as more Westerly rhythmatics. Sympathetic Serenade is no exception. To try to pin any of the song down an era placement, however, will strain one's faculties, so I suggest the listener just enjoy the music for what it always is: brilliant modern semi-neoclassical work with very strong ties to the traditional residing within progressive annals." – Mark S. Tucker, FAME
"MATTHEW MONTFORT/Sympathetic Serenade: Digital ep only release of killer guitar improv on a hybrid guitar. Ostensibly a recording that didn't fit the format of a full length release, anyone whose ever been taken with the inventions of Fahey, Basho etc when they wander off the beaten, song structured path will enjoy this instrumental, raga flavored diversion. Not a piece that's clever just for the sheer sake of it, the hard core will groove to this head trip rhapsody. A fine work that extends the guitar vocabulary." – Chris Spector, MIDWEST RECORD
Digital Liner Notes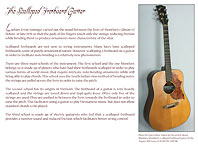 Educational Digital Liner Notes- $1.98 (SALE $1.50): Add Liner Notes to Cart. Buy Liner Notes Now. This download is a 9 page .pdf of liner notes for Sympathetic Serenade for Scalloped Fretboard Guitar by Matthew Montfort. It features CD cover art, information on the scalloped fretboard guitar, Matthew Montfort's biography, and explanations of the musical concepts behind the serenade. Also bundled with the release at select digital download retailers.