Slavic Sounds

Featuring Eastern European Vocalist Irina Mikhailova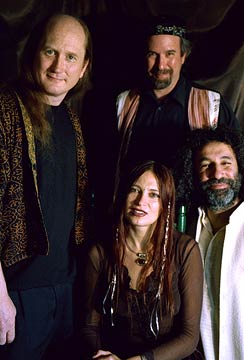 Slavic Sounds
This program features traditional melodies from Eastern Europe sung by Irina Mikhailova, a world renowned vocalist, composer, and multi instrumentalist from Kazakhstan whose musical style reflects the traditions of Russia, Balkans, Asia and Middle East.
With its beautiful melodies and acoustic instrument accompaniment, this program is perfect for traditional music series, clubs and coffeehouses, and world music and folk festivals.
Featured Songs
>audio (live concert). Courtesy of WorldFusionMusicRadio.Com. The Slavic Trance variation of Ancient Future recorded this live in concert on 6/6/2003.
Ne Po Pogrebu Bochonochek (Traditional. New arrangement and composition by Matthew Montfort. 5:07) iTunes. >audio. From Planet Passion. (Ancient-Future.Com AF-2001) CD/Gift Card, $17.98: Add 1 to Cart. Buy 1 Now.
Related Programs
Slavic Trance: Dance to 100% loop-free organic world trance grooves played live by master musicians and fronted by Irina Mikhailova (Eastern European vocals).
Contact Info
Ancient Future, POB 264, Kentfield, CA 94914. Tel: 415-459-1892. Toll free in USA and Canada: 1-888-823-8887. info@ancient-future.com
Booking: Additional booking information, or use the contact information above.
Catalog: Listen to the CDs and use the secure online shopping cart system to purchase music.
Concerts: Current list of shows online.
Guest Book: Subscribe to the Ancient Future e-mail newsletter. Contests for prizes such as concert tickets each issue.