Ancient Future Concert Reviews
Review: Concert in the Park: Ancient Future Fuses Pleasing Melodies
Sunday, July 20, 2008, Santa Clara Central Park Pavillion, Kiely Blvd. & Homestead Rd., Santa Clara, CA.
"As soon as I plunked down to take a seat on the lawn at last Sunday's Concert in the Park, the melodic notes coming from Ancient Future, immediately caused my blood pressure to drop."
"When I realized that the three-member band was only in the process of tuning their unusual-looking instruments, I knew I was in for a memorable show."
"Award-winning composer/band leader, Matthew Montfort took to educating the crowd in between plucking his scalloped fretboard guitar. "
"'You can see us perform on You Tube if you go to our site,' he said. "
"The show centered on themes of love and opened with one of the band's dreamy songs that Montfort introduced as 'Dawn of Love' from their seventh and latest CD. Next, he introduced an Egyptian wedding march. 'Let's get married right now!'"
"I don't know how the trio kept from going into a trance-like state. Eventually, my heart rate slowed, I closed my eyes and couldn't help but envision a peaceful, desert oasis. "
"Montfort explained that the AF organization which was founded to help foster cooperation between musicians all across the globe and to encourage them to create new music, now has over 30 member-musicians."
"Just when you think you have AF figured out, they switch centuries and represent a different part of the globe, like when they performed a 17th century Scottish song. "
"Mariah Parker, a musician who plays a modified instrument of the santur family, and records solo CDs, sat to the side in a jeweled skirt."
"'I've always played the piano. This is the ancestor to the piano,' she said. 'These are like piano strings if you open up a piano. And I already knew the notes. I've played piano all my life.' "
"The West, according to Parker, is combining Eastern features to their music and creating a new genre. And she should know. Her latest cd 'Sangria' features Brazilian and East Indian sounds with Indo-Latin jazz. "
"A member of the audience, also a santur player compared notes with Parker."
"'Oh, I see,' she said. 'You play it with hammers but you do it a little different. These instruments are becoming all the more common here.'"
"Last, but not least was Bombay native, Arshad Syed, who sat on a blanket on the ground before a set of three metal Tabla (metal drums from Northern India). "
"Syed seemed to be having loads of fun, but what's it like to live in Fremont, so far from one's birthplace? "
"'No pain, no gain,' he said. 'I try to go back every few years.' "
"Opportunity and an MBA degree brought Syed to America. But it's a new life as a tabla teacher and performer that keeps him here. His past experiences include working with tabla master, Zakir Hussain and Grateful Dead's Mickey Hart. "
"For more info, visit ancient-future.com." – By Tricia Chambers, Santa Clara Weekly

Review: Ancient Future at Larkspur Cafe Theatre
Saturday, March 31, 2007, 8:00 pm, Larkspur Cafe Theatre, 500 Magnolia Ave., Larkspur, CA.
"Ancient Future is a constantly-revolving lineup of top-notch musicians unified by the guitar and talents of leader Matthew Montfort. Their March 31st concert was billed as a guitar-sitar 'jugalbandi' concert – a blend of classical Eastern and Western music featuring Montfort on guitar and Pandit Habib Kahn on sitar, with guests on dulcimer and percussion – and was simply an outstanding presentation."
"What made the 'jugalbandi' concert so special was the fact that guitar is seldom featured in Indian classic music – yet Montfort is a pioneer of such and uses the scalloped fretboard guitar to bring out the best in Indian sounds. His background as a student of the notoriously-difficult sitar lends to translations which shine on guitar; and by having a blend of sitar and rare guitar interactions, the concert became an extraordinary presentation indeed, spiced by the intimacy of stage which felt nearly small and close enough to be a living room.Ancient Future's focus on world fusion music has always produced extraordinary artist interactions and results; but this concert was an exceptional meld of East and West and offered up unique fingerings, approaches and collaborative efforts. It also held the unique ability to reach out not only to audience members already versed in Indian classic music, but to newcomers to the genre."
"Any who wants to experience a real fusion of East and West should not hesitate to listen to Ancient Future, to purchase their cds, and to attend one of their world-class, award-winning concerts. It's not to be missed." – WorldDiscoveries.net
Review: Ancient Future in Petaluma
Wednesday, August 10, 2005, 7:30 p.m., Petaluma Summer Music Festival, Cinnabar Theater, 3333 Petaluma Blvd. North, Petaluma, CA.
"Ancient Future has been around a long time: it's constantly evolving and changing its sound, from its 1978 origins to today's unique concept of a fluid, versatile, changing series of band members. "
"The 'glue' to Ancient Future is band leader Matthew Montfort, guitarist extraordinaire whose versatility ranges from Indian ragas to Middle Eastern to rock and beyond."
" A violin, guitar, piano and drums comprise this Ancient Future version, which opens with a morning raga 'Dawn of Love - sans sitar, it still shines with violin and guitar doing an excellent job of replacing the traditional Indian sitar sound and keeping the Indian feel, backed by synthesizer. "
"When the guitar steps aside and the violin assumes the foreground, an appealing Middle Eastern tone is added."
"After the piano takes it solo, the beat picks up with the drums entering, tapping out a more rhythmic beat and elevating the tone from Indian to Middle Eastern with a more rollicking, almost bellydance beat breaking away from the slow raga form, yet a logical, graceful step beyond which the rousing drum solo aptly concludes."
" The most haunting song of the evening is sung by violinist Georges in an Arabic song originally sung by the great Faruz. Reverting to gentle violin, Georges moves slowly with the tone of the morning raga, slipping into the vocal gently after a slow violin solo."
"One wonders how the lead violin will continue when the vocal kicks in: it's not a problem, the violin continues its haunting air when vocals begin, as a backup."
" 'Innocent Explorations' presents a blues raga style next, moving away from the Arabic influence with a drum-driven dance beat. Shades of Shakti with John McLaughlin weave in and out of an exuberant song which is anything but slow and bluesy - and immensely more satisfying to the ear."
"The violin quickly takes the mood beyond the jazz-infused Shakti and when next the piano solos, the sound of a harmonium is imitated with precision. 'El Zaffa' concludes the first set, revealing so much passion it's hard to believe there are only four players totally in sync producing such complex sounds."
"Georges the violinist opens Set 2 with an explanation of his violin style: it's tuned differently than Western violin" some of his solos are quarter tones."
"Percussionist Salah plays an Egyptian inlaid drum made in Turkey: it holds a bigger surface and he uses all 10 fingers to produce a range of sounds. His is the most popular type of drum in the region. "
"The strong second set opens with '14 Steps', a lovely set of trills and scales, led by guitarist Michael and leading into song after song of gorgeous Arabic-influenced music. Georges' vocals are outstanding in a number of them."
"With its occasional rock injections and lots of world influence, Ancient Future's concert is compelling and outstanding."– D. C. Donovan, Editor, WorldDiscoveries.net (see also full review text)
Review: Ancient Future In Eugene
Thursday, April 28, 2005, 8 p.m., Rhythm & Bliss Presents at Far Horizons School, 2490 Hilyard Street, Eugene, OR.
"Woe, is for all of you who missed the Ancient Future event, Thursday April 28, sponsored by Rhythm & Bliss."
"The group Ancient Future is made up of Musical Masters in their genres. The band consists of 24 musicians that come together in different configurations and create fused music. This configuration was an Arabic/Rock fusion. And the musicians are as follows: Matthew Monfort - Scalloped fret board guitar, Georges Lamman - Arabic violin and vocals, Salah Takesh - Arabic percussion, Doug McKeehan - Keyboards."
"I have no words to describe what it is to hear live musical virtuosos. After hearing and dancing to this quality of music nothing else stirs my soul the same way."
"Besides having a feast for the ears and toes there was also 5 different dance performers for the eyes. They were as follows: Alfredo, Annette, Circle Dance Company, Elena and Lola. Kudos to the dancers, their performances were all outstanding. It is very rare in Eugene to have the opportunity to perform with this quality of musicians."
"It was truly a grand evening. I was so very glad to have been there. A big thanks to Lew for sponsoring these kind of events."– Mary Wheeler, The Harrakat
Article: Ragas for Gujarat in California Temple
"On February 11th, the hall behind Shiva-Vishnu Temple in Livermore, California, reverberated with Indian classical music and world fusion jazz. Behind this were sitar maestro Habib Khan and Ancient Future: the featured artists for the Gujarat Earthquake Relief Benefit Concert organized by The Hindu Community and Cultural Center."
Ustad Habib Khan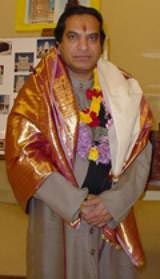 "'When I saw the horrifying images of the earthquake on Zee TV, I wanted to do something to help towards the earthquake relief fund,' recounts Khan with a catch in his voice."
"'For the first time, I am selling tickets for my own concert,' he says. 'I have asked my students to contribute towards the relief effort and my wife donated $500 for the relief work.' Khan played for free and the money collected from ticket sales went to the relief fund."
"Ancient Future is a world jazz fusion group with whom Khan has cut two albums: Longing and Ecstasy. Matthew Montfort, an original founder of the group explains, 'We are time travelers. We take old traditional music and combine it with new music.'"
"While the band incorporates music from many other countries, Montfort explains that he enjoys collaborating with Indian musicians in particular. 'In Indian music, the way melody (raga) works is unique. Ragas are recipes for mood which you don't find in other music. Plus, the tala (rhythm) is very advanced in classical Indian music.'"
"Montfort elaborates: 'Most of the actual melody is from raga and the rhythm is from tala. Khan uses the traditional raga and tala–we are adding Western chords to the ragas.' Montfort plays the scalloped fretboard guitar, an instrument that combines aspects of the veena and the steel string guitar."
"Khan, who goes by the name of Om Habib Khan, wears a traditional red teeka on his forehead. 'I pray to Ganapathi, Mecca Sharif and Guru Granth before I do my riyaaz (practice). It is also Hindustani parampara (tradition) to pray to Saraswati,' he explains."
"Therefore, it was no surprise that before the concert, Khan and members of Ancient Future offered their prayers at the temple. Pandit Srinivacharyulu, the head priest, conducted the prayers."
Ancient Future Performing with Khan
"The first half of the concert consisted of two Indian classical compositions played by Khan on sitar. He was accompanied by Emam and Ben Mawhorter on the tabla. Emam's magical fingers produced some amazing sounds on the tabla and the ghatam. He trained under the famous tabla maestro Alla Rakha, father of Zakir Hussain. The first composition was in raag Purya Kalyan and the second one was a short composition in Raag Bhairavi."
"In the second half, members of Ancient Future accompanied Khan and played a selection of fusion jazz numbers. HCCC hopes to raise $50,000 for the Gujarat Earthquake relief efforts. 'So far we have raised $15,000 and we will be raising some more money from the concert," says K. Venkateswaran, chairman of HCCC. They also plan to release CDs of the concert to raise money for the relief fund. There also are collection boxes in various parts of the temple.' "–Kamla Bhatt, Rediff.com, 2/14/2001
Review: Ancient Future at Sutter Creek
Saturday, January 29, 2000, 7:00 p.m., Sutter Creek Auditorium, Downtown Sutter Creek, CA.
"Saturday night, January 29, 2000 was World Jazz Fusion night at the Sutter Creek Auditorium, when the Amador County Arts Council presented Ancient Future, a group of passionate and accomplished musicians and artists from the San Francisco Bay Area."
"World Music ­ Music from different parts of the world, especially that which is not western, modern or both. Music played on acoustic instruments in rhythms other than the now-standard 4/4 time, and often using the human voice as an instrument."
"Jazz ­ Music which consists of improvisation with the voice or an instrument, after establishing a traditional base of melody and/or rhythm. Music which is produced by using an instrument in an unusual way ­ doing something to the instrument other than playing it in the traditional manner in order to get an unusual sound out of it (assuming first that in so doing, one will not break the instrument)."
"Fusion ­ A mixture in which the parts can no longer be identified as discrete entities. A complete schmutz, rather like putting everything into a blender and pressing 'ON'."
"Did you ever wish that the instrumental break in a song could be extended and even be a song in its own right? Did you ever think the music without the words was so inspiring that you would listen to it by itself? That the words of someone else might in fact be an intrusion of their ideas interrupting your experience, rather than enhancing it? If so, then the mix of textures and styles presented by Ancient Future would have satisfied your soul's longing for something more in your musical experience."
"Matthew Montfort started the group in 1978 when he and a few friends got together to jam and decided to make it a regular thing. He 'leads' the group of ten individuals, who then form varying combinations for different shows. His guitar is often the solo voice of the composition."
"Drummer Emam joined in 1991, and brings with him extensive knowledge of Arabic and Indian rhythms, playing the tabla (Indian version) and the dumbec (Egyptian version). His humor between songs can catch one by surprise!"
"Moses Sedler comes to the group from another ensemble called Davka, which takes traditional Klezmer (a type of Jewish folk music) and adds Middle Eastern drums. The result sounds somewhat like a Hebrew trader traveling with a caravan. Moses plays cello, classically and improvisationally, often putting down the bow to pluck and thump the strings like a jazz bass player."
"Doug McKeehan plays keyboard ­ and what that means is that he has two keyboards and can make them sound like anything else, from harp to flute, to chimes, to Japanese koto."
"When asked about a spiritual component to their work, Matthew allows that as all music and indeed, any creative expression comes from the soul, he doesn't become specifically aware of spiritual significance as they are performing. They are simply experimenting with music and putting the elements together in new ways to form a cohesive whole that inspires and fulfills themselves and the audience. For the musicians, it's about joy, and they hope it is shared when they perform."
"Another member of the group, Sapphira the dancer, does give the performance a spiritual and sensual dimension, and is aware of doing so. She began at age 3 with ballet and stayed with that until she was 18. Then she traveled the world and learned other styles of dance along the way, including Russian, gypsy and Arabic belly dancing. She tries always to be a visualization of the music, and doesn't keep any one of the elements of her dance in its own box, but rather combines them all into her interpretation of what the musicians are saying."
"Traditionally, belly dancing was developed among the Arabic tribes as a method for women to strengthen themselves to survive childbirth. The young girls organized the exercises into a dance; then because the exercises were specifically about the most feminine parts of the body, the men realized that the dancing was fun to watch. With the rise of Islam in the Arab world, belly dancing was outlawed by those who did not appreciate its original purpose, so it went underground and of course, flourished. Mothers who were not about to deprive their daughters of the life-enhancing and even lifesaving skill and training, set about hiring the best Bedouin dancers (who were not under Islam) to teach their daughters. The savvy Bedouin dancers, realizing that the best paid dancers were the most likely to make more money by getting these lucrative contracts, started making jewelry from their extra coins. The number of coins a woman could afford to wear on her costume served as advertisement of her skill."
"Even today, belly dancing is a bonding experience for women. Classical belly dance can be erotic and sensual no matter what the woman is wearing, and cabaret style dance is still highly technical and athletic under all those glittery see-through veils. And, no matter what, the women make it look so easy ­ but don't try certain moves at home without a teacher; you can hurt yourself. "
"Sapphira's fusion of traditional and cabaret bellydance with interpretive and ballet dance gives her the ability to tell the story of the music as she performs, often appearing to have a conversation with the solo instrument, whether it's the guitar or the drums. And through it all, her warm smile invites the women in the audience to 'just enjoy being girls!' The gentlemen, of course, have their own way of appreciating her beauty."– Kim Brosemer, Amador Ledger Dispatch
Review: Ancient Future at the Summer of Love

Sunday, October 12, 1997, 10:50 a.m., Summer of Love: 30th Anniversary Celebration, Beach Chalet Meadows, Golden Gate Park, San Francisco, CA.
Ancient Future featuring Matthew Montfort, Emam, and Sapphira. According to the San Francisco Chronicle, this concert was famed Family Dog/Avalon Ballrom concert promoter Chet Helm's "crowning achievement." (Note: This concert also made CNN with police crowd estimates in excess of 35,000. Footage of Ancient Future performing was shown on Bay Area news channels):
"It was heart-warming to see teenage girls in swirling dresses swaying and twirling to the Indian themes (almost like morning ragas) of Ancient Future, one of the morning performing groups."– Philip Elwood, San Francisco Examiner
Review: Ancient Future: Interpreting the World's Music
Friday, July 23, 1993, Kentucky Mine, Sierra City, CA.
"SIERRA CITY, CA. The cedar and pine forest canopy above Sierra City's Kentucky Mine resonated with sound on July 23. The occasion? A concert by Ancient Future, a musical group noted for its unique interpretations of the world's ancient musical traditions."
"The Kentucky Mine Amphitheatre, fresh-washed by an afternoon rain shower and overshadowed by the craggy Sierra Buttes and a star-filled sky, was a perfect setting for the performance, one of a summer series that takes place each Friday through September. Proceeds benefit the Kentucky Mine."
"Ancient Future, playing what has been called "world fusion music," transcends easy labels. Band leader Matthew Montfort, a virtuoso guitarist who founded Ancient Future in 1978, is philosophical. "We've been called a New Age group. Currently we fit into the growing genre known as world music.""
"Here, in this high-Sierra summer setting close by an old gold mining town, Ancient Future's range entranced listeners. The Kentucky Mine concert featured numbers that blended rock and roll with Balinese rhythms, blues with an Oriental twist, and jazz influenced by music from northern India. There was South American music with a California patina, and uniquely-interpreted African music."
"Although the recording industry prefers musical groups that fit into pre-defined categories, says Montfort, the group has succeeded anyway. Ancient Future has made six popularly-received recordings. The band's most recent release, Asian Fusion, was produced in late 1992 by Narada, and features guest artists from China and Vietnam."
"Each of the five musicians present at Kentucky Mine pushed the boundaries of conventional music, demonstrating lifelong passions for synthesizing the music of many cultures with that found in the United States. Percussionist Ian Dogole, for example, brought humor, surprise and passion to his task, literally dashing between better-known North American percussion instruments and chimes, rattles and other seldom-seen rhythmic tools. He performed a memorable solo on the African talking drum, which he squeezed and stroked like a live thing."
"Between numbers the musicians talked lovingly of their travels and inspirations. Guest artist Bill Douglass, nimble-fingered for most of the evening on the acoustic bass, also demonstrated his command of the Chinese flute. A student of Chinese music for more than two decades, he eased into his solos, tentatively at first, finally playing with soulful simplicity."
"Violinist Jim Hurley practically caught the trees - and the audience - on fire with his fiery composition, "Lakshmi Rocks Me." At one with his instrument, Hurley was a true professional, his practiced fingerings soaring effortlessly above accompaniment by the rest of the group."
"Keyboardist Doug McKeehan also made the complex musical blendings appear easy. Working two keyboards at once, he added improvised jazz flourishes as well as performing his own accomplished solos."
"Matthew Montfort, leader and anchor of the Marin County-based group through its personnel changes and guest artists over the years, demonstrated astounding virtuosity. With fingers flying and sliding over his amplified acoustic Gibson guitar, the awardwinning guitarist played with authority and sensitivity. Notable was his piece honoring the Silk Road, "The Trader." Both mesmerizing and dramatic, the composition honored the many cultures to be found on this historic trade route."
"Ancient Future ended the evening to enthusiastic encores. For one magical evening, the Kentucky Mine became the center of the planet." -Betty Sederquist
Sign up for Ancient Future concert schedule updates: