Ancient Future History: 1982 to 1988
The Transition Period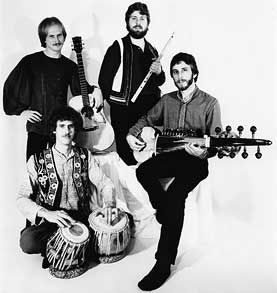 Ancient Future Circa 1982. Shown: Matthew Montfort, Benjy Wertheimer, Randy Mead, and Rick Henderson
After the group's second album, Natural Rhythms, was recorded, Phil Fong joined a punk rock band and was unavailable for touring. In August and September 1981, Matthew Montfort, Benjy Wertheimer and Mindia Klein toured the US. Not long after the tour, Klein left Ancient Future and was replaced by Randy Mead (flutes) and Rick Henderson (sarod) in 1982, and began touring in California, Oregon, and Washington.
After several tours Rick Henderson left the group and was replaced by Marcia Sloane on cello.
The Quiet Fire Period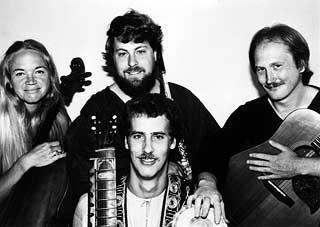 Ancient Future Circa 1985. Shown: Marcia Sloane, Randy Mead, Benjy Wertheimer, and Matthew Montfort
On the third Ancient Future record, the group focused on a world chamber music concept featuring Randy Mead on flutes, Marcia Sloane on cello, Matthew Montfort on classical and scalloped fretboard guitar and charango, and Benjy Wertheimer on esraj and tabla. Guest artists Alex De Grassi and Darol Anger of Windham Hill also performed on the record. Following the recording of a self-produced master tape that was shopped to various labels, Narada Records made an offer that included an opportunity to record a second uptempo album as a follow up. Montfort was excited by the prospect of a more uptempo record, and accepted the offer. About that time, Wertheimer and Mead formed a pop vocal band with their wives, and Sloane returned to her classical cello career. In 1986, Montfort recruited Ian Dogole (percussion) along with Doug McKeehan (keyboards) and Bruce Bowers (violin, flute) of the group Air Craft to form a new version of Ancient Future, and both line ups contributed their talents to the title track of Quiet Fire, the first record released under the band's contract with Narada.
Quiet Fire (Narada/MCA 1012)
CD- $29.98 (rare out of print): Add CD to Cart. Buy CD Now. >YTmusic.
The Dreamchaser Period

Ancient Future Circa 1987. Shown: Ian Dogole, Matthew Montfort, Bruce Bowers, and Doug McKeehan
In 1987, the new band lineup featuring Matthew Montfort, Doug McKeehan, Bruce Bowers, and Ian Dogole went on the road promoting Ancient Future's first major label release, Quiet Fire, and began work on the material for their next release. Narada offered a bit more artistic freedom on a new label they were starting called Sona Gaia, for which Ancient Future recorded two of its best releases. Although it turned out that the Sona Gaia label had a minuscule promotion budget, Ancient Future's records were strong sellers nonetheless that succeeded entirely on their own merits. Their first Sona Gaia release, Dreamchaser, showcased a more uptempo side of Ancient Future's world fusion music. Even without a dedicated promotion campaign, the record debuted at #2 on the May 1989 JAZZIZ National Airplay chart. It received a 10 out of 10 rating in CD Review.
Dreamchaser (Sona Gaia/MCA 154)
Add CD to Cart. Buy CD Now.>YTmusic.