Ancient Future History: 2003 to 2008
International Touring Period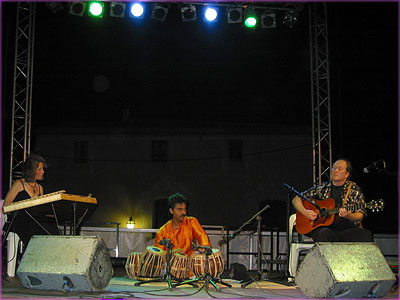 Ancient Future, Tarragona Provence, Spain, August, 2005. Photo by Kantoya Producciones. Shown:
Mariah Parker (santur), Tappan Bhattancharya (tabla), Matthew Montfort (scalloped fretboard guitar)
Ancient Future performed in Europe for the first time in 2003 with bookings in the Netherlands and the Festival Internacional de la Guitarra in Spain, which included guitarists from all over the world. Ancient Future was chosen to perform because of Matthew Montfort's work on the scalloped fretboard guitar, and he received great feedback from the other guitarists, most of whom were coming from countries that have much better support for the arts than the USA. Montfort learned that some countries even offered government supported pensions to professional musicians after hearing one guitarist complain that his pension was being reduced. The USA doesn't even have a program like that to cut, but Montfort was heartened when he learned that musicians who enjoyed real support for the arts felt that the music scene in the San Francisco Bay Area was producing truly innovative music.
Montfort returned to the USA feeling energized to be part of the local music scene. Ancient Future was on the California Arts Council Touring Roster, which provided grants on a first come, first serve basis to non-profit concert presenters for concerts featuring musicians on the roster. The program ran out of money quickly each year, and so Ancient Future was very lucky if in a given year one or at most two concerts were supported. The grants went to the presenters, not the musicians, but helped make it possible for California musicians to tour in their home state. But soon after Montfort's return, Arnold Schwarzenegger won the California recall election and the CAC Touring Program was terminated due to state budget cuts. Republicans wanted to do away with the California Arts Council altogether, and Democrats were barely able to lobby to keep the office open but with no grant programs. Montfort thought that since the program was only resulting in a few concert bookings for Ancient Future that perhaps the impact wouldn't be too bad. But instead that lack of funding had a cascading effect on the whole fine arts ecosystem and forced presenters to severely cut back their schedules. Many presenters that hired Ancient Future in the past closed their doors permanently.
In response, a new concert booking system involving email letters and streaming audio was developed to deal with the emerging situation, and by late 2004 bookings were starting to pick up a little. While further cutbacks in the arts in the USA continued to take their toll, a new focus on international performances expanded on the 2003 bookings in Spain and the Netherlands with a three date tour of Spain in 2005, a tour of India with Pandit Habib Khan in 2006 coinciding with the release of Planet Passion on Music Gallery India, and a return trip to India in 2008.
Ancient Future Studio Production Period

Live performance of "El Zaffa" by Matthew Montfort. Video by Gordy Hall of Ancient Future at San Anselmo Community Playhouse, 6/6/2003. Shown: Georges Lammam (Arabic violin, vocals), Matthew Montfort (scalloped fretboard guitar), Salaheddin Takesh (Arabic percussion), Doug McKeehan (keyboards), and Sapphira (world dance)
While free downloads were having a negative impact on record industry, the home recording revolution was producing a flood of independent releases. Concert presenters and reviewers found themselves buried in an avalanche of new releases. Social networking sites like myspace were popping up everywhere. This meant that artists could reach fans directly without a huge marketing budget, but doing so proved time consuming and resulted in transitory "likes" but very few sales. It's worth noting that in a classic bait and switch, once artists had brought their fans to Facebook, they changed their algorithms in 2012 so that artists would have to pay to spread their message to their full fan base.
With what was known then, 2003 seemed a great time to produce recordings, but maybe not such a great time to market them. With that in mind, several projects were started. The Planet Jammin' concert featuring four versions of the band Ancient Future was recorded by Gordyo Video to multi-track digital and multi-camera video on June 6, 2003 with the idea of releasing a live concert DVD. Tragically, video engineer Gordy Hall was diagnosed with cancer and passed away in 2009 before the project could be completed. Some videos from the concert have been released on YouTube.
In 2004, a deal was signed with an Internet distribution company that resulted in getting Ancient Future's music on the legal paid download sites such as iTunes. Download income was helpful for a few years before sites like Spotify and Pandora offering free music streams became popular, causing downloads to plummet.
In October 2005 rehearsals began for Mariah Parker's Indo-Latin jazz project, Sangria. Ancient Future Studio was upgraded with a new G5 Pro Tools and Cubase recording system. But in order to be able to concentrate on the music rather than the recording process, live sessions were booked at Banquet Studios, where Ancient Future's Asian Fusion release was recorded. The first live tracks were recorded on December 12 and December 29, 2005 with Mariah Parker, Mindia Devi Klein, Kash Killion, Duru Demetrius, Debopriyo Sarkar, and Matthew Montfort. A few percussion overdubs by Brian Rice were added at Ancient Future Studios. The basic tracks were completed September 22, 2006 at Banquet Studios with a live recording session with Mariah Parker, Anurhada Pal, Kash Killion, and Matthew Montfort. Paul McCandless dropped by Ancient Future Studios for work on two tracks, and the record was edited and mixed by Matthew Montfort at Ancient Future Studio. Mastering for HDCD was completed by Paul Stubblebine on September 21, 2007.
Soon thereafter, Matthew Montfort began work in Ancient Future Studios mastering a series of improvisational solo recordings he had done between 2000 and 2005. This was a large project, because the recordings were done on a now obsolete G3 Mac system, and some of the work that would normally be done in the mix stage happened in mastering instead. Matthew Montfort also developed mastering techniques that seemed to be required by the music. For example, all of the mastering adjustments were done keeping in mind the exact mathematically calculated just intonation harmonic series of each piece. He decided to call his new mastering style 64-Bit Tuned Harmonic Mastering. The mastering was completed in May of 2008. The result is Montfort's debut solo recording, Seven Serenades for Scalloped Fretboard Guitar.
After developing these new mastering techniques, in November 2008 Montfort revisited Ancient Future's seventh recording, Planet Passion, which was due for another pressing. The original recording was done on a Power Mac, and the mix was limited by that system. Planet Passion is a very large project with 19 musicians contributing, and one could either hear each track separately with all effects, or all the tracks with no effects as the system did not have the power to play back the full mix in real time. To get around this limitation, the effects were set up by listening to each track separately, and then the mix was set up without effects. After that, the mix was exported and then re-imported to listen. Notes were made on changes to make and the process was started again. Most of the individual tracks were recorded at 20 bits, with a few at 24 bits due to a late project audio interface upgrade. The mixes were exported in both 24 bit and 16 bit formats. When he took the mixes to a mastering engineer, one important component of the mastering system had trouble reading the 24 bit files. The opinion of the mastering engineer was that the Power Mac system was not likely able to get much out of the extra bits anyway and that the 16 bit format could be used for mastering. Montfort reluctantly agreed, but in the back of his mind always wondered if that was the right decision. So, when Montfort went to get the master ready for a new pressing, he thought to check the 24 bit mixes against the mastered version on his upgraded G5 system. He was shocked to find the mixes were in a box in his garage that was in mortal danger because rats had used it for nesting (!!!). He was relieved to find that after cleaning the discs off, they loaded fine and the difference in quality was stunning. So to get that quality back in the final master, he spent four weeks using the 64-Bit Tuned Harmonic process he had developed to bring out the music he knew was in the original recordings but that just didn't quite reveal itself in the original mastering process. The master was completed on December 12, 2008, and sent off to press via UPS next day shipment in order to meet the pressing plant deadline, just barely making the UPS deadline by a few minutes.
Work began on a global gypsy jazz CD featuring Ancient Future violinist Patti Weiss. The basic tracks for the first song were completed and an overdub session with a singer from the Gypsy Kings occured on December 29, 2008. Funding for that project dried up due to the Great Recession.