Ancient Future History: 1998 to 2003
The Planet Jammin' Period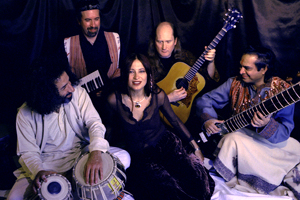 Ancient Future Circa 2000. Photo by Julie Marten. Shown: Emam, Doug McKeehan, Irina Mikhailova, Matthew Montfort, Habib Khan
After twenty years of development, the world music scene surrounding Ancient Future flowered with collaborations between some of the world's top masters of traditional music. The Planet Jammin' concept evolved out of these collaborations on recordings and concerts.
On the concert front, in 1998 Ancient Future began offering a new collaborative world music and dance series featuring top world music and dance masters such as Pandit Habib Khan (North Indian sitar master), Irina Mikhailova (Russian vocal diva), Zhao Hui (Chinese national treasure), Georges Lammam (Arabic violin virtuoso), and Sapphira (world dancer). In 2000, Pandit Habib Khan and Matthew Montfort performed at a nightclub Beirut, Lebanon, called Atlantis with aquariums everywhere, including a circular piranha tank that people danced on! Ancient Future's concert history reveals how these collaborations have expanded over time. The effect of this has been to bring even more variety to Ancient Future shows, and to provide a forum for various configurations of the ensemble from a duet on up to a 12 piece group including top world music and dance masters.
On the recording front, several projects grew out of this vibrant world fusion music scene. First to be completed were several all-star projects featuring Pandit Habib Khan, who is regarded as one of the best sitar players in the country today. He has produced three CDs featuring collaborations with Ancient Future leader and scalloped fretboard guitar master Matthew Montfort. The lineup also includes Indian tabla master Swapan Chaudhuri, jazz drummer Danny Gottlieb of Pat Methany fame, Persian santur master Alan Kushan, pianist Ira Stein of Windham Hill and Narada fame, George Brooks on saxophone, and others.
The Independent Transition Period

Ancient Future's contract with Narada Records covered four releases, and after spending a lot of effort promoting Asian Fusion without much help from the label, Ancient-Future.Com Records was formed to gain artistic control over the process. The seventh Ancient Future record, Planet Passion, is a very ambitious project featuring the full Planet Jammin' lineup collaborating on the theme of music inspired by rituals having to do with love and procreation. For instance, the record takes themes from traditional music associated with love gods such as Ochun (Afro-Cuban) and Semara (Balinese) and uses that as source material for contemporary collaborations. The record began production in 1996, was pressed in 2001, and made its way to record stores starting in fall 2002 after a distribution deal was finalized. A selection from the record was included on the May 1999 Rhythm Magazine sampler CD. The recording was produced without financing from a record company. Instead, money was raised from fans of Ancient Future. While the fundraising total fell short of goals, enough was raised to allow the music to be created and released without pressure from a corporate record label more concerned with marketing and trends than music.
Planet Passion (Ancient-Future.Com AF-2001)
CD/Gift Card, 17.98: Add CD to Cart. Buy CD Now. >YTmusic.
In 2021, a few posters from the original 2001 printing were found deep in the Ancient Future archives. Includes the 8.5" x 11" version while supplies last.
Planet Passion 11" x 17" Limited Edition Poster: $15.00: Add Poster to Cart. Buy Poster Now.
The Internet Popularity/Piracy Period

Ancient Future songs were featured on many mp3 samplers from sites such as riffage.com and mp3.com with a combined distribution of 750,000 units in 1999 alone. The song "El Zaffa" was featured on barnesandnoble.com and received top reviews in its category at riffage.com before the popular site burned through its funding and folded in December 2000. Ancient-Future.Com was the top world music web site 1999/2000 on the mPulse Internet Music Chart, which ranked music sites by numbers of daily unique visitors. The band Ancient Future even beat The Backstreet Boys to become the number one major artist site. By the year 2000, Ancient Future had established itself as the top world music group on the Internet. Ancient Future had taken number one positions in nine categories (World, World Fusion, Irish, Indian, Asian, Arabic, Middle Eastern, Russian, and Indonesian) on mp3.com.
However, rampant free file sharing resulted in the value of recorded music being reduced to zero in the minds of many. It was widely alleged in the media that free downloads would be great publicity and result in more sales. But those sales never materialized. For example, even legal downloads at mp3.com, complete with "buy now" links to purchase CDs, did not result in increased sales. To the contrary, only 1 in 899 legal free promotional downloads of Ancient Future tracks could be matched with a sale anywhere in the distribution chain. This doesn't include the many illegal downloads that also occurred. Many other independent artists at mp3.com reported legal download to sales figures at more like 1 in 5000. Faced with these obstacles, in 2001, Ancient Future leader Matthew Montfort was involved as a proposed Class Representative for Independent Musicians in a lawsuit against Napster, and proposed a set of solutions to the problems facing musicians in an Open Letter sent to the Senate Judiciary Committee and Napster CEO Hank Barry on March 14, 2001, in which he advocated a statutory license for file sharing to insure that the practice could continue, but with payments to musicians. On April 3, 2001, Mr. Barry made a plea to congress with a proposal substantially similar to the one Montfort had advocated earlier. The proposal was opposed by the major record labels, and was not adopted.
2002 and 2003 were tough years for Ancient Future financially. mp3.com had initially been paying artists a very small amount per download, resulting in thousands of dollars of income for Ancient Future due to their popularity on the site. But in 2000, mp3.com launched a program that encouraged fans to upload music they didn't have the rights to, and record industry lawsuits ultimately resulted in the site shutting down in 2003. Meanwhile, the popularity of downloads resulted in the closing of scores of independent record stores that had in the past carried Ancient Future's CDs, causing the remaining stores to be very conservative in their stocking decisions. Out of 100 stores that agreed to stock Ancient Future's Planet Passion CD, 10 went out of business in the first two months of the release.
Polarization Prevention Period (9/11/2001 to ?)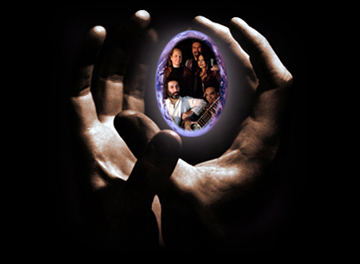 One of Matthew Montfort's first thoughts the day of the 9/11 attack was a concern that the U.S. response could be more destructive and dangerous than the attack itself. Years later, one has to wonder what was accomplished besides destabilizing many parts of the world and increasing polarization everywhere, including here at home.
In the 90's, world music was finally getting coverage in the mainstream media and there was a curiosity developing in the general public about music from other cultures. Ancient Future could perform music with an Arabic influence at outdoor public events and people with cowboy hats and boots would stop and listen for a moment, attracted to both the familiar and exotic in the music they were hearing, and even end up dancing to the music. Right after the 9/11 tragedy, people with that same attire would often walk by as fast as possible, as would many others, because one effect of 9/11 was a tendency to view those from other cultures as "the other."
In response, Ancient Future played a series of concerts entitled "American and Arabic Musicians Play Music for Love and Peace." The concerts did not draw many people who were in favor of the wars in Afghanistan and Iraq. After 9/11, it was still possible to preach to the choir, but harder to reach out to people who had become afraid of cultures foreign to them. Nonetheless, attempts were made. A year after 9/11, there were performances at memorials and peace marches with very different constituents. The morning of Sunday, September 8, 2002, violinist Patti Weiss and guitarist Matthew Montfort performed music for the reading of the names of the victims at the 9/11 Memorial Ceremony at the Golden Gate Bridge. That afternoon, Montfort performed at a march for peace in downtown San Rafael. Both events were well received and were covered in the S.F. Chronicle's 9.11.01/One Year Later series: San Francisco Displays Old Glory in a New Light by Suzanne Herel and Bay Area Marchers Call for Peace by Charles Burress and Jim Doyle.
Promotion of Polarization
In the years that have followed 9/11, polarization has continued to increase and avenues for mitigating it have been harder to find. For example, Americana shows have replaced many world music shows on public radio, and even supposedly inclusive stations like KPFA have drastically cut world music programming. While it is important to keep Americana alive, it should not be at the expense of opening up people to music from cultures other than their own. Continued exposure to world music could help alleviate the fear of "the other" that is so prevalent in public discourse today. America has always been a melting pot, so Americana shows should at the very least embrace American-made world fusion music. But they tend to favor American music with a lot of Irish influence, undervalue the role of African music in American music forms, and ignore Arabic and Asian influenced music altogether.
Social media algorithms have amplified polarization and made it difficult to reach out to people in different social circles. In the current age of polarization even within small communities, world music is needed now more than ever, as is professional writing in respected publications that care about facts. Given the lack of support in traditional media, and the polarization amplified by social media algorithms, Ancient Future very much needs your financial support to continue it's mission.