Indo Latin Jazz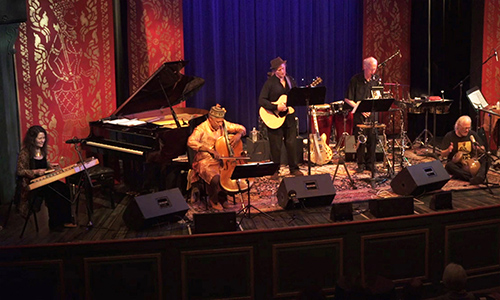 Mariah Parker: Indo Latin Jazz Ensemble
Top 40 on JazzWeek Chart
Just as in another era, Dave Brubeck's Take Five expanded the rhythmic palette of swing, Mariah Parker's Indo Latin Jazz Ensemble takes Latin jazz in a new rhythmic direction. Her Indo Latin Jazz Ensemble mixes Latin jazz with the rhythms of India, featuring unusual arrangements of jazz standards and new compositions by Ancient-Future.Com Records recording artist, Mariah Parker. She released her first solo recording of her compositions, Sangria, in February of 2009. Her CD release party and debut of the Indo Latin Jazz Ensemble drew a full house at the famous Yoshi's Jazz Club in Oakland.
The Indo Latin Jazz Ensemble includes Ancient Future musicians along with top Indian musicians and jazz and Latin players who have performed with Sun Ra, Herbie Hancock's Headhunters, and Oregon. For example, jazz wind virtuoso Paul McCandless is known for his groundbreaking work with the seminal chamber jazz group, Oregon.
Her 2017 release, Indo Latin Jazz Live In Concert, has received rave reviews and quickly rose to #32 on the JazzWeek radio charts!
Venues: Outdoor Festivals, Concert Series, Concert Halls, Clubs, Universities
Traditions: Jazz, Latin Jazz, Indian Jazz, Indo Latin Jazz, World Jazz, World Fusion
Moods: Animated, Bright, Energetic, Exciting, Exuberant, Festive, Fiery, Passionate, Powerful, Pulsing, Rousing, Sophisticated, Spicy, Thrilling, Uplifting
Hashtags: #IndoLatinJazz, #LatinJazz, #IndianJazz, #WorldJazz, #WorldFusion
Indo Latin Jazz Live In Concert

by Mariah Parker
Indo Latin Jazz Live In Concert by Mariah Parker (Ancient-Future.Com AF 20142) $17.98: Add 1 to Cart. Buy 1 Now. iTunes. >YTmusic.
"Eight of the best players on the planet are featured on pianist Mariah Parker's new album, "Indo Latin Jazz Live in Concert," recorded at Yoshi's in Oakland, Berkeley's Freight & Salvage, the 142 Throckmorton Theater in Mill Valley and Bob Weir's TRI Studios in San Rafael. It's an intoxicating blend of East and West performed by musicians of astounding virtuosity. Like all the best jazz bands, this group is as disciplined as it is innovative, stopping on a dime when the composition calls for it and soaring into gorgeous landscapes of free association the next moment that are as pleasing as they are adventurous. This is sophisticated stuff, an album of global fusion performed by a group with character, charisma and the confidence that comes across when world-class musicians at the top of their games come together and create magic in the here and now of a live performance." – Paul Liberatore, Marin Independent Journal
Sangria

by Mariah Parker

Sangria by Mariah Parker (Ancient-Future.Com AF 2017). $17.98: Add 1 to Cart. Buy 1 Now. iTunes. >YTmusic.
"Sangria blends the rhythmic syncopations of Latin jazz music with the entrancing, asymmetrical meters of East Indian rhythms resulting in first-class world music. Intriguing melodies that draw musical inspirations from the tempos of Brazil, Cuba, India, and Spain make for an uplifting serene yet passionate musical journey into an ideal world." – Latin Beat Magazine
"Dazzling debut... the group's subtle and sensuous sounds reflect exotic flavors of India, the Middle East and Latin America." – Palo Alto Daily News
Featured Videos
Live at Yoshi's: "Milo's Moment" by Mariah Parker
Live at Yoshi's: "Affinity Minus One" by Mariah Parker
Live at Freight and Salvage: "Sangria" by Mariah Parker
Featured Tracks
>YTmusic. (Play all tracks.)
Milo's Moment (Mariah Parker. 9:28).>YTmusic. This piece features a classic Afro-Cuban style montuno played in a 7/8 meter. From Indo Latin Jazz Live In Concert (Ancient-Future.Com AF 20142) $17.98: Add 1 to Cart. Buy 1 Now.
Affinity Minus One (Mariah Parker. 7:40) >YTmusic. This piece started off as an exploration of a Latin rhythm, but Mariah modified it so that it's in a 15/8 cycle. After that, it gives way to a driving 4/4 montuno. Recorded at Yoshi's, Oakland. From Indo Latin Jazz Live In Concert (Ancient-Future.Com AF 20142) $17.98: Add 1 to Cart. Buy 1 Now.
Jaguar Dance (Mariah Parker. 5:09) >YTmusic. Mariah loves dancing and felines, and decided to compose a piece of music that combines these two passions. Recorded at the Freight and Salvage, Berkeley.From Indo Latin Jazz Live In Concert (Ancient-Future.Com AF 20142) $17.98: Add 1 to Cart. Buy 1 Now.
14 Steps (Matthew Montfort. 4:30). Fourteen beat rhythmic cycle creates a funky Indian groove featuring Zakir Hussain and Matthew Montfort. FREE MP3 (excerpt) (1MB). >YTmusic. From World Without Walls (Sona Gaia/MCA 163) CD- $24.98 (out of print: collectable signed reconditioned copy): Add 1 to Cart. Buy 1 Now.
First Flight (Parker. 3:43). iTunes. >YTmusic. "First Flight" takes off with soaring, syncopated melodic lines on soprano sax, guitar and piano, accompanied by a flurry of tabla in a swift 7/8. From Sangria (Ancient-Future.com AF-2017). Digipak CD- $17.98: Add 1 to Cart. Buy 1 Now.
Sangria (Parker. 8:17). iTunes. >YTmusic. Inspired by both Indian and flamenco music, a fiery cello solo suggests the plaintive cry of a flamenco vocal, while the tabla solo ends with a tihai, an East indian cadential pattern which repeats three times and ends on the first beat of the rhythmic cycle. From Sangria (Ancient-Future.com AF-2017). Digipak CD- $17.98: Add 1 to Cart. Buy 1 Now.
Biographies
Matthew Montfort is the leader of Ancient Future, and pioneer of the scalloped fretboard guitar (an instrument combining qualities of the South Indian vina and the steel string guitar). He has recorded with legendary world music figures including tabla maestros Swapan Chaudhuri and Zakir Hussain. He has performed concerts worldwide, including at the Festival Internacional de la Guitarra on the golden coast of Spain near Barcelona and the Mumbai Festival at the Gateway of India in Bombay.
Mariah Parker (composer, pianist, and santur player), while completing her degree in music at UC Santa Cruz, worked with ethnomusicologist Fred Lieberman and Mickey Hart on the Planet Drum project. She has performed in the US and Europe, and worked with many musicians including composer Pauline Oliveros, the late Dumisani Maraire (renowned composer from Zimbabwe) and others. She has studied with jazz great Art Lande and Latin jazz pianist extraordinaire Rebeca Mauléon, and performs regularly with Ancient Future.
Kash Killion has played extensively with such icons as Cecil Taylor, John Zorn, Sun Ra, Butch Morris and George Lewis. His interest in avant garde jazz was ignited by Sun Ra in 1978, and further heightened by meeting and playing with Pharoah Sanders. Playing cello, bass and assorted Middle Eastern and Indian stringed instruments such as sarangi and esraj, Kash's concert history includes performances with Donald Byrd, George Cables, Billy Higgins, Reggie Workman, and the Sun Ra Arkestra.
Ian Dogole holds a B.A. in Ethnomusicology from Brown University and an M.A. in Classics from Villanova University. He began his musical studies with the piano at the age of five, later switching to jazz guitar which was to be his primary focus until taking up percussion during his ethnomusicology studies. He performs on five Ancient Future albums, and has released many albums under his own name, including Dangerous Ground (Cafe L-737), and Ionospherses (C.E.I. CYK 807-2), all pioneering works in the field of world fusion music. He received a prestigious 1991 Jazz Performance Fellowship from the N.E.A, and 1994 and 1995 Marin Arts Council grants. As a percussionist he has performed in numerous ensembles, including frequent appearances on the East Coast with alto saxophonist Richie Cole.
Paul McCandless, during a distinguished career spanning three decades, has brought a soaring lyricism to his playing and composing that has been integral to the ensemble sound of two seminal world music bands, the original Paul Winter Consort and the relentlessly innovative quartet, Oregon. A gifted multi-instrumentalist and composer, McCandless has specialized in an unusually broad palette of both single and double reed instruments that reflect his grounding in both classical and jazz disciplines.
Debopriyo Sarkar is a senior disciple of tabla maestro Pandit Anindo Chatterjee. He has been performing in the classical India music scene for many years, accompanying many great artists, as well as an avid experimenter in many forms of music. He has performed in the international arena, playing many concerts in the U.S.A., Japan, India, the Middle East, Canada and Europe, including concert tour with Asha Bhosle and the Kronos Quartet in the U.S. and London in 2005.
Anuradha Pal is adisciple of the world renowned Tabla Maestros, Ustad Alla Rakha and Ustad Zakir Hussain, Anuradha has been lauded as the only female professional tabla player in India by the prestigious Limca Book of Records. An A grade artist of the All India Radio, Anuradha has been performing since she was eleven. Besides giving solos, she has been accompanying veterans like Amjad Ali Khan, Hariprasad Chaurasia, Sultan Khan, and Smt. Veena Sahasrabuddhe amongst many others.
Related Programs
Indo Latin Grooves: Focuses on blending driving, syncopated Latin grooves with the entrancing, asymmetrical meters of India.
Contact Info
Tel: 415-459-1892. info@ancient-future.com
Booking: Additional booking information, or use the contact information above.
Catalog: Listen to the CDs and use the secure online shopping cart system to purchase music.
Concerts: Current list of shows online.
Guest Book: Subscribe to the Ancient Future e-mail newsletter. Contests for prizes such as concert tickets each issue.