The Six Chapters
Learn folklore of ancient world music traditions and listen to the music in each chapter:
Flirtation • Courtship • Sacred Eros • The Wedding • Seduction • Longing
Track 11.Socha Socha, a. (2:00). Track 12. Socha Socha, b. (8:34)
(Habib Khan & Matthew Montfort. © 2001 Ancient Future Music). iTunes. >YTmusic.

Missing her, he sings these words for his beloved to the sitar melody:
Socha socha, Mai ne tumko raat bhar, subh ho sham.
Meri Zindagi ke tum ho malik, Mujhe yaad rakhna, bhool na jaana.

Thinking, thinking, I miss you all night, dawn to dusk.
You are the master of my life, always remember me, don't forget me.

Ustad Habib Khan: sitar
Matthew Montfort: scalloped fretboard guitar, fretless bass, bells
Doug McKeehan: keyboards
Ian Dogole: udu, sleigh bell
Jim Hurley: violin
Ancient Future would like to thank belly dancer Amaris Ziayanah for sharing this youtube video of a special Moon Dance to Socha Socha she performed in the last stages of her pregnancy. It is beautiful when music touches people's lives at important moments, so we love to hear about it when it happens.
Messages
Ring Me: All songs are available as real music ringtones at WorldMusicRingtones.Com.
Text Me: Share a message with links to songs from Planet Passion.
Limited Edition Poster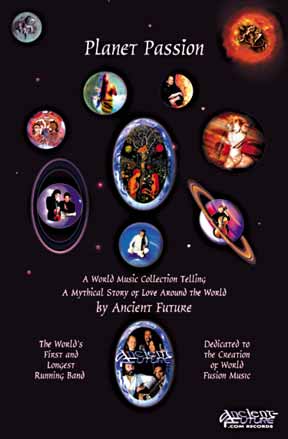 Planet Passion 11" x 17" Limited Edition Poster- $15.00: Add Poster to Cart. Buy Poster Now. In 2021, a few posters from the original 2001 printing were found deep in the Ancient Future archives. Includes the 8.5" x 11" version while supplies last.