The Six Chapters
Learn folklore of ancient world music traditions and listen to the music in each chapter:
Flirtation • Courtship • Sacred Eros • The Wedding • Seduction • Longing
Track 6. Ochun 3:32 (Traditional. New arrangement/ composition by Matthew Montfort. © 2001 Ancient Future Music). iTunes. >YTmusic.
The lovers journey into sacred eros while Santeria priest Pedro de Jesus sings the story of procreation in this Afro-Cuban chant for the goddess of love, Ochun:
Emi tolowo Ochure
Eni o bombo solu u.
I'm searching for the presence of Ochun
For I may have court with her.

Pedro de Jesus: vocals, Afro-Cuban drums
Matthew Montfort: electric guitar, fretless bass
Irina Mikhailova: vocals
Track 7. Semara 4:27 (Matthew Montfort. © 2001 Ancient Future Music). iTunes. >YTmusic.
As their love deepens, Semara, the Balinese god of love, reminds the lovers to integrate both the male and female into one. Instruments from the Gamelan Semar Pegulingan, the orchestra that in ancient times performed outside the sleeping chambers of royal lovers blend with performances by the original 1978 lineup of Ancient Future.

Matthew Montfort: classic and scalloped fretboard guitars, gangsa
Benjy Wertheimer: tabla, esraj
Mindia Klein: bansuri
Moses Sedler: cello
Messages
Ring Me: All songs are available as real music ringtones at WorldMusicRingtones.Com.
Text Me: Share a message with links to songs from Planet Passion.
Limited Edition Poster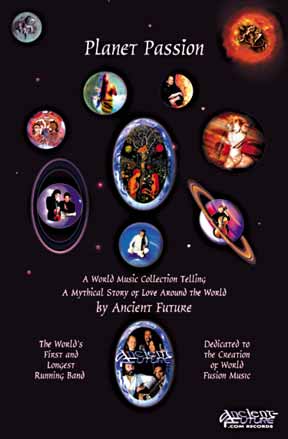 Planet Passion 11" x 17" Limited Edition Poster- $15.00: Add Poster to Cart. Buy Poster Now. In 2021, a few posters from the original 2001 printing were found deep in the Ancient Future archives. Includes the 8.5" x 11" version while supplies last.